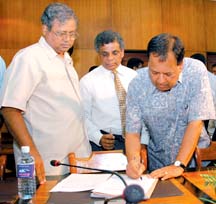 Finance Minister Sarath Amunugama, Power and Energy Minister Susil Premjayantha and Secretary of the Power and Energy Ministry P. Virahandhi signing the document assuring that the CEB will not be privatised. Pic by Kavindra Perera.
CEB Unions call off TU action
by Jayantha Sri Nissanka
The Ceylon Electricity Board CEB) unions yesterday decided to abandon the continuous Trade Union action scheduled from Tuesday after they were given an assurance by the Government that the CEB will not be privatised.


Full story
President regrets UNP refusal
President Chandrika Bandaranaike Kumaratunga in a letter to Opposition Leader Ranil Wickremesinghe has expressed her surprise and regret at his rejection of her offer to have a dialogue on developing a common program for the implementation of humanitarian assistance for tsunami affected areas in the North and East.


Full story
---
Other Stories