At the DPL Arms

At the first break in last week's workshop for Sri Lanka's Heads of Missions abroad many participants were seen rushing to the bookshops in Colombo. Most of them returned laden with books by the well known author of spy novels John Le Carre.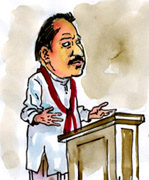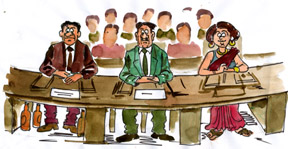 Others were carrying loads of James Bond novels written by Ian Fleming or Kingsley Amis. These are people who had taken seriously President Rajapaksa's admonition to them to consider the Foreign Service as an intelligence service of sorts.
Some of the DPLs who were more familiar with recent developments in diplomatic espionage regretted the absence of published material by Valery Plame, the undercover CIA operative who was married to a US diplomat, and whose identity was reportedly revealed by key persons in the Bush administration, to get even with her husband. They wondered whether this would mean that their spouses would in future have to be attached to the National Intelligence Bureau.
Although diplomats are among the public servants free to consume liquor while on duty, some of our diplomats felt better with the President relating a story of how a foreign diplomat in Colombo who he wanted to contact, was at the time in an Army Camp enjoying a beer with a major. They felt this would give them even greater licence to entertain friends with duty free liquor and also increase their own quota of the stuff with no audit queries being raised.
While some of the DPLs were exchanging ideas on how they would get about the new undercover role they would have to play some of them had other concerns on their minds. One was how they were to improve their knowledge of their mother tongue while being posted abroad.
There was little possibility of having suitable private tutors, except possibly in places such as the UK, USA, Canada and Australia. Most of those posted in other countries were considering asking the Foreign Office whether it could arrange for distance learning courses in Sinhala and Tamil, specially designed for those in the diplomatic service. They were very concerned with the President's observation that there can be no place in the Foreign Service for those who did not now their mother tongue.
The ripples of concern caused by the President's address had turned into eddies over the reference to partying by our diplomats. His observation that DPLs had not been posted abroad solely for partying and better education for their children was a home truth; it sent shock waves among many in our dpl community.
No sooner had this been known through the media, the spouses of some of the dpls who were back in foreign countries, gave urgent calls to their partners asking what this would mean for them and their children.
"Aney, what is the fun of being here, so far away from home, if I can't go for all these parties" asked one DPL wife from her husband. Another asked how she would be able to show off all her lovely sarees if she could not go to parties. To her it was part of cultural diplomacy.
Other spouses gave urgent calls to inquire what all this would mean for the education of their children, who were doing very well in their studies abroad, compared to their cousins back in Colombo. "Will this mean we will have to leave our children behind and send them to some school in Sri Lanka, with your next posting" asked one distraught wife.
Different concerns
To some others the President's cautionary words about future policy, particularly performance assessment raised different concerns. This had made them think of undergoing a crash course in public relations, so that they will be able to interact better with Sri Lankans abroad who come for assistance to their missions.
One DPL pointed out that this had to be a crash course specially designed to help those serving in the Middle East.
That it had to be, by and large, a housemaid oriented course was the general opinion of people, who suddenly discovered they had been found out being lacking in the basic courtesies that should be extended to Sri Lankans facing problems in abroad.
Just like those who were concerned about the need to improve knowledge of their mother tongue, these dpls were also seriously thinking about asking the Foreign Office to initiate a crash course in public relations for those already in the diplomatic service, and also having such a course to help groom those in the foreign service who would get DPL postings in the future.
Some of those who participated in the workshop were seen making a beeline to the BOI office or the Tourist Board to establish links with these organizations, in view of the President's call to them to help promote more foreign investment to Sri Lanka and also to help increase tourist arrivals by three or four fold very soon.
While some of the Heads of Missions were pleased at the President's statement that not all of our diplomats had been found wanting in their tasks, there were many others having serious concerns as to which category they had fallen into.
In a very special request to the Foreign Office most of the DPLs who came to Colombo for this workshop wanted them to be supplied with two or three copies of the Mahinda Chintana each, which they realized was compulsory reading for them, other key staff in their missions, as well as their spouses.
"Never have we been put through the wringer like this before, and it was a welcome experience to me" was the observation of a senior diplomat after the President spoke.