TOOL
Tool's greatest breakthrough was to introduce dark, vaguely underground metal to the preening pretentiousness of art rock. Or maybe it was introducing the self-absorbed pretension of art rock to the wearing grind of post-thrash metal the order really doesn't matter.
Though Metallica wrote their multi-sectioned, layered songs as if they were composers, they kept their musical attack ferociously at street level. Tool didn't. They embraced the artsy, faux-bohemian preoccupations of Jane's Addiction while they simultaneously paid musical homage to the dark, relentlessly bleak visions of grindcore, death metal, and thrash.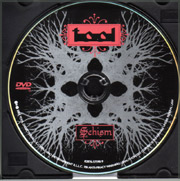 Even with their post-punk influences, they executed their music with the ponderous, anti-song aesthetic of progressive rock, alternating between long, detailed instrumental interludes and tuneless, pseudo-meaningful lyrical rants in their songs.
Tool, however, had a knack for conveying the strangled, oppressive angst that the alternative nation of the early '90s claimed as its own. So, the band was able to slip into the definition of alternative rock during the post-Nirvana era, landing a slot on the third Lollapalooza tour in 1993, which helped their first full-length debut album, Undertow, rocket into platinum status.
Their music has been influenced by King Crimson, Led Zeppelin, Pink Floyd, Rush, Meshuggah, and early Yes, among several others. In turn, Tool's music has been deemed influential by critics and fellow artistes alike.
Recently Kirk Hammett (Metallica) played with the band in a show and described in Metallica's official web site this event as "one of the most profound jamming experiences I have ever encountered." During the 1980s the future members of Tool, guitarist/bassist Paul d'Amour, drummer Danny Carey, guitarist Adam Jones and singer Maynard James Keenan coincidentally moved to Los Angeles.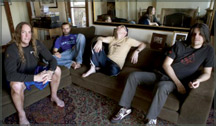 Both d'Amour and Jones wanted to enter the film industry. Carey became a professional drummer playing for Carole King, Pigmy Love Circus and Green Jell. Keenan, along with d'Amour and Jones, started their own band at the end of the decade. Carey was introduced to Jones by an old high school friend of Jones.
In 1990 when Carey, then a neighbour of Keenan, joined their rehearsal, Tool was formed. The next year Tool began touring with Rollins Band, Fishbone, and Rage Against The Machine.
Tool received immediate recognition for their first commercial release, Opiate (1992). The six-song EP included the "hardest sounding" songs the band had written to that point, among them the singles "Hush" and "Opiate." A music video for "Hush" was created by Failure's Ken Andrews, with the band members appearing naked and their mouths covered by duct tape, symbolically protesting censorship. Ironically, due to FCC regulations requiring the censorship of genitalia, the video eventually showed the band's genitalia covered with parental guidance stickers.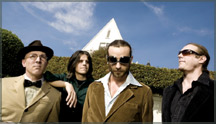 Tool were quick to release their first full-length album, Undertow (1993), soon after Opiate, because many of the songs on Undertow had already been written at the time Opiate was released. Eventually, they were hired to play the second stage at Lollapalooza in 1993, where they attracted great attention.
The band was quickly moved to the main stage because of their "presence, prowess and power." This helped to boost the popularity of Undertow and before long, the album was certified gold by the RIAA. The album was later certified double platinum on May 14, 2001.
The band received negative publicity, however, with the release of the 1994 single "Prison Sex" and its music video, directed and created by Adam Jones. The American branch of MuchMusic called the band into question by deeming the video too graphic and offensive. MTV stopped airing the video after a few viewings - both due to a symbolic dealing with the sensitive subject of child abuse.
In May of 1993, Tool was scheduled to play the Garden Pavilion in Hollywood. The band learned at the last minute that the Garden Pavilion belonged to L. Ron Hubbard's Church of Scientology which "betrays the band's ethics about how a person should not follow a belief system that constricts their development as a human being." In a recent interview with Blender, Maynard recalled that he "spent most of the show baa-ing like a sheep at the audience."
In September 1995, shortly after recording for their second album began, D'Amour left the band amicably. In November, he was replaced by Justin Chancellor, a member of Peach, an English band with whom Tool had previously toured in Europe.
After Justin Chancellor came on board, Tool finished the already-begun AEnima, which was subsequently released in October of 1996. Once again, a single had difficulty gaining airplay; this time it was "Stinkfist." MTV renamed the music video of the song to "Track #1" because of the offensive connotations, and multiple radio edits were made to both shorten the song and change its lyrics.
However, an overwhelming fan response compelled most radio stations to play the track uncut. In addition, Matt Pinfield, the host of MTV's 120 Minutes, responded to fan complaints by waving his fist in front of his face on air while explaining the reason for the name change as he introduced the video. AEnima would be Tool's last studio album release for five years.
AEnima was dedicated to satirist Bill Hicks who died two-and-a-half years before its release. Some clips of Hicks' performances are included on AEnima and Undertow, including multiple sketches about psychoactive drugs and a sample of a bleating sheep.
The lenticular casing of the AEnima shows California falling into the Pacific Ocean, and the chorus of the song " AEnima " features the lyric "Learn to swim, I'll see you down in Arizona Bay;" these are references to another popular Hicks sketch about his hatred of Los Angeles. Eventually, "AEnima" would win Tool's first Grammy Award.
During their 1997 tour to support the album, Tool appeared at Lollapalooza again, this time as a headliner, gaining critical praise from the NY Times: "Tool was returning in triumph to Lollapalooza after appearing among the obscure bands on the festival's smaller stage in 1993. Now Tool is the prime attraction for a festival that's struggling to maintain its purpose.
Tool uses taboo-breaking imagery for hellfire moralizing in songs that swerve from bitter reproach to nihilistic condemnation. Its music has refined all the troubled majesty of grunge." That same year, Volcano Records alleged contract violations by Tool and filed suit.
The band countersued and the parties later agreed to a new contract and a three-record deal. This legal battle put a great strain on the band and delayed work on their next album. During this time, Keenan founded a new band, A Perfect Circle, with long-time Tool guitar tech Billy Howerdel.
At this point, rumours that Tool were breaking up were beginning to spread, until the band released the box set Salival in 2000 putting an end to the rumours. The box set featured one new original recording, "Merkaba", as well as recordings of unique live versions and B-sides, including covers and five of the band's videos, "Stinkfist", "AEnema", "Prison Sex", "Sober" and "Hush." Although this release did not produce any singles, the hidden track "Maynard's Dick" (a track which dates back to the Opiate era) briefly found its way to FM radio when several DJs chose to sneak it onto the air without permission.
In January 2001, the rumour mill surrounding the band gained new life when Tool announced their new album, Systema Encephale, along with a tracklist full of esoteric and obscure words such as "Numbereft", "Encephatalis", "Musick", and "Coeliacus."
As anticipated, file-sharing engines such as Napster became flooded with bogus files disguised with those titles. During that time, Tool members were outspokenly critical of engines like Napster due to the negative impact on smaller artists that are dependent on success in record sales to continue their career. Keenan had this to say during an interview with NY Rock in 2000: "I think there are a lot of other industries out there that might deserve being destroyed.
The ones who get hurt by MP3s are not so much companies or the business, but the artists, people who are trying to write songs." Only one month later, they revealed that the new album was actually titled Lateralus and that the name Systema Enc,phale and the tracklist had been a ruse, much to the dismay of music magazines and commercial websites who had committed headlong to the fake title.
Lateralus features songs averaging six-and-a-half minutes in length, unwieldy even for the most ambitious of disc jockeys. The length of the music video for "Parabola" clocked in at an unheard of ten-and-a-half minutes, almost condemning it from being aired on mainstream music channels.
Nevertheless, the album became a success the world over, reaching #1 on the Billboard Top 200 album charts on its debut week. Tool received their second Grammy Award for the best metal performance of 2001 for the song "Schism".
During the band's acceptance speech, drummer Carey stated that he would like to thank his parents (for putting up with him) and Satan, while bassist Chancellor concluded: "I want to thank my dad for doing my mom." After extensive touring throughout 2001 and 2002, including a 10-show mini-tour with King Crimson in August, the tour came to an end on November 24, 2002.
Although the end of the tour seemed to spell another dormancy for the band, they did not become completely inactive. While Keenan recorded and toured with A Perfect Circle, the other band members released an official yet fanclub exclusive interview and a recording of some of their new material. Three hundred pre-released and autographed copies of the "double vinyl four-picture disc" edition of Lateralus were made exclusively available as well.
Following another prolonged break, during which Keenan rejoined A Perfect Circle to record and tour, he joined his bandmates to work on a new record. After some minor details about their new material emerged, such as the influence of Lateralus tourmates Fantomas and Meshuggah, the notorious rumour mill surrounding new Tool-releases resurfaced as well, as it was fuelled by unusual incidents.
One of the main controversies regarding the new release was the album title. After rumoured titles such as Teleincision had been dismissed, a news item on the official Tool website eventually announced the new album's name: 10,000 Days.
Nevertheless, rumours did not cease to emerge, reaching a point where it was speculated that they had fabricated a "decoy" album, creating an elaborate hoax to fool audiences until the day of release.
They only began to subside when a leaked copy of the album was illegally distributed via filesharing networks preceding the release date by two weeks.
The record was eventually released as announced on May 2, 2006 in the US, and debuted at the top spots of various international charts. Despite being available on said filesharing networks, 10,000 Days sold 564,000 copies in its opening week in the US alone securing itself the top spot on Billboard charts. However, 10,000 Days' critical reception was less favourable than its predecessor Lateralus.