"Kandy Lamissi" Mariazelle:
Baila "Queen" joins the "Kings"
by Prasad Gunewardene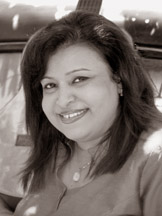 When Mariazelle Gunetilleke entered the "Observer Talent Search-Junior Section" in way back 1970 as a child, the Sunday Observer ran a headline-"The little girl with the big voice and guitar higher than her". This newspaper predicted she would be the winner. And it happened. Today she is known as the "Queen of Baila". As her father, the late Rajah Wijebadra Gunetilleke believed, Mariazelle who started to sing at house parties from the age of three seems to have been accidentally vaccinated with a gramophone needle.
'Udarata Menike'
As a child she was inspired by listening to the ever popular numbers of that era like 'Udarata Menike', the English version of 'Hai Hui Babi Achchige Bycicale' and mesmerised the baila of the late Eric Batcho.
She forced herself to stay awake to listen to the radio till late night though her parents wanted her to get to bed early as a child attending St. Joseph's Convent, Nugegoda. A frequent visitor to her place was Leonard Weerasinghe (father of musician Sohan) who taught this little girl the first chords of the hawaiian guitar. As a five year old Mariazelle used to sing "Kumbaya" and "Ebony Eyes" accompanied by this guitar. She learnt harmonising under Eranga (Leonard's daughter) of the famous "Eranga/Priyanga" combination.
Enlarging her knowledge in music, Mariazelle as a seven year old graduated to the Spanish Guitar and studied Classical Guitar under the late Winston Jayawardene. Later, she played drums and keyboards at that tender age.
Her ringing voice as a child made everyone believe that they were either listening to Marie Osmond or Karen Carpenter. In school she led the children's choir and conducted it. Often her teachers had to warn her as free periods in school ended up in noise with Mariazelle flanked by her friends singing in the class.
Turning point
Despite these talents, she could not secure a place in the "Elasto Talent Competition" hosted by the Sri Lanka Broadcasting Corporation. Undeterred by this set back, little Mariazelle entered the "Observer Talent Search-Junior Section" to be the proud winner.
This gave her more courage to play with bands like "The Emeralds" and the "Midnight Mist". Recording "Kandy Lamissi" in 1977 was the virtual turning point in her career. The song was an instant hit and Mariazelle came to be known by that name. This new "Kandy Lamissi" had to move from place to place not only here, but also in top hotels like Soaltee Oberoi in Kathmandu, Nepal to perform. In the same year she met with an accident in Nuwara Eliya in which she sustained serious injuries to ker spine and collar bone.
Music fans were told that Mariazelle would never perform again as doctors claimed that extensive damage had been caused to her vertebrae. In addition, she fractured her ribs, shoulder and forearm. Helped by her dear classmate, Christine Nadarajah at that time, her belief in God and community prayers saw her out from that dark period, Mariazelle claimed.
Out from hospital Mariazelle had the privilege of getting the helping hands of legends like Clarence Wijewardene, the Emperor of Baila, M. S. Fernando, Stanley Peiris, Ajantha Ranasinghe, Chandral Fonseka and Sunil/Piyal of the "Gypsies". The compositions of Clarence and others provided her a different style and rendition that attracted music lovers. Ajantha's composition "Sihina Nelum Mal" was dedicated to her son, Teshan now studying in England.
Overnight hits
In her music journey, after 1977, Clarence was instrumental in composing the best ever hits for Mariazelle. The sweet melodies, music and lyrics like "Rahasai Sonduru Jeewe" and "Yowun Sihina Loke" still echoe in the minds of music lovers. Clarence knew the enormous music talents in Mariazelle and saw her ability and trend in vocals. He accordingly composed and every number became an overnight hit.
This "Queen of Baila" and pop music, after globe trotting many a time has now joined the band "Kings" to perform at the lobby/Lounge at Hotel Continental in addition to other concerts. Mariazelle has come a long way to stay in the music scene. The stage is always live when Mariazelle is there. She, was discovered by the "Observer Talent Search" competition.
*****
Mariazelle with the "Kings'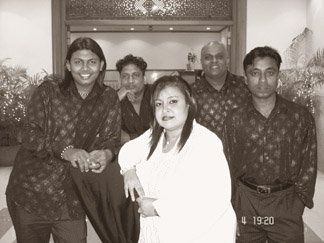 Formed in 1983 as CHAMPAIGNE and changed the name to KINGS when they had to tour Europe as there was an international band by the name of CHAMPAIGNE.
Founder Members of the band: Chandral Fonseka Leader/Bassist/vocals Ranil Vas Guitar/Keyboards/Vocals Shiran Munasinghe Drums/Vocals Melantha Perera Keyboards/Vocals Back in Sri Lanka, they continued to function as Kings and played at the LITTLE HUT for 7 years continuously.
In 1989 with Sonali Sooriyagoda as the female vocalist, Ranil Vas and Melantha Perera were replaced by Aruna Liyanage (Jaya-Sri) in 1989 and Geeth Mihiripenna in 1987. Geeth Mihiripenna was replaced by Arith Ratnawibhushana in 1990. In 1989 Sonali Sooriyagoda joined as the female vocalist. Only three changes took place in ten years.
KINGS were voted the MOST POPULAR BAND IN 1990, AND 1991 at the annual Island music awards.
KINGS re-grouped in July 2002 and had their re-launching concert at the Empire Room of Mount Lavinia Hotel with a number of top musicians in attendance. The members were Chandral Fonseka - Leader/Bassist/Vocals Ranil Vas - Guitar/Keyboards/Vocals Rafi Burksh - Keyboards/vocals Ajantha Dodampegama - Drums/vocals Sherry - Female Singer.
After a spell at the Blue Leopard and Harbour Room of Grand Oriental Hotel in Colombo for 2 and a half years, KINGS can now be seen and heard at The Heist Bar at The Ceylon Continental Hotel on Fridays.
The band has been seen at the Holiday Inn Hotel ushering in the New Year, and also the Colombo Plaza (Cinnamon Grand) 2004 New Year's Eve dance. The present line up of the band comprises:
1. Chandral Fonseka (Bass Guitar & Vocals)
2. Hasitha Samarakoon (Drums & Vocals)
3. Shakila Ganegama (Key-Boards & Vocals)
4. Manoj Fernando (Guitars & Vocals)
5. Mariazelle Goonetilleke (Vocals).