How Sri Lanka figures in cricket's worst excuses for losing
Steven Lynch looks at cricket's worst excuses
"My Mum gave it to me"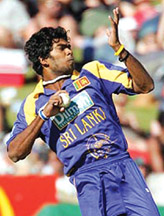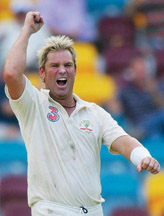 Shane Warne's mother gave him a diuretic pill after a one-day game in Australia in 2002-03, to make him look a bit slimmer on TV. But it included two banned drugs and Warne soon joined them on the banned list - he was suspended for a year (which some thought was not enough), missed the 2003 World Cup and said goodbye to any realistic hopes of captaining Australia.
The juxtaposition of Venus After England lost yet again to Australia, at Lord's in 1993, Ted Dexter, the then chairman of selectors, suggested: "We may be in the wrong sign ... Venus may be in the wrong juxtaposition with somewhere else." It was meant to be a joke but Ted got roasted in the press anyway.
Dropping a stitch when Roy Park made his Test debut for Australia, against England at the MCG in 1920-21, his wife was watching proudly from the stands. But just as he faced his first ball she dropped her knitting, bent down to pick it up ... and missed his entire Test career.
Park was bowled for 0, did not bat in the second innings and was never selected again. "I thought it was a no-ball" Ray Illingworth was well known for having a fund of excuses to cover most of his batting dismissals: When he was bowled, he occasionally grumbled that 'T'umpire must have given me t'wrong guard."
And David Gower recalled how Illy once stormed back to the dressing room after being bowled having a wild slog at Allan Jones - one of the first bowlers to grunt, Monica Seles-style, at the point of delivery. "Bloody Jonah and his grunting ... I thought t'umpire had called no-ball."
A touch of the sun Northamptonshire's first innings of 374 at home to Kent in August 1955 owed much to extras - there were 73, including 48 byes. With Godfrey Evans missing, Kent's keeper was Tony Catt, and the following year's Wisden revealed his problem: "Sunburn seriously impeded Catt's movements, and he found difficulty in taking [Doug] Wright, who spun the ball sharply."
"Sorry Doctor, she slipped"
Ernie Jones was one of the first tearaway Aussie fast bowlers. Legend has it that in the first match of the 1896 tour of England, against the XI raised by the Shield donator Lord Sheffield, Jones let go a rapid beamer, which was said to have whistled through WG Grace's beard. "What do you think you're at, Jonah?" Grace is supposed to have inquired, his already high voice possibly now a falsetto. "Sorry Doctor, she slipped," replied Jones.
Bat stuck behind pad
Ian Botham's attempt to smear the legspin of Trevor Hohns somewhere into Manchester town centre before he had scored ended in ignominious failure. His extravagant swing missed by a mile and he was embarrassingly bowled: He told his team-mates that "my bleedin' bat got stuck behind my pads." John Emburey observed: "I didn't notice they were strapped to your head."
The umpires' trousers
In April 2005 New Zealand's batsmen had trouble picking up the trajectory of Sri Lankan bowler Lasith Malinga, whose low-slung round-arm action meant the ball was missing the sightscreen and coming at them out of the darker parts of the umpires' clothing. "There's a period there when it gets lost in their trousers," said Stephen Fleming. The umpires declined to change their trousers but Steve Bucknor did tie a sweater around his waist on the final day.
The wrong trousers
After Sri Lanka lost to Pakistan in Sharjah in the autumn of 2001 some reports blamed ill-fitting clothing from a new manufacturer - particularly the trousers, which some of the players had to extend themselves, while the shirts apparently looked more like "tightfitting women's blouses worn with saris".
Anura Tennekoon, the Sri Lankan Board chief at the time, said: "This is absolutely naughty to say we lost the match because of the clothes" - but admitted, "We will be getting the team new outfits, as the tailor has made some mistakes."
Indian smog
After England lost heavily to India in the first Test of their 1992- 93 series at Calcutta, England's chairman of selectors Ted Dexter (yes, him again) suggested investigating the effects of the local smog on the players.
Their bad luck continued: The captain, Graham Gooch missed the next Test with a stomach bug after eating some "dodgy prawns" the night before the match. His team-mate John Emburey later produced a different version: "It wasn't the prawns. It was a plate of pork."
The wrong glasses
Late in life Sir Aubrey Smith, the England captain turned movie star, dropped a slip catch in a game for the Hollywood club he founded, and haughtily summoned his butler to bring his spectacles (on a silver salver, naturally). He immediately grassed a sitter, and announced: "The damn fool brought my reading glasses." Steven Lynch is deputy editor of The Wisden Group. This article was first published in the August issue of The Wisden Cricketer.
The Wisden Cricketer