Happenings / People
Dr. Wickie - a debut album
It's a catchy and a hip line - 'From patient care to singing Dr. Wickie the newest star in the Sri Lankan music scene!'
A first meeting with Dr. Wickie and you are compelled to come to the conclusion that he is loaded with humour. But in launching his debut album last Monday at Sasakawa Hall he was quite serious in his endeavour. Dr. Wickie as he calls himself, the CD is titled Dr. Wickie - No. 1, says he didn't choose the name as a ploy, because he is in fact a doctor, a medical consultant practising in the UK.
Singing has always been a passion with him in his youth. A student of Nalanda College, Colombo he never missed out in participating in musical events of the school. Dr. Wickie was nurtured in a home that echoed with music. In fact as he tells us "I still remember me singing Kotu Keli Soyala, Parandel Kola Genalla as a kid and everybody enjoyed listening to me."
So this album which was released on October 2 was directed and produced by Kalashuri Diliup Gabadamudalige. Four of the songs were written by Dr. Wickie and the others who contributed lyrics are A. B. Lalith de Silva, Wasantha Kumara Kobawaka, Bandula Nanayakkarawasam, Yamuna Malanie Perera, Nilar Cassim, Ratnasiri Wijesinghe and Dr. Athula Sumathipala.
Music is by Kalashuri Diliup Gabadamudalige, Navarathna Gamage and Mahinda Bandara. Singing duets on the album are Nelu Adhikari, Rashmi Sangeetha and Joe Steve. Two bailas have been included which are hilarious Mokada Bara Bara and Hiri Waathe and are ideal at parties. The two bailas Dr. Wickie tells us are videoed and are being aired.
The themes of the songs are unusual. Dr. Wickie says that he wrote some of his songs based on his medical experience. Patients he claims are great story tellers and this inspired him. One song is about a young man who suffers with depression after being abandoned by his girl friend.
There is another song about Hiriwathe, a common term used by Sri Lankan patients to explain aches and pains as well as shakes and stiffness as in Parkinson's disease. Diliup Gabadamudalige has produced video clips for two of Dr. Wickie's songs. The album is now available on both CD and Audio Cassette.
For more information of Dr. K. K. Wickramarathna log on to his website www.drwickie.co.uk
---
Esteem on website
It was a night that will go down in Esteem history when this magazine, which originally was dubbed 'Magazine for the Discerning Woman' and then eventually was acclaimed 'Magazine for the Discerning', launched its website www.esteemmagazine.lk, Friday before last at the Galle Face Hotel.
In the presence of a large gathering which included high society, media, advertising glitterati, and clients, Hasitha Tillekeratne, Chairman of Gem & Jewellery Authority pressed the key that switched on the website and made Esteem go global.
The occasion was compered by Kumar de Silva in his remarkable conversational style and the website was lauded for its innovative features that are a cut above other websites found on line. The site will provide feedback forms, and e-mail links and sales through on line ordering. It was way back in 1998, on January 1 (to get the exact date) that Esteem was first launched by Sicille Kotelawala and since then has stayed true to its successful 'Vision' to be the most sought after Lifestyle magazine in Sri Lanka.
Its glossy pages have helped in "promoting superior reading habits among its readership and cultivating logical, rational and exploratory reading patterns by introducing mind stimulating, inspiring and invigorating reading material." So much so, the magazine has evolved into being the 'Lifestyle for the Discerning Family.'
Now with this website Esteem is planning to reach the many Sri Lankans domiciled around the world, says Esteem Marketing Director Yvonne Weerasuriya.
M.P.
---
Classic fragrances re - launched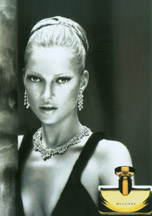 Kate Moss, the super model is the new face of Pour Femme the contemporary and classic fragrance by the world renowned Bulgari.
The perfume was re-launched here in Sri Lanka last week, by Exclusive Lines (Private) Limited. This classic fragrance is a tribute to an extremely feminine woman who wishes to re-discover luxury, sophistication and style at its best. And combined with Bulgari jewellery it's the high life you dreamed of.
Fresh and light is Voile de Jasmin which expresses feminine sensitivity and sensual grace by its predominant note - the Sambac Jasmine flower. The Jasmine gathered in first hours of the morning mixed with Prelude Rose, Mimosa, Wild Lily of the Valley and Violet makes it a unique fragrance.
The other perfume is Rose Essentielle ideal for the charming and elegant woman. The full deepness of the Ottoman Rose is merged with Prelude Rose, Blackberry, Violet leaves and Sandalwood to give the wearer a charisma that's enchanting.
To compliment the men Bulgaria also re-launched Pour Homme - the Pour Homme Extreme an intense version dedicated to a refined man and Pour Homme Soir for the man who is in search of a classic evening fragrance.
M.P.