Meeting Richard Murphy
A true postcolonial?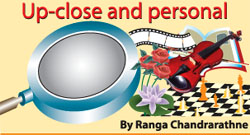 On approach to Colombo airport, as our plane flew over a coral beach lined with coconut palms, my mother remarked, 'That must be Negombo-do look!'. A wave of euphoria washed over me, submerging fearful expectations; and we stepped down on the runway, breathing the hot spicy air of decay, I wanted-absurdly- to kiss the ground.
Had I done so, it would have burnt my lips. It was old Armistice Day. My mother was wheeled through customs and immigration by two smiling dark girls in red saris, as once she had been borne through the jungle, she told me, in a palanquin on the shoulders of four men.
She was thrilled to see her picture on the front page of the Daily News under the headline LAST BRITISH MAYOR'S WIFE RETURNS, wrote Richard Murphy in his autobiography 'The Kick,' on his memorable first visit to Sri Lanka. (November 11, 1984).
As the son of the last British Mayor in Sri Lanka, Richard recalled his vivid memories of an eventful childhood he spent in a colonial bungalow at Ward Place. I met Richard following the Galle Literary Festival.
Richard was nine years old when he arrived in Colombo as son of the last appointed British Mayor of Colombo and the first Municipal Commissioner (1932-1937). In 1942, he became the Colonial Secretary of Bermuda and Governor of the Bahamas.
However, his early memories were not so pleasant, largely because of a British nanny who was very strict and scaring the children with the possibilities of being poisoned, getting bitten by mosquitoes or getting blood poisoned. He had a strong sense of guilt as he was always accused of being naughty.
The house had a polecat in the roof. His older sister could remember the eyes of the pole- cat peering through the ventilation grill in her bedroom and the caravan crossing the polished red concrete floor.
Murphy recalled the torrential rain experienced during the monsoon 'The legs of our bed stood in little bowls of disinfectant to prevent insects climbing up. A milky way of fire flies entering the room and swarming around the mosquito net lightening the darkness of the night. During the South West monsoon that began in May, I loved the drift, go-go and the clatter of rain, each drop of water striking a different note, a tin or a bucket or a china bowl on the floor of the veranda.'
Though the colonial administrators learnt the native tongues such as Sinhala and Tamil, the colonial administrators did not bother to teach their offspring about ancient Buddhist culture.
'My father was able to speak both Sinhala and Tamil. We, children were taught nothing about the resplendent island's ancient Buddhist culture. And among those who spoke English, as our family believed none spoke it as well as the Anglo-Irish and Dutch who provided the British army with her best army officers and civil servants.
Where the English might have laughed at us being Irish, the Irish resented us being English. England needed us to win her wars through our courage and rule her colonies with our sense of justice,' remarks Murphy on the attitude of colonial administrators and the English attitude to the Irish and the Dutch during the pangs of world wars.
Recalling his meeting with President J.R. Jayewardene, Murphy states, 'The President was living in his wife's old colonial bungalow in Ward Place, a few gardens away from where we had lived. Inside, we were ushered from the hall into a small dark room by an elderly man, his long-serving secretary, who greeted the president every morning by kneeling down and kissing his feet; and was known to have described him as a God among men.'
After a few minutes, the President entered, wearing national costume, a white cotton robe that reached to his sandalled feet. He looked as if he had not slept during the curfew, dark yellow pouches under foxy eyes.
My mother rose and curtsied, as if he had been a king. When seated she told him, 'We were barbarians when you had a great civilization at Anuradhapura,' Jayewardene replied, 'yes, but a long time ago you overtook us.'
Murphy recalled with much nostalgia his meeting with Prof. Ashley Halpe which led to a long-term fruitful engagement, inspiring Murphy to research and to interpret the poems on the Mirror Wall of Sigiriya.
'By good fortune, on my first visit to Sri Lanka I had met Ashley Halpe, poet, painter and professor of English at the University of Sri Lanka (Ceylon) at Peradeniya. I have never seen a more beautiful modern campus, set near the Botanical Gardens in the ever- green valley of the Mahaweli River.
Ashley had interviewed me on television in Colombo at a Dutch colonial bungalow that resembled Tilton and had found me the house in Dangolla, lent me books and told me what others to buy. My mentor in matters concerning literature, history, customs, politics and problems of Sri Lanka, Ashley, with his wife , Bridget, a talented pianist , made me always welcome to join them and their two daughters for a family meal.
'... Ashley's translations of thirty ancient Sinhala poems, scratched with a stylus on the highly polished plaster of the Mirror Wall at Sigiriya, gave me my first insight into Sinhala poetry and the idea of trying my hand at less accurate versions'.
Although Murphy covered the cultural triangle, it was Sigiriya that held him spell- bound and led to his subsequent research and versions of his own of the poetry in a book titled 'The Mirror Wall.' He states, 'For me the climax of our tour was the vision of Sigiriya, a great natural rock rising almost 200 metres out of the jungle, paddy fields and tanks in the centre of the island: dark reddish brown, glistening in radiant heat, a gigantic national lingam more than a monument, site of great water garden of Asia in the fifth century , fortress of a usurper called Kassapa, who ruled there from a palace on the summit for eighteen years.
'Kassapa may have chosen the rock to liken himself to the three legged Hindu god of wealth, reigning on Mount Meru in the Himalayas, surrounded by hundreds of cloud nymphs.
The diverse lyrics, written by pilgrims on the parapet wall that ran beside the path of ninety metres between precipitous flights of steps, address the women in the frescoes as cloud nymphs, wives or concubines of the king' ... one theory is that the 'golden women with dark blue eyes like water lilies' were positioned on the rock to inspire the god of the cloud to discharge semen on the earth as rain.
Truly the frescoes inspired a growth of songs from people who were not poets, yet whose impromptu poetry has lasted for more than a 1000 years.'
He also recalled that his love for Sri Lanka eventually led to the adoption of two Sri Lankan boys who were orphaned and had life threats during the period of terror. After a legal battle, Murphy won and adopted the children. He states, 'In April 1989, I took Darrell and Sathiya to Ireland, where they were granted citizenship and accepted at St.Andrew's College, Dublin, from which in due course they passed into universities.
Sathiya eventually obtained a first class honours degree in hotel and catering management. Darrell moved more swiftly into electronics, following Arosha at Intel, until he was invited to join a growing private electronic company.'
Richard's love for the country has not diminished because he keeps coming back to visit old friends and places even hopes to attend a second Galle Literary Festival.