Entertainment
Battle of the Bands contest
Good news for bands in the Sri Lankan western music scene!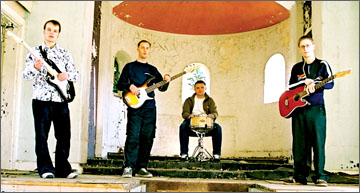 An International World Class competition will be held in December in the United Kingdom and a band selected from the national competition will represent Sri Lanka at the finals in UK. Read on....
The Global Battle of the Bands Ltd based in the UK organises this yearly event to give the opportunity to musicians and bands to perform original compositions and songs.
Through the hand work of Talent Syndicate headed by Shean Dharmaratne, who is the first musician to win this International Award along with a live band.
At a media briefing held last Monday senior musicians Aruna Siriwardhana, Raj Senewiratne and Keerthi Fernando were associated with Sean Dharmaratne who revealed that auditions in Sri Lanka will commence on August 19 at the Onyx and through a systematic process of elimination the national winners will be selected.
Bands are requested to register their participation at the website of GBOB (www.gbob.com) and there will be follow up instructions from Talent Syndicate. The GBOB has chosen Sri Lanka as the first participant in South Asia largely due to the insistence of Shean who convinced GBOB that Sri Lanka has a large wealth of musical talent.
This is another opportunity for us to put our country on the map and with the GBOB being held in Sri Lanka we could acquire centre stage in the International Entertainment Industry.
A registered band from any country gets the opportunity to submit their material to the website and is open to industry agents perusal which could result in a record deal being signed up.
Get geared song writers and musicians, this is an opportunity that should not be missed. All British newspapers will be giving wide coverage for the finals. So act now and good luck to you!
---
A surprise show by Rajiv and Sunil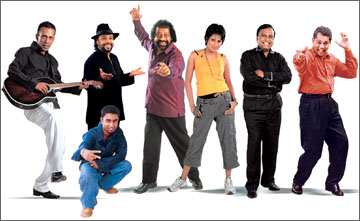 Sinhala Pop Singers, Sunil Perera (Gypsies) and Rajiv Sebastian (Rajiv & the Clan) will keep the audience spellbound on their toes on June 24 at Waters Edge, Battaramulla when 'M-Entertainments' release three music albums produced by Rajiv.
Sunil will tell how others escaped the wrath with him and Ronniee been put on the dock to answer questions. Like that, Rajiv will in melody ask Sunil many more questions.
This is the first time an interview is being done in song.This event is sure to draw the crowd as it would be the last show of Rajiv and his band 'Rajiv and the Clan' in attendance before they embark on a long journey abroad a few days later.
Rajiv, a talented musician in the making of Sinhala pop legend, the late Clarence Wijewardene has composed all the songs in the three albums done for M Entertainments.
Adding more colour to this event will be the 'Prince of Sinhala Pop' who will also come out with new songs composed for him by Rajiv. The combination Annesley and Rajiv on stage will bring the nostalgic memories of Annesley and Clarence of the past.
Annesley celebrated his naughty fortieth birthday on June 13.Another interesting song will be between A.E. Manoharan and Desmond De Silva written on how a Jaffna Tamil meet a Colombo Sinhalese after thirty years.
The lyrics say that they are delighted over the meeting and they talk about their glorious past thirty years ago. These albums are titled "The Mega Star Collection", 'Rajiv Sebastian Unplugged' and 'Karoake'. The albums will have the voices of popular Desmond de Silva, A.E. Manoharan, Corrine Almeida, Teesha, Rajiv, Sunil and Romesh of 'Hithumathe' fame. 'Rajiv unplugged' comprise compositions on acoustic instruments.
Music for all albums is composed by Rajiv Sebastian.There will be a variety of comperes in this musical evening with dances from the Prasadi Dance Academy.
---
Latin and all that jazz
No one can deny that the pulsating sound of the congas is a magnetic attraction. And if you enjoy music with the throbbing Latin beat of the congas, then make your way to the Mount Lavinia Hotel on a Wednesday evening 7 pm and soak in the vibes of Jazz A Nova - a fairly new aggregation on the music scene.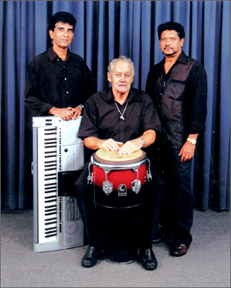 The experienced trio comprises Dr. Hans Mater - congas, Hilary Christie - keyboards with the vocals taken by Lalith Fernando. The outfits repertoire stretches to include standards, Latin and Bossa favourites, ballads of the 70s and 80's and songs with a catchy beat. Experience the difference in music. How did they get together you may wonder?
The three some meet and perform regularly at Jazz Unlimited's sessions. Formed by Hans Mater a medical doctor by profession, he toured throughout the UK and played at many festivals as a bassist, before he decided switch to Latin percussion specialising in the Congas.
As a percussionist he has performed at many festivals in Wales, Holland, toured and played in Spain. Here in Sri Lanka (now semi retired) during his many stays he has performed with the Gypsies, Sohan and the X'periments and with Harsha Makalande and Khrome.
Hilary Christie the pianist/keyboardist started off his musical career as guitarist and then changed over to the keyboards and has not regretted it since. He had a long career with Gaylord Revival at the Oberoi Supper Club and later on with Haze, Charade, Super Golden Chimes, Harold Seneviratne Combo and Cross Section.
He has had his fair share of playing abroad. As he tells us he played at the Taj Hotel in Yemen providing musical accompaniment for many performing British singers. Since then he has played at the Madras Taj, the Maldives, Moven - Pick Hotel, Jeddah and Melbourne, Australia.
One time leader and the popular western music singer of the well known band 'The Fabulous Moonstones' Lalith Fernando has a fantastic repertoire of songs that stretches from all time standards, to popular evergreen hits, well loved ballads, swing and jazz favourites.
"I enjoy singing the lesser heard songs from the books of Frank Sinatra, Dean Martin, Perry Como, Nat King Cole, Andy Williams and the revival of the favourites by Michael Buble." So if you have a request then make it your day with Jazz-A Nova.