More about vaccination...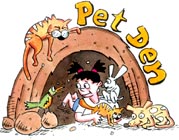 Recently, our Veterinary Surgeon Dr. D. A. U. Saman Kumara of the Kirindiwela Animal Clinic briefed you on the basics of vaccinating a pet. Today, he goes into more detail about vaccinating so that you can gain more knowledge about it.
Something you should always keep in mind, when it comes to vaccinating your pet, is to always give your vet the opportunity to examine your pet's general health status. To have a successful immune system through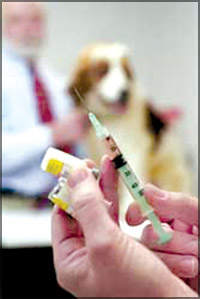 vaccination, there are some rules you should follow. They are:
* Make sure that your pet is healthy. If your pet is ailing from some disease, you must treat that first before administering vaccines. You should vaccinate the pet only when it is in a normal, healthy condition.
Also, if you treat it along with the vaccination or two/three days after vaccination, the results expected from vaccination may be lost.
* Ectoparasites like ticks, mites and lice should be controlled before vaccination;
* Endoparasites like intestinal worms, lung worms and heart worms should be controlled;
* Appropriate vitamins and minerals should be given so that the pet will be healthy and able to get good results from the vaccine;
* Pregnant animals should not be vaccinated;
* After buying a puppy, the vaccination shouldn't be done on your way home. Let the animal adapt to the environment in your home, and then vaccinate;
* Vaccines should be stored in a cool, dark place, away from sunlight. When taking a vaccine from the pharmacy, always remember to carry it in ice.
There are specific methods to inject the vaccine; they are Intra Muscular (IM) or subcutaneous (under the skin). Better results could be obtained by using the Subcutaneous method. When vaccinating a pet, always check whether a disposable new syringe is used. You must not disinfect the area where the vaccine was administered; it should be cleaned with a cotton wad, but not with surgical spirit. This is because the spirit can penetrate the skin and mix with the vaccine.
After vaccination, it is advisable to let the animal rest for two to three days. Dogs, particularly should not be used for training and hunting or other strenuous (tiring) activities.
It is also not recommended to transport animals and expose them to conditions of stress. Younger ones should be allowed to rest for at least one week. It is also advisable to immunise dewormed animals.