Chocolates! 'The worst quality I see in her'
Roshantha talks about life with Sangeetha: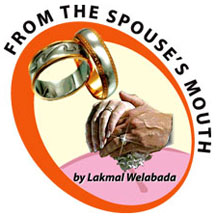 "I barely recognised the bald-headed 'nun' in yellow robes. The feeling was strange. I took a week to make up my mind to agree with her decision to shave her head. But when I saw her on the sets, I felt proud of her. She was bold enough to take that bold step as 'Uppalavanna'.
She is my wife Sangeetha Weeraratne," says Roshantha Kariyapperuma the husband of one of the brightest stars in the Sri Lankan film industry revealing his inner feelings about his star-wife.
"She was in the peak of her career when I first met her in 1999. During that time present President Mahinda Rajapaksa was the Minister of Fisheries and Aquatic Resources.
He made a tour to Iceland and Sweden. A few businessmen attached to the industry also accompanied him. I was one of them. Ms. Sarala Fernando, High Commissioner of Sri Lanka in Sweden hosted a dinner for us at her Stockholm residence. Sangeetha had also come to Sweden for a shooting, and was also invited," he reminisces.
Roshantha had met Sangeetha a couple of times earlier at various functions in Sri Lanka, but he felt the High Commissioner's dinner was the 'first' meeting as it laid the foundation for their romance.
The young businessman was not that excited over the film star's visit. He had been a social guy who loved travelling, and had seen the world. Even by then he was on his fifth passport, and claimed to have travelled over 50 countries. Business tours and trips on leisure and pleasure had already moulded him into a man with a broad perspective of the world.
At the dinner table Sangeetha happened to sit on his left side. Her non-stop chatter entertained all ten at the table including the (then) Minister Rajapaksa. The young actress had many things to talk about. Gradually she began to talk about the ethnic situation in Sri Lanka.
The invitee who sat on the right side of Roshantha was rebutting her points for some reason. Roshantha was serving the soup placed at the centre. The steam emerging from the bowl was blending with the 'debate' (which began as a friendly discussion) between the beauty and the businessman, and was gradually heightening.
Roshantha felt the heat of it and thought it was high time to warn her. He nudged Sangeetha, and whispered, 'Better stop it at this point, Sangeetha. This is not a place to continue this sort of topic.' Sangeetha just stared at him. After a few seconds she adjusted herself to talk about a new topic at the dinner table. Sangeetha felt bewildered.
His words had made an impact on her. Even Roshantha didn't expect her to stop the argument. But she did. After the dinner both went their separate ways.
Roshantha Kariyapperuma was born and bread at Biyagama, Kelaniya. His father Windsor Kariyapperuma who was attached to the National Intelligent Bureau died under tragic circumstances during the insurgency in 1989. This drove his whole family - brother, three sisters and mother to Colombo.
"I studied at Dharmaloka Maha Vidyalaya, Kelaniya. My childhood dream was to become a top businessman one day. Even without my knowledge I had laid the foundation for it when I was a teenager. It started with my passion for aquariums which turned to a small scale business. I was in the O/L class then," he reminisces.
By the time he was doing his A/Ls Roshantha was the owner of 4 aquariums at Kiribathgoda, Makola, Kaduwela and Biyagama.
"I sat for the A/Ls in the Commerce stream and then got involved in full time business," he says. Roshantha's desire for an aquatic business became a family business along with his brother Priyantha and gradually expanded into Fish food and Prawn Feed factories in Chilaw and Puttalam and importation of aquarium equipments. "I obtained an Aqua-Cultural Degree in Thailand in 1991. And I'm a professional aqua-culturist," he claims.
After their visits in Europe Sangeetha and Roshantha became good friends. Sangeetha noticed her mobile was showing many missed calls. Calling her every now and then had become one of Roshantha's passions now. After six months both realised that they were made for each other.
Question: During that time Sangeetha was in the peak of popularity. She won both the Best Actress and Popular Actress Awards for her role in late H.D. Premachandra's 'Sapthya Kanya'. Didn't you feel it was a challenge to take such a bold step, marrying a film star?
Roshantha: Sangeetha is a complex character with very much a balanced mentality. I, though a businessman, have been moving with music and the film industry often. We used to have 'Paduru parties' every three months. So I was up to date about the things that were taking place in the industry. I was having some sort of faith and soft corner for Sangeetha.
Question: She studied at Methodist College, and was moving with the sophisticated crowd through out. Didn't it clash with yours?
Roshantha: No. Because though Sangeetha came to Colombo for studies she was brought up in Panadura. So both of us were from urban-village mix backgrounds. Also I would thank her parents for bringing her up in this way. She has had a film background since the day of her birth as her father, Timothy Weeraratne was attached to the industry.
She was lucky to get that kind of guidance which a newcomer rarely gets. On December 6 in 2002, Roshantha and Sangeetha entered wedded life. Present President Mahinda Rajapaksa and veteran film director Lester James Peiris were their attesting witnesses.
"Religion might have been the first cause which brought us together. Both follow the Buddhist philosophy thoroughly.
And also being a businessman might have been the other cause for her to choose 'me' out of all her suitors," he laughs. "Not like professionals, businessmen have more time and opportunity to move with anybody in society," he says.
"Travelling, music and films are the other main common interests we have," he points out.
Question: How's life with an actress?
Roshantha: Generally both are occupied in work five days a week. Friday, Saturday and Sunday are full of social functions. We try to keep Sundays free. But really enjoy the leisure when we go abroad which we often do. And it's the time I enjoy a drink as well.
I don't drink here. This is because since we have functions often, I will be drinking everyday. There won't be a limit. Apparently I'll soon be an alcoholic. I also don't smoke.
Question: What is the worst quality you see in her?
Roshantha: Chocolates!!! That is the worst quality I see in her. I've tried to restrict her from consuming chocolates, but failed.
Question: Disagreements?
Roshantha: There are... We argue for the cause. But she gives in.
Question: Is that what you want?
Roshantha: Yes (laughs). Well she is a tough character by outer appearance, but she is a good wife. I get angry, but she doesn't.
In addition to his business work Roshantha has been indirectly involved in politics. "But I have no intention of involving in full time politics. I don't like my wife getting involved in it either. I believe that one doesn't need to be in politics to work for people.
Also it's always better to be an actor or actress than be a politician. An actor/actress is loved by 99 per cent of the people. But a politician would get only 50 per cent. So what would you get out of it?" he asks.
"I don't feel that much difference being married to an actress until we step out of the house, as she is being recognised by everybody. It restricts the freedom. But that's alright. We feel free and relaxed when we go abroad," Roshantha goes on to say, "Sangeetha has only one sister who lives in Sydney.
So with my family, which consists of about 23 members she gets on well. This is something I really appreciate. She is not a woman who has lost her head over her fame. At present she's busy with her novel idea, 'Model Shop', a model training centre. She does one or two films a year, and would have more time for this venture.
Question: Have you thought of adding a new member to the family?
Roshantha: We've been married for four and half years now. So I think it's the right time to think about it. (smiles)
Question: Rumours are common in the film world? How would you respond to such rumours regarding your wife?
Roshantha: I know who she is. Trust is the most important fact in marriage. She knows how to handle things, and is no fool. So I know she won't go wrong.
Question: Her hair?
Roshantha: She normally wears wigs. I'm quite used to it now. In 2-3 years time her hair would come back.