A serious but splintered film
Nisala Gira (Silent Honour) a fascinating facet of serious art:

Take it with both hands when you are about to get something that you lost once are perhaps the most evocative lines spelled out by Nanditha (brilliantly portrayed by Nimmi Harasgama), when Radha conceived a child in prison. Radha (Nita Fernando) is the main character in Nisala Gira (Silent Honour) by Tanuja Anawaratne, the latest film to hit the Silver screen.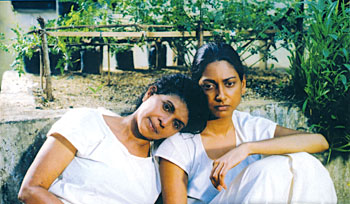 The story revolves around a high society Minister's wife Radha (Nita Fernando) and how she is entangled in a web of international drug dealers leading to her eventual imprisonment.
Saliya (Ravindra Randeniya) is an honest politician, a rare breed indeed, perhaps found only in cinema. He declares a war on drug trafficking earning the wrath of the drug dealers who want, at any cost to stop, Minister Saliya from ratifying SAARC agreement on combating drug.
However, the plot to assassinate Minister Saliya takes a tragic turn when his gifted son who had shown signs of becoming a world famous concert pianist is killed by unidentified gunman.
As Radha losses her purpose of life, she begins to live in world between reality and fantasy. Grief-stricken Radha becomes a pawn in the hands of the drug cartel when she was handed over to Marko, a bogus doctor (Saumya Liyanage) through an ambitious and ruthless family friend Cynthia (Angela Seneviratne).
Although marked by its higher picture quality and impressive cinematic diction, significantly the film lacks credibility that it should have, from the very beginning. For instance the trial is conducted only for Radha, though she was arrested with a group.
If the facts will include in a fiction, those facts should be accurate and should not be fictional. Other partners who have been implicated in the incident were also missing in the bus that carries the prisoners to the prison. This is, perhaps, due to the ignorance on the part of the director or his deliberate attempt to mislead the audience.
Nandita's death sentence is factually incorrect since death sentence has not been activated in Sri Lanka for over three decades. It is also unrealistic that Nandita being taken alone to gallows in hand cupped. This is also amounting to misleading of the public.
When death sentence is pronounced on a convict it will eventually be converted into life imprisonment and Radha's rather prematurely release is also doubtful and far from being the reality.
Another technical aspect that the director has missed is the concert scene in the prison where prisoners play with brand new instruments in a concert. It is highly unlikely that prisoners have brand new instruments and clad in immaculately clean clothes.
This scene is extremely unrealistic; Nanditha's playing violin, Kudu Amma and Damitha Abeyratne miserably failed. It is the only scene in which Nimmi does not perform well. The Director is squarely to be blamed for inserting rather inappropriate scenes.
This entire scene seems to be a planted one as it does not directly relate to the plot. It is also apparent that towards the end of the film, the director seems to have run out of material and deliberately inserted several scenes including those of rather silly fights between female prisoners and perceived lesbian scene, perhaps, with the intension of rendering a classical outlook to the film.
Another glaring shortcoming is that when Radha is released she comes out from the Bogambara prison and as if in a magical spell, steps onto the Parliament road, Damitha and Kanchana's shouting at each other crazily and Asela shouting at the pitch of voice blaming her high society parents obviously add salt to the already wounded film. Death of an inmate in a fracas is also sub-plots which have nothing to do with the central theme of the film.
The Premature release of Radha with a seemingly three year old child indirectly suggests that a person convicted of criminal offense such as drug trafficking can come out in a short spell of, perhaps, three or four years which is highly unlikely given real figures that at least, such a convict should spend ten year imprisonment or life imprisonment.
The fact is testified by a child been cradled a child in the arms of the mother, Radha. The child should be in the aged group of three to four years.
Glimpse into the Asian high society
The script-writer attempts to look into Asian high society through the characters of Minister Saliya, his wife Radha, Cynthia and Marko and members of the drug cartel. Seemingly, unblemished political career of Saliya and his idealistic war on drug is most unbelievable given the highly corrupt establishment and especially politicians.
However, the script-writer has driven home the fact that ruling class is a relict of colonialism who mimics the mannerism of their colonial masters even after decades of gaining independence. Techniques such as flash back have been misused destroying the central theme of the film which seems to be the all out war on drug abuse and innocent lives which evaporates into thin air as the drug under the candle flame.
Most of the proven actors have miserably failed in portraying diverse characters. Nita Fernando, Ravindra Randeniya are among them. Damitha Abeyratne, Kanchana Mendis were prominent for their over acting.
It is a pity that the director who had worked productively with one of the most creative film makers like Asoka Handagama failed to derive best acting from Ravidra Randeniya as Handagama did in 'Aksharaya' (letter of fire) .
Nita Fernando's portrayal of her character is also unrealistic at certain points. However, Angela Seneviratne fits into the character in a realistic manner as if she is really into the business of drug dealing.
Though different from most of the characters portrayed, Saumya Liyanage (Marko) plays his allotted role with much ease and Rozanne Diaz (Nicola) has also done justice to her role. Nimmi Harasgama is brilliant in her portrayal of Nanditha, another victim of the drug cartel. Especially her delivery of dialogue is natural and highly impressive.
Chandra Kaluaarachchi's portrayal of Kudu Amma seems to be unrealistic at certain stages. However, it is something demanded by the character.
Cinematography by Suminda Weerasinghe and Music Director Aruna Lian and Channa Wijewardena?s choreography contributed to the rather Hollywood-style picture quality and the easy narrative style which makes the film stand out among contemporary Sinhala films.
It should be mentioned here that the script writer has wasted an excellent plot despite a host of talented cast including Nimmi Harasgama, Nita Fernando, Iranganie Serasinghe and exceptional cinematography by Suminda Weerasinghe, Music by Arun Lian , at his disposal.
However, the Director has proved that he is conversant in the language of cinema and his ability to create serious works of art is unimpeachable. This is manifested by the fact that the film does not contain kiddish scenes such as waving of hand by Meheni in 'Uppala Wanna'. It is the typical 'Good bye' wave by Sangeetha Weeraratne in romantic films.