CID probes US$ 3 million money laundering
UNP MP Ravi Karunanayake under investigation: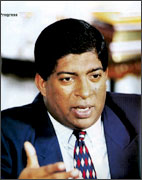 The Criminal Investigation Department (CID) probing a violation of the Money laundering Act on Thursday obtained a Court order from the Colombo Fort Magistrate and Additional District Judge Namal Bandara Balalle to peruse an account of a private bank where three million US Dollars had been deposited in local currency.
The Judge Balalle allowing the CID application to peruse the particulars of the bank account directed the private bank authorities, to allow the CID to peruse all relevant documents pertaining to the account where three million US Dollars had been deposited.
The CID commenced investigations following a complaint made by the Financial Investigation Unit (FIU) of the Central Bank to the CID Director Senior SP Nimal Kulatunga.
CID investigations revealed that the three million US Dollars had been sent to a private bank in Sri Lanka on the direction of UNP MP Ravi Karunanayake.
Investigations also revealed that the money had been sent to purchase shares from a private bank, but it was not in keeping with the Share Investment External Rupee Account.
The CID told court that they had recorded a statement of a senior officer of the Central Bank and had informed the UNP MP Ravi Karunanayake to make a statement to the CID to ascertain whether he had violated the Exchange Control Act.
Karunanayake had failed to comply with the CID direction, but had forwarded several relevant documents to the investigators.
Investigations revealed that this was an offence under Section 7 of the Exchange Control Act.
The CID told court that they will submit a further report in connection with the ongoing investigations on the next date.