Violence against women - a social scourge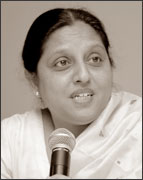 The 16 Day Action Plan (November 25 to December 10) has been named out throughout the globe with the aim of rasing awareness on violence against women and children. Over 3000 organizations have carried out the action plan in 130 countries.
The programme was organized by International Movement against All Forms of Discrimination and Racism (IMDER) led by Human Rights lawyer Nimalka Fernando, in Colombo.
The programme which was commenced on November 25, the International Day for Eliminating Violence against Women will conclude on December 10, International Human Rights Day.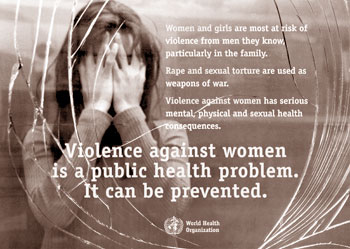 Number of days of international significance such as International Day for Human Rights Activists (November 29), International Aids Day (December 1) and the International Day for the Rights of the Disabled (December 3) are also marked during the period. Though the Action Plan is confined to 16 days, the objective of the programme is to ensure a violence free society for the woman throughout the year.
Violence against women is sometimes imbedded in certain cultural and religious practices which are taken for granted and not perceived as violation of women's rights.
This practice coupled with archetype beliefs has contributed to social attitudes favouring boys against girls. In worse scenarios this has led to the killing of infants and foetus in primitive communities. Especially violence against women during pregnancy would adversely affect the physical as well as mental wellbeing of the would-be mother and the child.
Some of the 'cultural' practices such as genital mutilation and circumcision make women vulnerable to contracting communicable diseases such as HIV/AIDS have caused long term health implications.
Though child marriage is illegal, it has been bypassed by Muslim law which allows child marriages in the name of religion and culture. Prostitution has been one of the crimes against women. In most cases, women have been compelled to enter the trade due to poverty and illiteracy.
It is pertinent to focus on the issues facing women migrant workers whose remittance make up a large chunk of net foreign currency earnings. The women migrant workers have been exploited and subject to harassment at the hand of their employers in the Middle East.
Though they have earned much-needed foreign exchange, problems facing them have been increasing. The harassments include torture, sexual harassment, non-payment of wages, retaining the pass port and cheating by employer and employment agency. So far, no action has been taken to sign bilateral agreements between Government and Middle East countries.
Existing legislature has also been proved to be an impediment to eliminating violence against women although the Constitution guarantees equal status to women and rape has been included as a crime. Womens rights activists argue that some of the legislations such as Section 303 of the Penal Code regarding abortion are detrimental to the elimination of women's rights.
Harrowing accounts of refugees and brazen violation of women's right among large number of Internally Displaced Persons (IDP) are appalling.
The Sunday Observer during the program listened to several victims of violence... Dowry, though condemned in modern society, is still being practiced in Sri Lanka. A love affair between a girl from a refugee family and a boy which would have ended up in marriage came to a halt due to demand of a sum of one million rupees from the girl's parents.
Still the girl lives with the family as a deeply disturbed child said Nirmala from Mannar. This is worse, at times, in Southern province among backward and semi-civilised individuals coupled with dearth of education.
This is one of the many such cases where money and properties are demanded from the girl's parents by boy's parents and specially the boy's mother.
It is tragic that a woman is instrumental in violating women's rights and reducing another to a status of a commodity.
A dental therapist's mother in-law Kusumawathi from a fishing village of Kudawella, Tangalle, (whose face bears no resemblance to a flower but to a pentagon) demanded a sum of Rs. 1,000,000 and a house from a prospectus bride when she made a proposal for her son who is an engineer. She was vehement in her demands that the marriage will not take place unless the demands are met.
The marriage took place only after the said sum was paid in addition to footing the bills for the home coming which was held at a five star hotel. Here, is an incident where a woman is violating rights of another woman. She has continued to demand material and monitory gains from her daughter-in-law.
All this has been done exploiting the reputation of the Engineer in an ignorant society which is a component of the cultural desert. Even after the marriage this mother-in-law demands petty articles such as a wardrobe, sarees and jewellery.
Contd. next week
***
Widows of Tsunami
As the conflicts created a large number of widows, the Asian tsunami had also created a generation of young widows. The brunt of the tsunami was bore by the coastal villages of Ampara. Among the villages, Kalmunai is the worst affected village.
As this province is haired to a heterogeneous population, inter-cultural affiliations can be seen. For instance, the dowry which is practised among Tamil community has also been practised among Muslims. Providing a house for a daughter has become a tradition.
If the parent's could not afford to construct a house, they transfer the ownership to the daughter and live with the newly wedded family. It is a phenomenon among the Muslim community that after the marriage, husband's addresses changes due to the dowry system.
According to Sita Ranjani who did a study on Widows of Tsunami in the Ampara District, Ampara has 19,657 widows. The figure includes 2,758 widows of war. Some widows lost not only their husbands but also children and kith and kin. As a result, there is a large number of a 'Single' women who are vulnerable to abuse and sexual harassment.
One of biggest impediments to re-marriage of the widows is the social stigma and decision on the part of the widows themselves that re-marriage would adversely affect the wellbeing of their children.
Most of the widows have, at least four children and there are also young widows without children. They do not think about themselves but about their children. It is a kind of self-denial precipitated by social attitudes and social stigma associated with widows.