'It was our destiny to be together'
Dhammika talks about his life with actress Semini: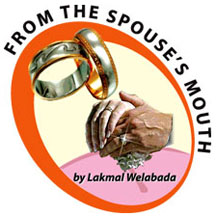 "The best role she played so far was Punni in Irabatu Tharuwa, a teledrama. It was of a village low caste damsel who sacrificed her love for the happiness of her Walawwa (high caste) boy friend," says IP Dhammika Jayalal Keerthi Iddamalgoda, the 'real' husband of 'Roshini', Mrs. 'Yes Boss', the comedy-teledrama is now a hit on Swarnavahini.
However, although much she gained much fame in her acting world, Semini is still a little princess in Dhammika's world. "Yes, that's true," he smiles. "When I first saw her she was around 15 years. She was with her grand mother, and had come to see a film. I too went to the cinema with my batch mates. We were at the Police Training College at Kalutara at that time," he reminisces.
More than Dhammika, it was one of his batch mates that was interested in getting involved with the pretty lass. But the school girl did not show any interest. "She was proud," laughs Dhammika.
After the training period was over my batch mates got their first appointments. Dhammika's fate was such that he got an appointment as a Sub Inspector at Kalutara Police. So he had to continue staying at Kalutara.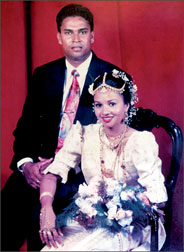 Semini Dinusha Palihawadana was the eldest child of K.M.P. Bandara and Nesta. Their residence was just in front of the Police Training College, and their business properties were in the Kalutara town in close proximity to the Kalutara Police station.
Semini's father was a popular figure among the business clan and Police officers in the Kalutara area. Of all the police officers the six footer SI Dhammika Iddamalgoda had also earned a name in the area by that time.
The handsome young police officer, the 'dream prince' would no doubt have got the glad eye of many princesses. But nothing mattered to him except the slightest glimpse of Semini; which would instantly make his heartbeat faster.
Dhammika used to visit Bandara's shops. One day when he stepped in, the Barbie princess was at the cashier. "Where is Bandara Mahattaya he asked in a deep haughty tone. Semini looked at his face.
His haughty looks annoyed her. "Thatha is not in," she snarled in a similar tone and looked the other way. Dhammika knew she was pretending. Suppressing his laughter with great difficulty he turned away saying, "Tell your father that SI Iddamalgoda came."
Semini thought a while. She had heard her father talking about him at home.
Semini was in the Musaeus College hostel, but managed to come home every weekend. She was everybody's pet till she was 21 years. The best gift she received from her parents was her younger brother Gihan Menaka.
Semini attended dancing class at Sausiripaya on Saturdays. Though at the beginning her mother or grand mother accompanied her, later on when she had an instinct that the young handsome six footer Sub Inspector was giving her the glad eye she persuaged the home front and managed to get permission to go for the class alone.
When their romance began she had not even sat for the O/Ls. They were having an innocent teenage love affair when Semini's father passed a hint to Dhammika one fine day. "Dhammika Mahattaya, even if a pin falls down here, in the Kalutara area it won't happen without my knowledge," he said.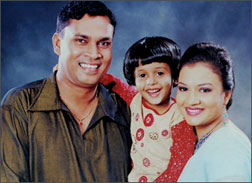 Dhammika was bewildered by his girl friend's father's remark. But when Semini informed him that there were no restrictions on her movement Dhammika knew that they were already aware of the affair.
"She is still a child. So we'll wait until she finishes her A/Ls," was what Semini's father had to tell Dhammika when he made his proposal about Semini.
Both decided to take it easy for sometime. Semini continued to attend to her A/L classes, and Dhammika was carrying on with his duties. Afterall, Semini was still a school girl and was concentrating on her studies. But Dhammika was very agitated and wanted to accomplish his dream.
He was getting rather impatient after a couple of months, he decided to meet her and have a few words with her. He knew she used to get off at Bambalapitiya. He decided to meet her there. His heartbeat pounding he stood still at the bus halt waiting expectedly for the fair pretty face to turn up. He was nervous.
Many buses passed and finally Semini got off. She was looking prettier than ever that day. When she saw him she stood still, astonished, and then remembered the promise she made to her parents; not to have anything to do with him before completing the exam.
She made up her mind not to talk to him, and walked off. But spontaneously she turned and looked back of him. "Only once," she thought. So she turned. Something unexpected happened. His eyes were full of tears. The young police officer who was so strong had become emotional. This was the magic moment, there was no turning back for her... She realised she was madly in love with this young man.
Dhammika Jayalal Keerthi Iddamalgoda was born on April 27, 1967 to Weerasiri Kularatne Iddamalgoda a Co-operative Inspector and Internal Auditor, and Fransisca Jayawardane of Weralupa, Ratnapura. Dhammika was the youngest of three, and studied at Sivali Central College, Ratnapura. "I played football at school," he recalls.
"One of my uncles was in the Police and retired as a Senior DIG. He was the greatest inspiration which made me join the Police. Not only me, but his own sons too joined the Police. All three cousins joined the Police together in 1988. I was about 21 years then," says Dhammika.
Dhammika and Semini tied the knot on December 15, 1994. "I was 27 years, and Semini was just after her A/Ls," he smiles.
"Semini and I didn't have babies for quite some time. So we raised her younger brother as our own. We had our daughter, Kumali Aseka in 2001," says Dhammika.
Question: Semini took up to acting after getting married?
Dhammika: Yes, it had been her dream, but her parents didn't allow her to, when she was with them. In 2001, actress, Sriyani Amarasena had seen a photograph of Semini taken by Dayan Witharana.
She was looking for a suitable girl to play the role of the young girl in her tele production Irabatu Tharuwa. So Semini was asked if she would like to and she agreed.
Since it was her compassionate desire I agreed. I was posted at Hungama Police then. So far Semini has acted in 19 teledramas and about five films. She won the Up-and-Coming Actress award at the Sumathi Tele Awards for her very first teledrama, and a Merit Award for the film, 'Yakada Pihatu' at the Sarasaviya Film Festival in 2001.
'Punchi Aadara Bala Kirimak' was her first stage production which won her the Best Actress award in 2005. Hansa Geethaya directed by V. Sivadasan will be her first teledrama production and it is being televised.
Semini will be playing a main role in a film for the first time in 'Sudu Hansi' directed by Mohomad Shafraz. At present she is playing a role of Podi Hamy in the tele drama Kaluwara Gedara based on Martin Wickremasinghe's novel.
"Semini says that Podi Hamy is a role that unfolds the life of a woman from the age of 25 to 75 years. She is elated to portray this character as it's a rare opportunity an actress would get," says Dhammika.
Question: Being an actress she must be having a very busy schedule. How does it affect your family life?
Dhammika: She is as busy as a bee (laughs), but tries her best to fulfil her duties in the home front as well. We are very much concerned about our daughter's welfare. But I have to understand, that being an actress, she should not miss the opportunities that are offered to her as well.
Question: She was once a beauty queen, wasn't she?
Dhammika: She was the Second-Runner-Up of the 'Mrs. Sri Lanka' pageant in 1999. Question: How do you feel when she plays love scenes?
Dhammika: (Pauses) Well, sometimes I point out when she doesn't play her role properly. What I believe is that if you do something, you should do it properly.
Question: Her good and bad points?
Dhammika: She trusts people at once and would go to extremes to help them. She has no boundaries when it comes to social work. She is sensitive and gets irritated and nervous for the slightest issue.
Question: Both of you are in different fields. How do you cope with that?
Dhammika: I'm attached to the Crimes Division of the Police, and at home I'm a husband and a father. She is an actress before a camera or an audience as well as a mother and wife.
Question: How do you tolerate rumours?
Dhammika: After all, trust and patience are the two ingredients for a happy family life, no matter what professions one is in.
Question: What are your future plans?
Dhammika: To lead a good family life and educate our daughter well.
lakmal@sundayobserver.lk