Rice prices will stabilise soon - Secretary
There is no scarcity of rice in Sri Lanka and with the completion of the harvest for the Maha season the prices will be stable, said Secretary, Ministry of Trade Marketing Development Co-operatives and Consumer Services, Dr. R.M.K. Ratnayake.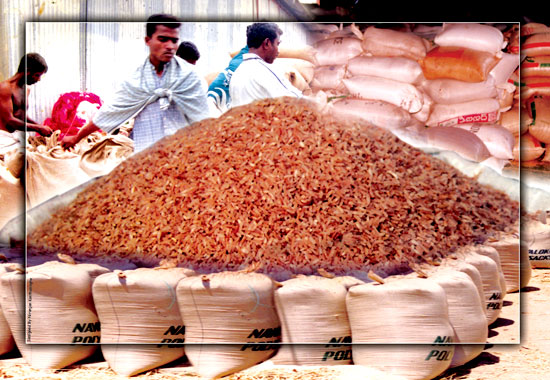 He said the global food crisis is a short term problem and with the demand for food in the world the problem will be resolved soon because many countries have increased its production of food, making good use of the rain. Australia and India have benefited from the rainy weather.
We will not run short of rice as the Yala harvest is expected to be better than in previous years. Sri Lanka will import 100,000 mt of rice from Myanmar which will be used as a buffer stock to control price escalations during the year," Dr. Ratnayake said.
The government fixed a maximum wholesale and retail price for rice to solve the marketing issues and ease the burden of the people. Price control was imposed on samba, nadu, red and white rice. The maximum retail price for rice ranges from Rs. 50-70.
With the vast acreage of land in the East for paddy cultivation and the subsidies granted to farmers there would be no difficulty in meeting the country's annual requirement of 2 million mt.
"The government decided to import rice this year assuming that there may be some difficulty to buy rice from international markets. Although 75,000 mt of rice was imported last year, rice was not imported the previous year.
The Secretary said the UN World Food Program (WFP) which identified Sri Lanka as one of the hot spots for global hunger was not true since Sri Lanka has always been self-sufficient in rice and there was no scarcity of food in the country.
"The UN is not an expert to forecast the situation in Sri Lanka but it could make its own report.
We are expecting a better Yala harvest due to the abundance of water", he said. The UN WFP has identified 11 countries as global hot spots for hunger and added that if no steps are taken to address the problem the situation will worsen.
The steep rise in prices and the shortage of food has created a major crisis in many poorer countries in the African, Latin American and Asian region.
The global food crisis is affecting mostly countries that spend over 50 per cent of its family income on food consumption.
He said today the food crisis has become acute due to the shift from agricultural production to bio-fuel, drop in production caused by adverse weather conditions and increase in consumption due to prosperity in China and India.