IIGEP overstepped its limits - Minister Samarasinghe
Minister of Disaster Management and Human Rights Mahinda Samarasinghe expressing concern over the recent comments by the International Independent Group of Eminent Persons (IIGEP) said that it was pity to note that the IIGEP has rushed into conclusions on the Presidential Commission to Investigate and inquire into Alleged Serious Violations of Human Rights.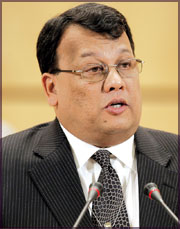 Minister Samarasinghe told the Sunday Observer that the IIGEP was free to make its comments over the functions of the Presidential Commission.
But the body has overstepped its limits by saying that the Government lacks the political will to find the truth behind the spate of killings.
"The Government is doing everything possible to ensure that the human rights of each citizen of the country is well protected and respected.
Therefore, it is in this backdrop that the Presidential Commission was set up to inquire and investigate into the serious violation of Human Rights.
As the Minister dealing with the Human rights issues I have been constantly monitoring the functions of the Commission. The Government is determined to take action against the perpetrators of human rights violations. We have been providing all facilities to ensure the free and fair functions of the Commission.
Therefore, it is absurd to come down hard on the Government by commenting that it lacks the political will to find the truth behind the spate of killings," Minister Samarasinghe said.
He also added that despite the adverse comments by the IIGEP members last week the Presidential Commission would continue to go ahead with its functions." We will not withdraw from our functions and will expose the IIGEP if it continues to criticise the Government.
The Minister said that the IIGEP which rushed into conclusions did not even mark its presence since its inception an year ago.
They were present only on three occasions for the whole one year and it was less than 10%, whereas the functions of the Commission were prompt.
Therefore, having rarely made their presence and without interacting in due manner, rushing into conclusions is highly irresponsible on the part of the IIGEP.
"Whether the IIGEP continues to function or not, the Presidential Commission will continue with its process of inquiring and investigating into the serious violations of human rights with the assistance of the Government," Minister Samarasinghe said.