Srimath appointed Director, "Prajashanthi Foundation"
Television, music, film and literary personality Srimath Indrajith Liyanage was recently appointed Media Director of the "Sri Lanka Prjashanthi Foundation" which is affiliated to many international organisations. Several projects have been launched in many countries under the guidance of the Founder Director-Ven. Olukande Rewatha Thera.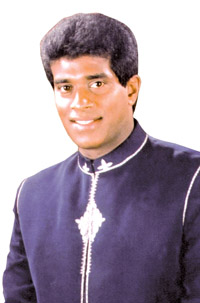 Here is what Liyanage says about the program.
What is this "Prajashanthi Foundation" and when did it start?
"Prajashanthi Foundation" is a project purely based on social uplift.We have wings in several countries such as Japan, India, Thailand, Canada, Newzealand and so on.
Ven. Olukande Rewatha Thera laid the stepping stone for the "Prajashanthi Foundation" six years ago and a great deal of social service has been rendered by it up to now.
How do your projects help to uplift the status of the youth in the country?
We mainly aim at the youth in the country and invite them to hold hands with us. Arrangements are being made to solve problems of the youth such as unemployment. Apart from that teaching Japanese and English languages in order to find them employment abroad. We have already started a Vocational Training Centre to provide the necessary skills.
We need to form a "Youth Force" to bring out their latent talents and sharpen them. Our aim is to strengthen the youth financially because many problems are caused due to financial difficulties. They will be able to stand on their own feet without depending on anyone and while serving themselves they also can serve the country.
We extend an open invitation to the country's youth to come and join us. We receive government support for our project.
What is your role as Media Director?
Since I am attached to the media, I was offered this position. I am the coordinator between the media and the Foundation. My role is to make people aware of the "Prajashanthi Foundation". I have to educate the public about the valuable service rendered by the Foundation to society which is little known.
What are the special proposals forwarded to preserve the cultural pride?
There are projects that we have planned to preserve our own creations from becoming obsolete, such as some indigenous dances and folk songs . We also hope to bring them to international standard and bring global recognition to them.Arrangements are made to start our own Radio channel so that we would be able to pursue our mission easily.
Do these projects target only the youth?
Not only the youth. True that we give priority to youth. We have programs for children such as distributing stationery among them and for women, providing them funds to engage in self- employment.We have donated beds to a private hospital at Ja-ela and it is free of charge for priests. We have already built a hospital at Kolonnawa for mentally retarded people. We have already received an invitation from Norway to hold exhibitions there. We hope to involve many youth in that project.