Dr. Liam Fox calls for international help to develop Lanka
British Shadow Defence Secretary Dr. Liam Fox has called upon the international community to contribute to Sri Lanka's development activities especially as the Government has been able to liberate the East from the clutches of terrorism and restore democracy in that province.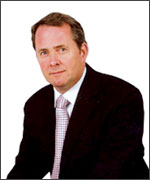 He was speaking at the Sri Lanka theme night hosted by the Carlton Club, an affiliate of the Conservative Party in the UK.
Liam Fox also reiterated that recent events in the East of Sri Lanka has given the government a great historic opportunity and challenge to demonstrate its willingness to undertake reconstruction on the basis not of ethnicity but that every citizen was being afforded the same possibilities, the Presidential Media Unit reported.
He regretted that the Agreement he forged to diminish political impediments to developments in Sri Lanka 12 years ago as British Foreign Office Minister failed due to the very personality-based politics it tried to avert.
Foreign Minister Rohita Bogollagama delived a lecture on "A people's mandate for democracy over terrorism in the East of Sri Lanka" at the same event, the sources added.