Fruit and vegetable sector:
Rs. 10b export income by 2010
The fruit and vegetable sector is confident of earning an export income of Rs. 10 bln by 2010 as all policies and infrastructure facilities are in place to increase cultivation, said IFCO Chairman and Director EDB Sarath De Silva.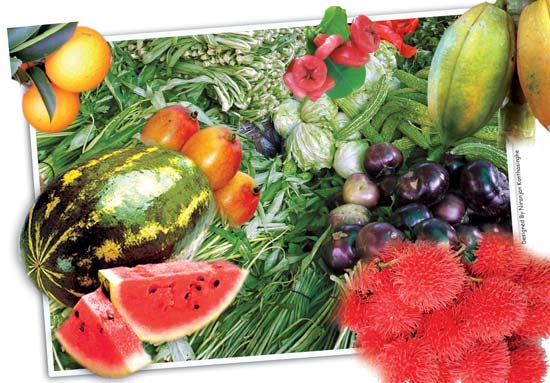 He said that the fruit and vegetable sector is better than what it was earlier and this is due to the hard work we did for the past five years and we are now in an absolute export drive.
De Silva who flew to India on January 7 will be joined by International Trade and Export Development Minister Prof. G.L. Peiris who is on a export promotion tour in Bangladesh, and they are scheduled to meet the Indian authorities to discuss the removal of quarantine barriers.
This, he said will help to make the FTA signed with India more meaningful.
We are in an absolute export drive and the best market for us is India with a population of over 1.3 bln and more than 40% of the population being upper middle class. Most importantly more than 80% of the population are vegetarians.
De Silva said that the economic crisis has not affected India and I do not believe that it will affect India in the future.
At present Sri Lanka exports strawberries and woodapples while the Indian authorities have not approved any vegetable exports from Sri Lanka at present.
We have applied to the Indian authorities to get the quarantine forms for 21 products and are confident that it will be approved.
Sri Lankan farmers have started growing Asparagus and artichok as well as a few special varieties of mushrooms for which the technology is available.
In addition we have requested the farmers in the Eastern province to grow fruits, vegetables and edible oil seeds under the Eastern reawakening program.
The Api Wawamu Rata Nagamu program initiated by the government to make the country self-sufficient in food has boosted fruit and vegetable cultivation in the country.
(SG)