Quality school uniforms from Atlas
Atlas-the pioneer in manufacture and distribution of school equipment and stationery in the country has introduced high quality school uniforms to the market for over five decades. "Atlas" has been in the trade of supplying quality stationery to the nation and supplying quality school uniforms is fulfilling another responsibility to the nation by the company.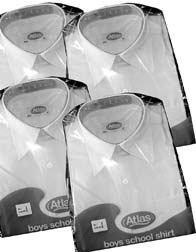 As the first step shirts and trousers for schoolchildren have been introduced for students in Year 1 to Year 13, white shirts and white and blue trousers are available.
According to company officials, considering the hardships in getting quality school uniforms, the high price and the request made by the parents and teachers the Research and Development Unit of Ceylon Pencil Company (Pvt) Ltd introduced the new product to the market.
The high quality and standard of the products are the specialties, which satisfy the parents and children.
The uniforms are available at a reasonable price compared to other products in the market and freely available in leading textile shops islandwide. The uniforms are manufactured with a special material, which could be washed many times without getting discoloured.
A special outlet has been opened inside the company to cater to the special orders/requests for stationery and uniforms made by companies and various institutions.
Identified as the expert producers of school instruments and also being a local company we encourage the creative abilities of our sons and daughters and always endeavour to value their creations.
Accordingly we organise the all island "Sithru" art competition and exhibition on an annual basis under the guidance and supervision of the Ministry of Education. Further we sponsor weekly children's creative programs such as "Atlas Creative Club" on TV contribute to many children's programs continuously that are published in the national papers.