UA continuously striving for quality
Currently in its 21st year of operation, Union Assurance (UA) has steadily and consistently ensured leadership in quality, standards, values and ethics and permeated these to the entire industry. Union Assurance has won a plethora of awards over the years which are indicative of the world class practices incorporated within the company.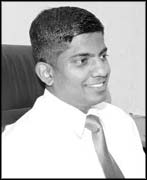 AGM (Finance & Planning), Indika Prematunga said the annual report has been adjudged the Best Presented Accounts in the entire South Asian Region by the South Asian Federation of Accountants for two years running, which is ample testimony to our efforts for transparency and good practices.
We are the only insurance company in Sri Lanka to have won this award and we are proud to have placed Sri Lanka on the map once again, competing against some of the largest and highly prestigious companies from India, Pakistan and Bangladesh.
SAFA is an Apex Body of the South Asian Association for Regional Co-operation (SAARC) and the Regional Grouping of International Federation of Accountants (IFAC), representing over 170,000 accountants who are members of national chartered accountancy and cost and management accountancy institutions in South Asia.
The SAFA awards appraises companies on corporate performance, accounting policies and disclosures, governance and stakeholder information, timeliness in issuing accounts, holding annual general meetings and annual report presentation.
"We were also recognised by the Institute of Chartered Accountants of Sri Lanka for our corporate best practices including a silver for corporate social responsibility and a bronze for corporate governance disclosure.
The awards we have won from both SAFA and the Institute of Chartered Accountants of Sri Lanka over time is ample testimony to our consistent and unswerving tenets and principles.
We have continued to improve on our performance, our systems, processes, products and most importantly on governance, which to us remains at the apex of our business.
Thus we have built a professionally managed company that has equal focus on all stakeholders, made astute investments that have enabled a robust top line growth and ensured multi dimensional investments into people, infrastructure and our brand with an overarching emphasis on transparency and accountability."
Prematunga said that Union Assurance strives to ensure that shareholders and policyholders alike are given stability and good returns on their investments through prudent practices to maintain a healthy risk return balance in addition to maintaining solvency margins in excess of the amounts stipulated by the Insurance Board of Sri Lanka.
"As an insurance company, we are accountable not only to our shareholders but also to our policyholders to provide stability and good returns on their investments.
In a very competitive industry and in challenging economic times Union Assurance has consistently maintained assets of more than Rs.400 million in excess of the solvency margin stipulated by the Insurance Board of Sri Lanka over the past few years which is testimony to the strength and stability of the company and the prudent practices in place within the company."
"The company has maintained steady asset growth over the years. In addition we have a massive investment portfolio in excess of Rs.8 billion which is managed by an expert investment committee together with qualified staff to ensure that all policyholders obtain excellent returns on their investments."