technology
2009 declared year of ICT and English
President Mahinda Rajapaksa has declared 2009 as the year of Information and Communication Technology (ICT) and English.
This declaration is not a mere verbal decoration. It is comparable to the green light for a great 365-day voyage in which every citizen of the country is a member of the crew of the ship that is on sail to the destination of a new world of equal and optimum lifestyle and opportunity for all Sri Lankans.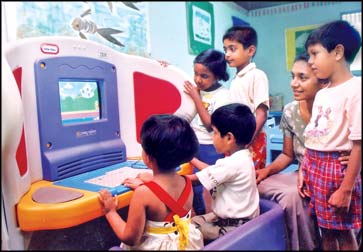 Just as much deliberation and minute planning go into the building of the ship that will take the people on the journey towards the destination, long and short term plans have been in place for this declaration.
A Cabinet sub-committee on Human Resources Development recommended it. The organisational structures which were involved with the subject got revamped in advance.
The Information and Communication Technology Agency of Sri Lanka (ICTA) the single apex body involved in Information and Communication Technology (ICT) policy, direction and development for the nation was given a new lease of life.
The amending Act No. 33 of 2008 passed in Parliament unanimously rendered ICTA set up in July 2003 by Act No. 27 of 2003 more implementation-friendly.
The amending Act also made ICTA's life span open-ended and not limited just for five years as was the case earlier.
In a further move to emphasize the importance of the ICT and English language year, two task forces were also set up to carry out the special tasks in the field of ICT and English language in view of the ICT and English Language Year. The relevant task forces have been doing immense work though in relative silence.
While ICTA has by now made great strides in promoting ICT, it hopes to intensify its efforts even further this year. 2009 being declared as the year of ICT and English (ICTA) has taken steps to implement an extensive national program to create awareness about ICT.
These awareness campaigns will be organised in a way that it will become clear to the people how the benefits of information technology could be used to make their lives more comfortable. ICTA has planned to launch these campaigns through newspapers, radio and television throughout the whole year. These will be simple and attractive to the target group, which is the public.
The declaration of 2009 as the year of ICT and English is a great milestone in the Government's long term plan to make people's lives more comfortable by the use of ICT.
By proper ICT development it is hoped that the Government will be able to earn a revenue of two billion US dollars by 2012.
---
PC House to market TVS-E printer range
PC House tied up with TVS Electronics (TVS-E), a leader in the manufacturing of IT peripherals established in India, to market the TVS-E printer range in providing the ideal printing solutions to government, banking, insurance, finance, telecom, education and retail segments.
E. Aravind, Head of International Sales, TVS Electronics India said, "PC House was appointed by TVS Electronics taking into consideration its strong distribution channel network spread across various spheres and the highly resourceful manpower. Our aim is mainly to address public and banking sectors where PC House has already set a firm ground with their presence in Colombo and suburbs.
PC House is definitely the largest IT vendor in Sri Lanka; since they come with a total ICT solution we believe their appointment is going to benefit Sri Lankan clientele not only to market our printer range but also with other products like TVS computer accessories, POS systems etc".
The new TVS-E printer proves to print faster than its counterparts. It also signifies with a lower cost of ownership, as research indicates a reduction of printing cost by 70 per cent allowing users to print three times more than a regular printer. Thus the entire range saves time and money.
This is a rugged and reliable product with easy availability of service and spares. In addition the printer also posses a dual interface, and copy compatibility, added with high reliability, wide operating voltage and input buffer memory.
S. H. M Rishan Chairman of PC House and its subsidiary PCH Holdings said "PC House will always introduce innovative technology providing our customers with the best value for the best price; this is a pledge we have absorbed. We are leading the market in terms of distribution and greater service privileges adding value for our growing customers".
TVS printers come with a wide model range for different printing needs. From HD 250 Gold to super fast transaction printer is ideal for bills, receipts, Invoices and statements, coupons, delivery challans and shipping documents.
TVS Speed 40 the Super Quick Universal Banking Printer is best suited for printing passbooks, bank statements, demand drafts, labels, barcodes, passports and postal books.
---
Nokia launch XpressMusic
Nokia brings music lovers the chance to groove longer, harder and better wherever they are with their new XpressMusic range.

The Nokia 5220 XpressMusic is easy on the eyes with its sleek appearance, but make no mistake: it packs a punch with 24 hours music playback and 512 MB memory card inbox that can be modified up to 2GB. With its stylish looks comes in an array of other features like a 2 Mega Pixel camera, talk-time of 5.25 hours and standby time of an amazing 406 hours.
The Nokia 5320 XpressMusic takes your music experience to a whole new level with its 1 GB memory card that can be extended to 8 GB. The "say and play" option also enables you to get to the tunes you want to without the use of buttons.
The 3G/HSDPA will also help you download, exchange and transfer data at lightning speed.
In continuing with Nokia's perfect mix of style and functionality the Nokia 5310 XpressMusic gives you a an aesthetically pleasing design with high definition sound, Bluetooth and 30 MB shared memory, that redefines your mobile music experience.
The top of the line Nokia 5610 XpressMusic is pure power in the palm of your hand. With its built-in speaker that delivers optimum sound quality and 3.2 Mega Pixel camera, 3G, Bluetooth and Real Player functions, it's in a league of its own.