travel
New strategic thrust to boost tourism
"With the current promotional drive to entice tourists to Sri Lanka and the war on terrorism hopefully coming to an end we are targeting an influx of 400,000 to 450,000 tourists in the current year" said K. A. D. George Michael, Secretary, Ministry of Tourism at the Monthly Tourism Meeting with the media held on Tuesday.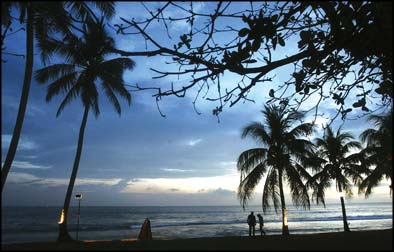 Bernard Gunatilleke, Chairman, SLTDA and SLTPB said that the national strategy for Sri Lanka Tourism is to profile Sri Lanka as an Asian tourism icon with the tagline - 'Asia's most treasured island'. Sri Lanka Tourism plans to address 8 objectives, covering operational aspects and the four main divisions that formulate Sri Lanka Tourism.
In addition to a short term plan to address current issues of tourism sector, marketing and communications, services and hospitality, training and development, MICE and domestic tourism, a 10 year plan has been identified.
A Strategic Framework comprising 11 parts were defined addressing areas of action providing a blue print as to how traditional and unconventional aspects such as nature, culture and adventure could be incorporated to boost tourism.
A Tourism Strategic Action Group (TSAG) has been formed recently on the advice of the Minister of Tourism, Milinda Moragoda, to face challenges in the tourism sector, bringing together key stakeholders in the tourism industry to enable quick decision-making.
Tourism Strategic Action Group comprises its Chairman, Bernard Goonetilleke, Chairman Sri Lanka Promotions Bureau and Sri Lanka Tourism Development Authority, co-chaired by Ken Balendra, Chairman Tourism Advisory Committee and members comprising B. M. U. D. Basnayake, Addl. Secretary (Development) Ministry of Tourism, Prema Cooray, Sri Lanka Conventions Bureau, Renton De Alwis, Advisor, Minister of Tourism, Cornel Perera, Sri Lanka Institute of Tourism and Hotel Management, Abbas Esufally, Board Member SLTDA, Ajith Gunawardene, Deputy Chairman John Keells Holdings PLC, Siri De Silva, Board Member SLTDA and SLTHM, Hiran Cooray, Chairman Jetwing Hotels Ltd., Rajan Britto, Deputy Chairman, Aitken Spence and Chandra Wickremasinghe, Chairman Connaissance Holding Ltd. This newly formulated body will facilitate fast-paced de-centralised decision making, exploring opportunities and challenges defining the way forward.
The drastic drop in prices in luxury tourist hotels and the drop in tourist arrivals are experienced worldwide as a direct result of the global recession and industry experts express that this will have a long term negative impact on the country'stourism. As against 2007 tourist arrivals in Sri Lanka experienced a marked slump. In 2007 arrivals numbered 432,842 as against a 10 per cent drop in 2008 recording 389,550 up to November.
The target for 2009 is an optimistic 400,000 to 450,000 arrivals provided terrorism is countered and peace prevails. A budget of Rs. 1 billion has been committed to this cause for 2008/2009.
"The 10 year strategy is designed to top the targets to 1.5m by 2015. An ambitious plan and an achievable goal provided the peace moves get activated according to the plan.
Already North East tourism development infrastructure is being developed and investments have been entertained by seven local industrialists and a Maldivian investor in Pasikudah, Nilaveli, Arugam Bay and Batticaloa. Land allocations are in place and at the end of a two year period 700 rooms in the form of beach resorts in the East will support the tourism drive.
It is anticipated that other than tourists from overseas local non government sector involved in rehabilitation and development projects will welcome quality-driven services in hospitality which will fill the vacuum experienced now.
Mihin air, the budget airline, will be utilised said Michael, for domestic flights as well to promote domestic tourism. Water's Edge will be converted to a MICE Centre said Michael, in support of the industry. Some observation rail carriages too will be refurbished by facilitating CGR and made available for tourist transportation in popular routes, he said.
Discussions are progressing with regard to domestic tourism packages connecting transportation and hotels to entice domestic tourism.
Some of the other key areas of focus are promotional campaigns in strategic locations in major receiving countries, addressing issues on travel advisories, novel concepts in domestic tourism, enhancing service standards, availability of seats in in-bound flights, improving transport and rail services and the formulation of a safety net to rescue the tourism industry.
Priscinthica Dissanayake, Director Strategic Management and Board Affairs, made a presentation on the 4 year Strategic Plan for Sri Lanka Tourism reiterating that private-public partnership is key to development of the sector.
---
Eco-tourism project at Madulkelle
Madulkelle Tea and Eco lodge entered in to an agreement with the BOI to set up a novel boutique hotel project. French Investor Guy Maranzana, Chairman and Bathiya Gunasekera, Director signed the agreement on behalf of the company.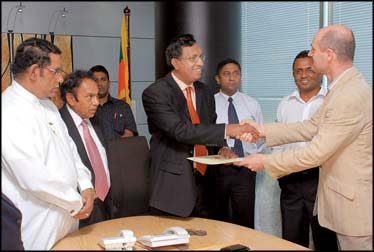 Channa Palansuriya (Board Member) and Upali Samaraweera (Board Member) signed the agreement on behalf of the BOI. Anura Priyadarshana Yapa, Minister of Enterprise Development and Investment Promotion and Mass Media and Information formally presented the investors with the BOI Certificate of Registration.
This project was approved under the 300 Enterprises Program which is one of the key programs of the Mahinda Chintana. This project can be defined as "responsible and sustainable tourism" which is the current world trend in the tourism sector.
Guy Maranzana, Chairman said that Sri Lanka has a great potential to develop eco-tourism as it can blend with the country's biodiversity and rich history.
He further said that this project will create considerable indirect employment opportunities as local community will benefit from the establishment of the project. The venture located at Madulkelle, is an investment of Rs.79 million and will create direct employment for 50.
---
Diamond Club launches new promotion
Diamond Club, the exclusive loyalty club of Aitken Spence Hotels announces its newest promotion, an offer which will captivate its members irrespective of their age, the promotion, will be launched on January 12, and will offer Diamond Club members staying at Aitken Spence Hotels or Heritance Hotels and Resorts on their birthday a discount on their room bill equal to the members' age.
In keeping with the Diamond Club tag line "Welcome to a world of extended privileges" this offer is valid exclusive to Diamond Club members at Aitken Spence Hotels and Heritance Hotels & Resorts in Sri Lanka.
"If you are celebrating your 60th birthday at one of our hotels, you are entitled to receive a 60 per cent discount on your room rate. This is our way of saying thank you to our loyal members and what better way to say it than this" said Renusha Gomis, Manager Public Relations and Promotions for Aitken Spence Hotels.
Diamond Club, launched in April 2008 consists of an elite member base and exclusive promotions will be one of the many privileges offered to its loyal members. Membership can be obtained by spending a minimum of Rs. 10,000 at any one of the Aitken Spence Hotels or Heritance Hotels and Resorts in Sri Lanka. Alternatively you can also pay Rs.10,000 at the Head Office and obtain membership.
Exclusive privileges granted to Diamond Club Members include redemption of points on future bookings, free stay against reward points at any of the Heritance Hotels and Resorts and Aitken Spence Hotels in Sri Lanka, room upgrades against reward points, special recognition to all members at the hotel, purchase of gift vouchers against reward points and the ability to make priority reservations.
Diamond Club is the only such hospitality loyalty club in Sri Lanka, its purpose being to build a loyal customer base which in turn will drive the domestic repeat business.
Aitken Spence Hotels' expertise in hotel design, building and management is complimented by its dedication and commitment to excellence.
The resort operator has continuously set industry benchmarks and has received an array of international awards for high quality cuisine, service excellence, building conservation and environmental care at their luxury hotels.