Poverty ends in murder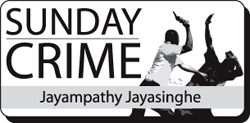 Eesha Anurudha Abeysekera was a small time businessman who lived in Kalutara North with his wife Rupika. He was a fruit and a vegetable dealer by profession. His business prospered as years rolled by and lived comfortably with his family.
The couple purchased a three-acre plot of land at Horana and grew vegetables and fruits which they sold in the open market. But things did not work out well for him as planned. His business collapsed and he became indebted to several persons in the area.
Burdened with financial difficulties and unable to repay his debts he started brewing illicit liquor (Kasippu) in Kalurata and Horana areas. However, when the Police got wind of it they kept on raiding his moonshine den and he was hauled up before courts many times.
Due to his involvement in the illicit liquor trade, Abeysekera hob knobbed with the underworld men and unsavoury characters in the area and became addicted to liquor. There were constant quarrels at home with his wife due to his drunkenness. After sometime the wife began to resent him when he ill-treated her.
| | |
| --- | --- |
| | |
| OIC Kalutara North Police Station Ajith Kumara Pitigala | OIC Crimes Sub Inspector D.R. Wijepala. |
During this period the couple met a person named Rohitha from Payagala who became close to Abeysekera's family. He visited them often and struck an everlasting friendship.
Thereafter, families of both persons became close to each other and exchanged visits. They even went on excursions and pilgrimages to several places. It was during this period that Rohitha developed a clandestine affair with Rupika.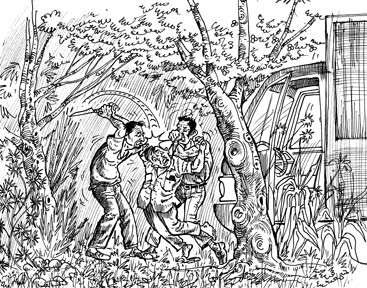 Abeysekera suspected his wife of having an affair with Rohitha and began to harass her. But the clandestine affair soon developed into a sexual relationship and they became inseparable. To overcome financial difficulties Abeysekera sold their three-acre estate at Horana and purchased a house and property at Sri Sumangala Road at Kalutara North for a sum of Rs. 28 lakhs.
He utilised the balance money and purchased a lorry used to transport fruits and vegetables from Kataragama. On his trips to the South he came in contact with the underworld men from Kataragama and at Wellawaya who dealt with ganja.
Abeysekera smuggled a large quantity of ganja concealed with vegetables and fruits. The ganja was stockpiled at his mother's home at Payagala and sold secretly to dealers in the area. It was a closely guarded secret business.
He never brought the ganja to his home at Kalutara. He usually made two or three trips to the South every month and spent a couple of days there.
During his absence his wife Rupika and Rohitha spent time together in guest houses and hotels in the area. Abeysekera had borrowed Rs. 6 lakhs from Rohitha, but had failed to return the money.
Similarly, he failed to pay a sum of Rs. 80,000 to a man named Malu Chutti of Beruwela for a consignment of fish he purchased from him. Rohitha and Malu Chutti one day went to Abeysekera's home and threatened to kill him if he did not return their money.
On November 8, 2007 morning Abeysekera set out from his home with Malu Chutti in his lorry to the Southern Province. On their way Rohitha joined them.
Their mission to the South was to purchase a large consignment of vegetables. Abeysekera visited the Southern Province often and was familiar with the network of vegetable dealers. While at Hungama that night Rohitha tied a rope around Abeysekera's neck and strangled him while Malu Chutti stabbed him several times. They later dumped his body in a shrub and returned to Colombo in the lorry.
The lorry was brought back to Abeysekera's home on October 10, 2007 and both men disappeared thereafter.
Coincidently, Abeysekera's body was found abandoned in a shrub jungle in the Hungama area on the following day. There were visible cut injuries on the body. The Hungama Police, after visiting the scene of crime removed the body to the Hambantota government hospital morgue for a post mortem examination.
The autopsy revealed that he was murdered. Later the murder was brought to the notice of Inspector Ajith Kumara Pitigala, the OIC of Kalutara North Police Station who launched a relentless investigation.
He briefed his intelligence unit to keep an eye on Abeysekera's widow. After toiling for several months the sleuths were able to unravel the mystery of the murder.
Police learnt about the clandestine affair Rupika had with Rohitha.
However, after Abeysekera's murder Rohitha took utmost precautions not to visit Rupika frequently. Rohitha later confessed to Rupika about the murder of her husband and threatened to kill her and her two children if she told the police.
Investigations also revealed that Abeysekera had borrowed several lakhs from Rohitha and not returned the money. Police gathered evidence that Abeysekera was done to death as he failed to repay the debts. The two suspects involved in the murder have been taken into custody.
Meanwhile, police are looking for the third suspect who had fled from the area. Inspector Ajith Pitigala, OIC Crimes Sub Inspector Wijepala, Police Sergeant 4991 Ratnasiri, Police Constable 39085 Manamperi, Police Constable 55355 Milton, Police Constable 4684 Karawita and Home Guard 894 Wasantha are further investigating the murder.