SciTech
Think before feasting
Did you know that garcinia or better known among us as Goraka and Moringa leaves (Murunga in Sinhala) would be the best remedies for many sea food allergies? Our grandparents, greatgrandparents or even the generations before them knew this fact very well though they were not aware of scientific fundamentals they were working on. These practices prevented people getting allergies due to sea food.
According to scientific research these allergies are due to certain histamines produced in our bodies as a reaction to fish that we consume.
Histamines can cause allergic reactions such as redness of the eyes, burning and tingling sensations around the mouth, swelling, itching, vomiting and diarrhoea.
Study conducted by the Food Science and Technology Department of the University of Peradeniya under a grant provided by the National Science Foundation, has revealed that sea fish, dried fish, canned fish, maldive fish and jadi in Sri Lanka have very high concentrations of histamines. As a result it poses a food safety concern as well.
According to the findings, processes of making dried and maldive fish increases the concentrations of histamine. Furthermore the scientists have found dark tissues of fish produced more histamines than the white tissue.
The study have also identified 30 different histamine producing bacteria. Hafnia species were found to produce the highest amount of histamines in fish. In addition the group have identified for the first time that Micrococcus species and Flavobacterium species as histamine producing bacteria for the first time.
The researchers also claim that according to their findings fish sausages, fish nuggets and fish curry in packets contained low levels of histamine concentrations - less than the tolerance limits.
Does this mean to say fish is not healthy to consume? Well of course not. One should not come to such a conclusion since fish is highly valuable as a main edible protein source for a developing country like ours. Understanding the value it is important to overcome the problem.
Hence the Peradeniya University research team have revealed that extracts of goraka (garcinia) and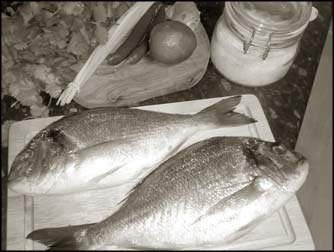 Moringa (murunga) leaves can destroy the histamines to safe levels. It was a common practice during the good old days among the village women to mix garcinia or Moringa leaves with fish, prawns, cuttle fish or any other commonly used sea food.
Yet it can be used while cooking dried fish as well, the study reveals. Cooking in the extracts of Kathurumurunga or murunga leaves for 10 minutes have shown to lower the histamine levels of sea food curries.
Frying in coconut oil or soya oil for 4-5 minutes have shown to destroy over 50% of histamines in fish. Hence, frying of small fish such as sardines (salaya), herrings (hurulla) and mackerels (Kumbalawa) may provide some means of reducing histamines.
Beheading and washing of fish before salting appeares to minimize the production of histamine during drying. Dark tissues of fish produces more histamines than the white tissues.Red-blooded fish varieties containing intolerable histamine concentrations can be treated with Garcinia pieces or paste. Tamarind (siyambala) and biling have less effect on reducing the histamine levels, researchers stated.
(Information courtesy: National Science Foundation)
---
Sri Lanka Science and Engineering Fair 2009
Applications are invited for the `Science Research Project' and the `Junior Inventor of the Year' national competitions for the Sri Lanka Science and Engineering Fair 2009.
The annual Sri Lanka Science and Engineering Fair (SLSEF) is a platform for science students to discover their scientific genius and win public recognition at national and international level.
National level winners of SLSEF will be eligible to represent Sri Lanka at the Intel International Science and Engineering Fair held in USA each year. Coaching camps will be conducted for students who are eligible to participate at international level.
The competition is, conducted through two paths. The Junior Inventor of the Year competition is conducted by the Institute of Engineers Sri Lanka and the Science Research Project competition will be conducted by the National Science Foundation.
`Junior Inventor of the Year' is an annually organised event conducted islandwide to promote creative and innovative thinking amongst schoolchildren. This is open to all Lankan children within the age group of 12-20 years. Innovations and/or research projects under the engineering field are entertained.
For applications and details contact Institute of Engineers Sri Lanka, 120/15, Wijerama Mawatha, Colombo 7, Telephone - 0112574159 web - www.iesl.lk
Science Research Project Competition was held for the first time last year aiming at schoolchildren, undergraduates and the youth of the country. Research projects conducted in science will be considered under three categories : Category I: 13-16 years; Category II: 17-20 years; Category III: 21-35 years.
Category I and II can enter by sending a project proposal. Guidance will be provided for the selected students to improve their projects. For category III completed projects, applicants could submit the project synopsis.
For applications and details contact: Head, Science Popularization Division, the National Science Foundation, 47/5, Maitland Place, Colombo 7, Telephone - 0112696771 - 3, 0112675017 web - www.nsf.ac.lk
The national level winner will be rewarded and recognized at the World Science Day Schools programme scheduled to be held in November.