Holes in Earth's magnetic cloak let the Sun in
The Earth's protective magnetosphere has two large holes that are letting in disruptive solar winds, scientists said.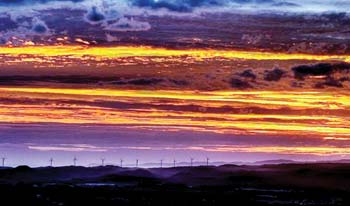 Understanding how these holes form will help them better predict the electrical storms that cause power grid blackouts and the aurora, activity that will peak in 2012 as sunspots hit their maximum level.
Scientists at the American Geophysical Union meeting in San Francisco said they had been entirely wrong about how solar particles (minute portions of matter)that cause the storms were entering the Earth's magnetosphere. The magnetosphere is a bubble of magnetism that surrounds Earth and protects us from solar wind.
Scientists once believed that the particles entered when the Sun's magnetic field was aligned opposite to that of the Earth's. But findings presented at the meeting show that 20 times more solar particles enter the Earth's magnetic field when it is aligned(brought into line) in the same direction as the Sun's magnetic field. The alignment causes the two magnetic fields to connect and tears holes in the Earth's magnetic field over the poles.
"What we observed was the breach in the levee(break-in)," said Jimmy Raeder, a physicist at the University of New Hampshire. "This has taken us completely by surprise."
In June 2007, NASA's five THEMIS spacecraft probes flew through one of the tears just as it was opening. Sensors recorded a torrent of solar wind particles streaming into the magnetosphere, said Raeder.
"The opening was huge - four times wider than Earth itself," said Raeder. "This kind of influx is an order of magnitude(scale) greater than what we thought was possible."
Most of the particles are deflected back into space, but some circulate in the magnetosphere, get energised, and cause electrical storms that trigger power grid outages, cause problems for aircraft flying over the poles, and can damage satellites in geosynchronous orbit.
"There's a bigger risk because we have more stuff in space now," said Raeder. Scientists said that the majority of solar storms take place midway through and on the tail end of the solar cycle. This 11-year cycle of activity is at its minimum now and electrical storms will be at their peak in 2012. - Reuters
---
Safari Park in Hambantota
Some of you may have had the opportunity of taking part in safari tours. Those of you who have done so would know just how exciting they are. Soon, there will be an opportunity for most Sri Lankans who love wildlife and nature to experience safari tours, when the Safari Park at Ridiyagama, Ambalantota in the Hambantota district opens shortly.
The safari park would be established on a 500-acre land close to the Mahapessa hot springs at Madunagala.
The twin attractions are expected to draw in visitors from around the globe to the area. This proposed park would have a reptile park too; animals, birds and reptiles of foreign origin would be special features.
The foundation stone for this park was laid recently and construction launched. The project would be carried out by the National Zoological Department at a cost of 1.5 billion rupees. It is hoped that the park would be opened to the public by the end of 2010.
It would provide direct and indirect employment opportunities to over 300 youth from the Hambantota district; 150 youth who would be employed as guides are currently being trained at the Dehiwala Zoo. The park is expected to be an income-generating venture for people of the area.
The facility of following courses in the hotel industry had been provided to unemployed youth in the Southern region through various hotel schools in Galle and Matara. Another hotel school is expected to be set up at Hambantota too.
Plans are also under way to set up a bridge over Walawe Ganga to ease the travelling difficulties being faced by the villagers.
---
Thai Pongal, the harvest festival
Thai Pongal, which falls on January 14, is one of the most significant and colourful ceremonies celebrated by Tamil Hindus of Sri Lanka and India. The harvest festival is a feast of thanksgiving where the Hindus offer their thanks to the Sun God who had been instrumental in giving them a bountiful harvest.
After the wet months of October, November and December, it signifies the arrival of the Sun and bounteous crops. This is the time when people clean and renovate their houses and old pots and pans are replaced with new ones.
There are many rituals associated with the festival, starting with the boiling of a pot of rice at sunrise on the front doorstep of the house, to shouts of "pongal" from family members.
---
Essay competition by American Center
Starting this week, the Junior Observer, along with the American Center, Colombo would be conducting a monthly essay competition with the sole aim of improving the reading habit among children.The competition would be conducted under three age groups: 12-14, 15-16 and 17-18. So make the most of this opportunity given to you because a prize-giving ceremony would be held at the American Center Colombo once every two months where the first three winners in each age group would receive a selection of American books, lifetime membership of the American Center Library and a certificate signed by the US Ambassador.The closing date for the first competition is February 15. Please send your essays, along with the coupon given on page 7, certified by your principal/librarian to: Essay Competition - January 2009, American Center, 44, Galle Road, Colombo 3.
See page 7 for details.
---
Controlling air pollution
The Central Environment Authority (CEA) has set up a committee to formulate and maintain standards and regulations for factory (industrial) emissions, with the objective of controling air pollution. The committee has proposed paying special attention to such standards maintained in other Asian countries before preparing a standard applicable to Sri Lanka based on these.
Some standards on the consumption of fuel and gauging emissions from factories applicable in such countries are suitable for Sri Lanka as well.Once a report on this has been prepared and finalised, it would be supervised and evaluated by the technical committee.
Then it would be forwarded for public opinion during the first quarter of 2009.
---
Birth and death anniversaries from January 11-17
January 11
Thomas Hardy, novelist and poet, was born in 1928.
Mountaineer and explorer Sir Edmond Hillary died in 2008.
January 12
Dame Agatha Christie, English novelist died in 1976.
Richie Richardson, West Indian cricketer was born in 1962.
January 13
John de Silva, Sinhala dramatist was born in 1857.
Ananda Samarakoon, composer of the national anthem, was born in 1911.
January 14
Edmund Halley, English astronomer, was born in 1742.
Lewis Carroll, English writer, was born in 1898.
Mahagama Sekara, Sinhala poet, died in 1976.
January 15
Actress Rukmani Devi was born in 1923.
Martin Luther King, US Civil Rights Leader was born in 1929.
---
Special events which took place in history, from January 11-17
January 11
* Ceylon Observer Saturday Magazine, the weekly newspaper, was launched by Lake House in 1978.
January 13
* The Dutch invaded the Kandyan Kingdom under the command of Van Eck in 1765.
January 14
* The decision to teach in all the three languages (Sinhala, Tamil and English) in the universities from 1960, was made in 1957.
* Many private schools were taken over by the State in 1961.
January 15
*Ceylon's first woman Barrister Mrs. E. Deraniyagala took Oaths in 1935.
* The first part of the Sinhala dictionary was published in 1935.
*The law prohibiting the sacrifice of animals in Hindu temples came into operation in 1980.
January 16
* Visakha Vidyalaya, Colombo was established
in 1917.
*A peace march was made to Vavuniya in 1995.
---
A little bit of humour
Why is a polar bear cheap to have as a pet?
Because it lives on ice!
---
What part of a football pitch smells the nicest?
The scenter spot!
---
Why aren't football stadiums built in outer space?
Because there is no atmosphere!
---
What does a cricketer and a magician have in common?
Both do hat tricks!