arts
The much awaited literary fiesta
"An instant success, likely to become a coveted fixture on the international literary circuit." Whilst one of Sri Lanka's leading newspapers, the Sunday Observer wrote "The much awaited literary fiesta of the Sri Lankan cultural calendar which undoubtedly set the stage for the revival of English literature in Sri Lanka." - Victoria Glendinning
The third international Galle Literary Festival will be held from January 28 to February 1, 2009 in and around the port city of Galle with its jewel of UN declared World Heritage site Galle Fort and its environs.
Following the success of the debut in 2007, the Galle Literary Festival was hailed by Harpers Bazaar as the "No 1 Literary Festival in the world" true to the composite literary experience offered in the midst of history, touristic attractions and unblemished beaches of Galle and its environment.
This year, the festival will focus on the opportunity to interact with inspiring writers enjoying four days of conversation and debate in and around the world heritage city of Galle.
In the context of the present global financial crisis, the Galle Literary Festival will be more focused ensuing that all participants will enjoy every minute of their stay. The organizers have pledged to maintain the same ticket prices despite the rising cost.
The cosmos of international and Sri Lankan writers will take part in diverse events. Some of the sentinels of letters include Germaine Greer and Edna O'Brien, alongside talented debut novelists like Tahmima Anam and V.V. Ganeshananthan. In addition, celebrated travel writers like Colin Thubron and Pico Iyer and leading journalists M.J. Akbar and Tarun Tejpal will also add their distinctive flavours to the literary fiesta.
Iconic Sri Lankan diaporic writer Romesh Gunesekera, Thomas Keneally, author of the Booker Prize winning Schindler's Ark will glisten among the galaxy of writers with equally diverse flavour. Among other things, the festival will manifest sheer varieties of English Language and how it has helped cross frontiers of race, nationality and creed in expressing deeper sentiments of humanity.
The third Galle Literary Festival will open on the grounds of the Martin Wickramasinghe Museum, paying tribute to one of Sri Lanka's most celebrated writers, whilst hearing from new voices in Sri Lankan English writing. These newer Sri Lankan poets and novelists will be joined at the festival by distinguished writers Yasmine Gooneratne and Anne Ranasinghe, and winner of the 2008 Gratiaen Prize, Vivimarie VanderPoorten.
The 2009 Festival will include several special features, including daily workshops for aspiring writers and a sneak preview for readers of what our authors are working on next. Beyond the festival's literary programme will be a series of events that ask questions about the changes we see around us.
Architect Channa Daswatte will lead a walking tour through the changes that have taken place in Galle Fort over time, whilst a panel of experts will debate whether we have a spirit of conservation in Sri Lanka.
A dedicated children's programme will run alongside the main festival programme featuring the international storyteller Margaret Read MacDonald and the multiple award winning former children's laureate, Michael Morpurgo.
Activities in the children's programme encompass music, art and the relating of tales. Highlights include the creation of a rainforest mural, a treasure hunt through the historical sites of the Fort and a session with Michael Morpurgo for both parents and children.
It continues its association with initiatives run by Adopt Sri Lanka to develop English teaching in rural areas in the Southern Province.
A full program for the festival will be published on our website www.galleliteraryfestival.com on Friday, December 19. Box offices and online sales will begin Monday, January 5.Some of the international writers 2009 line-up of writers - Alexander Nemser, Asitha Ameresekere, Colin Thubron, David Robson, Edna O'Brien, Germaine Greer, Giles Milton, Margaret Read MacDonald, Michael Morpurgo, M.J. Akbar, Moses Isegawa, Patrick French, Pico Iyer, Rajiv Chandrasekaran, Romesh Gunasekera, Tahmima Anam, Tarun Tejpal, Thomas Keneally, V.V. Ganeshananthan, Local Participants:, Ameena Hussein, Anne Ranasinghe, Anthea Senaratne, Ashok Ferrey, Chamali Kariyawasam, Channa Daswatte, Gehan de Silva Wijeyratne, Jeanne Cambrai, Jake Oorloff, Jehan Aloysius, Kaushalya Fernando, Manuka Wijesinghe, MASii, Michael Meyler, Ramya Jirasinghe, Razana Sameem, Richard Boyle, Sanjana Hattotuwa, Shehani Gomes, Sumathy Sivamohan, Tracy Holsinger, Vihanga Perera, Vivimarie VanderPoorten and Yasmine Gooneratne
Some of the Fringe Festival Events:
'Theravada Man' by Manuka Wijesinghe, book launch at Hall de Galle at 6.00 pm, on Thursday, January 29.
Arts and Crafts Market at Law Court Square, Galle Fort on Saturday, January 31 from 10 am - 5 pm.
The Graffiti Wall at Law Court Square, Galle Fort throughout the Festival.
Wildlife Photography Exhibition at The Fort House, 42, Lighthouse Street, Galle Fort throughout the festival.
Children's Art Exhibition at the Old Bakery Junction of Pedlar Street and Lighthouse Street, Galle Fort throughout the festival.
The Rice Paddy Bicycle Trail begins and ends at Why Beach to eat throughout the festival, leaving at 10 am every morning.
Mike Furniss Art Exhibition at Elephant Walk, Church Street, Galle Fort throughout the festival.
Neelan Tiruchelvam Trust Event at the Hall de Galle, just outside the gates of Galle Fort on Sunday, February 1 at 6 pm.
60 seconds at YWCA, Church Street, Galle Fort at 2.30 pm on Saturday, January 31.
Theatre at The Closenberg at the Closenberg Hotel, Galle on Friday January 30 at 7 pm - 8.30 pm.
Yoga with Annoushka Hempel at the Fort Printers, Pedlar Street, Galle Fort on January 29th - February 1st at 8.00 - 9.30 am.
Coffee Appreciation and Tasting Workshop at the Fort Printers, Pedlar Street, Galle Fort on January 30 and January 31 at 5.30-6.30 pm.
Free Wheeling at Lady Hill Hotel on January 30 and 31 from 8.30 pm.
---
Bahu Ranga:
Instrumental music soothes the ears
* This, perhaps, was the finest exposition of percussion instruments at work.
It was not only the drums of Sri Lanka from up country and low country traditions that reverberated Lionel Wendt Theatre but also those from far cry soils such as Japan and Africa with their distinctive beats of cultures.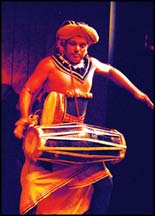 The drum concert was enriched with a repertoire of drums never before witnessed on stage in Sri Lanka.
The formidable array of drums in the hand of able-bodied players reminded us not of a drum orchestra, but of an army of musicians ready to march towards unknown territories setting conventions in instrumental music in Sri Lanka.Ravibandhu Vidyapathy's maiden CD "Bahu Ranga" was launched at the concert.
It would have been an uphill task to set a convention on the Sri Lankan music scene which is still dominated by songs. Broadening the perception of music that was exclusively associated with songs to include instrumental music is perhaps Ravibandhu's forte.
Some of the compositions in the CD such as Bahu Ranga were included in the concert. CD contains a range of compositions such as Reem Dheem, Tabla Dream, Kalabera, Journey, Sa Ga Ga Re Ma Ga. The CD is significant on many accounts as it heralds a new era in instrumental music in Sri Lanka. It is marked for its excellent sound quality as well as its rich variety.
Bahu Ranga (many rhythmic colours) with Reem Dheem, a piece of composition was a delicate blend of Indian and Sri Lankan percussion instrumental performance with indigenous folk melodies. Here, folk songs have accompanied the drumming. In a way, a blend of drums was unique as they mingled into diverse colours. The audience felt the rhythms of the drums as if the heart beat had suddenly stopped or synchronized the sheer gusto of drumming.
Osaka, is as name suggests, based on melody of a Japanese folk song. Here, it is played on flute, indigenous percussion instruments and electronic key board.
Here the flutist Priyantha Dassanayake adapts, to a certain extent the techniques used in playing Japanese Shako Hatchie flute and the percussion instruments in the composition assume the characteristic of Japanese Tyco drums.
This was one of the pieces of compositions of the concert which distinctly showed the fusion of cultures. Although Dissanayake played the same flute which he played for other performances, it assumed a distinct Japanese tone.
The Kalabera Journey, the sixth piece of composition is solo Kalabera recital.
Kalabera was invented and developed by Ravibandhu Vidyapathy in 1997. In terms of its vividness, the composition Kalabera Journey stood out in the concert.
Ukussa is based on Ukussa Vanama. For this composition, Ravibandhu has used flute and Kolitha Bhanu Dissanayaka's voice. Percussion instruments have been delicately blended with the flute and Dissanayake's melodious voice.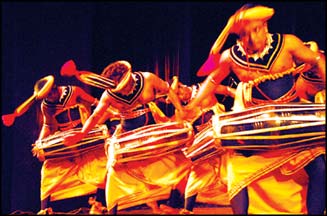 Ravibandhu Vidyapathy has composed and arranged music for the concert while Kolitha Banu Dissanayake and Shamila Dediwela rendered their voice in addition to Ravibandhu, accomplished flutist Priyantha Dassanayake composed music for some of the pieces in the concert.
Although the first part of the concert was conspicuous for its innovative character, the latter part which was exactly following the interval was dominated by a kind of monotony created by the same kind of ultra fast beats which was in the penultimate portion of the compositions.
It has been a salient characteristic in most of the compositions. As the composition reaches the climax, the beat becomes faster and faster clashing the colours that at times have been painstakingly developed in the first section of the composition. Apart from this, the concert set the trend for instrumental music in Sri Lanka.
---
"Alakalanchiya" at Elphinstone
Rohana Baddege's Alakalanchiya will be staged at 3.30 and 6.45 p.m. on (Saturday), January 24 at the Elphinstone Theatre. The cast includes Bandula Wijeweera, Nissanka Diddeniya, Nilmini Kottegoda, Madani Malwaththa and Somapala Pathirage.Composition, dancing, music and productions will be under the direction of Rohana Baddege and make up artist is Jagath Padmasiri. Edward Chandrasiri is the Production Manager while Jude Srimal functions as the chief organiser.
---
'Kalpa Sith Ru'
'Kalpa Sith Ru' an art exhibition by renowned artist Kalpa Suranga Dias will be held at the Colombo Art Gallery from January 17-19. Kalpa is an artist from Weliweriya Gampaha who had won many awards at local and international competitions.