Beware of errant job agents:
SLBFE warns those seeking foreign employment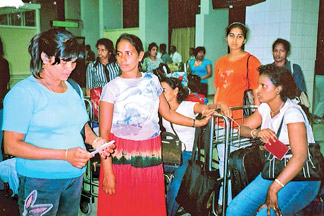 Sri Lankan migrant workers at the airport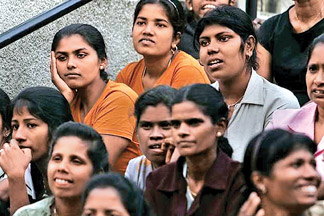 Female migrant workers from Sri Lanka
The Sri Lanka Bureau of Foreign Employment (SLBFE) is in the news again. The last few months there was an increase in the number reports detailing injustices towards Sri Lankan workers abroad, especially in the Middle-East and the SLBFE is on constant alert to investigate. Some reports are accurate and some are baseless and in most cases the job agency is blamed. On the flipside is the SLBFE strategising enough to protect prospective workers from the grip of exploitation, equip Lankan workers to fit the overseas job market and draft employment agreements rationally?
Yes, says the Minister of Overseas Employment Promotion and Welfare Dilan Perera. "We will not ignore any report, I will deploy staff to find the truth. It is my duty to do that and I would like to ideally bring the reporting system to a point where the authorities alert the media of such incidents first and not vice versa. I appreciate media support immensely but I think we will not be at optimal operation unless we achieve such pattern in communication. Conversely the recent incident reported from Iraq where 19 Sri Lankan workers were not paid wages, cannot be dealt with employment policies. The fact that they were employed illegally means that we do not have the right to discuss terms. We can only counter it through the Ministry of Foreign Affairs and treat them as Sri Lankan citizens stranded in another country, not as Sri Lankan workers who are exploited overseas he said
Chairman of the SLBFE, Kingsley Ranawaka told the Sunday Observer that they are committed to protecting workers from errant job agents. "The easiet and best course of action for those seeking foreign employment is to contact our offices islandwide. We will give you sufficient and appropriate information that you need to make your decision and provide you with guidance to find employment opportunities. Those who cannot make the time to visit our offices can call 1919 and check if the job agent who is facilitating your overseas employment is registered with the SLBFE. If this is not done, one automatically runs the risk of being misled and exploited he said.
When queried about the government handling charges mentioned on overseas job advertisements Ranawaka stated, after an amendment made to the foreign employment act in 2009, it is mandatory that the handling charges are published because these charges are approved by the government and for Middle-Eastern employment, workers must only pay the registration fees. This was done to increase transparency and to ensure that prospective workers pay no more than what is mentioned. We can only assist workers who legally go to work abroad and going through errant job agents can hinder our involvement in the event of any adversities.
Deputy General Manager, Training and Recruitment of the SLBFE Mangala Randeniya says that over 23 centres islandwide train approximately 4500 job seekers at any given time under various categories. Domestic workers and care givers are given prominence due to the high demand.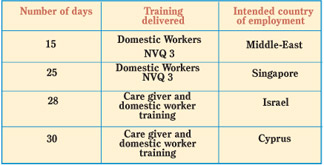 "Apart from this, we have a seven day refresher training for those with outdated work experience and a five days mandatory training on safe migration and common competencies for all Sri Lankan workers who travel overseas for employment purposes. Airpot officials can refuse your departure if they trace that you have not completed this course as it details the basic aspects of living abroad, legality of migrating and cultural adjustments. The training can cost a nominal Rs 3000 for a 30 day program but the contents of it can be of enormous use not only while working overseas but also after returning to homesoil" he said.
When asked about the emphasis on registration before departure, Randeniya states that the SLBFE can only intervene to resolve disputes if workers are registered.
The SLBFE's cash flow is also determined by these registration fees and it is important that we make registered workers understand that they earn the right of our intervention. Besides, when one is not registered it is unfair to invest funds collected from registered workers because some disputes can cost huge amounts which outwieghs the registration fees he said.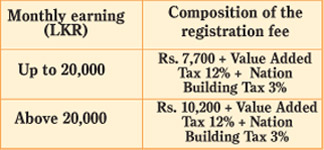 Whilst discussing the involvement of SLBFE in orchestrating overseas job arrangements, we asked what strategies they have devised to avoid excessive brain drain.
"We are not denying that this a high probability but in the job markets we dominate, the demand is for low skilled workers. The process is intricate, we cater to the market honouring the sensitivities of the National Employment Policies of various regions. Some countries do not open their job markets to high skilled labour from overseas. However, our performance overall has been good. With the Employment Permit System (EPS) with South Korea our workers receive a technological advantage. They have to keep in par with what their employers require, in the process they acquire the same level of knowledge. Once they return to the country, they are able to impart their knowledge to others. In such instances brain gain is evident as opposed to brain drain" he said.
"We also monitor workers who registered with us and write to them when they near their expiry of contract and be available to help them with alternative job opportunities. This is not only done to ensure their return but also to make sure that they do not overstay their visas thereby becoming illegal workers where we are unable to help further. I encourage everyone to be documented overseas workers as your rights increase significantly when you serve under that category. Once you become undocumented, the avenues of assistance you can have reduces drastically" he said.
"Most importantly, workers must understand that all these job opportunities strengthen the bi-lateral ties between our country and the employer's country. Maintaining our reputation as a hardworking and legally compliant workforce is imperative so we are looked at as a responsible labour force and winning better work agreements from existing countries and prospective countries. We are available to help our workers, reach greater heights but those who violate agreements make it very difficult for us and successive workers to secure good jobs overseas" he said.