$ 3000 per capita income stimulus for growth:
Council to power engineering sector
The second phase of the 900 MW Norochcholai coal power project is currently in progress and work on the project will be completed as scheduled by 2014, said Power and Energy Minister Patali Champika Ranawaka addressing the 5th Power Sri Lanka 2011 International Expo.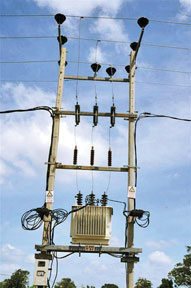 He said that the coal power plant is a huge leap forward in the country's energy sector which is geared to provide electricity to all households within the next couple of years. The first phase of the Norochcholai power plant was commissioned this year adding 300 MW to the national grid which is around 17 percent of the consumer requirement.
The country uses around 28 GW hours of power daily which is met by thermal and hydro power. Around 60 percent of the country's energy requirement is met by thermal power.
On completion of the second phase of the coal power project 600 MW will be added to the national grid. The mega power project is funded by the Chinese Government providing US$ 455 million and Rs. 300 million by the Sri Lankan government.
"Cabinet approval has been obtained to set up an engineering council which will help regulate the engineering sector which plays a key role on the country's power and energy sector", Minister Ranawaka said.
He said that Sri Lanka is in the threshold of reaching US$ 3,000 per capita income which would be a huge stimulus for the growth of the energy sector. Sound planning with uncompromised commitment is essential to accelerate economic growth.
"The world is currently experiencing a fossil fuel peak which is detrimental to the safety of the planet. Dependence on fossil fuel should be reduced by following the Triple E Concept of energy, economy and environment to protect future generations", Minister Ranawaka said.
Natural calamities across the globe are on the rise due to environmental destruction. Industrialised countries which are responsible for more carbon emission are urged to slash emission rate to protect the environment.Minister Ranawaka said that new products and services should help improve the living standard of people and contribute to sustainable development.
The three-day power sector exhibition at the Sri Lanka Exhibition and Convention Centre organised by CEMS USA and CEMS India concluded yesterday.