UN, IC should help Lanka – Spanish PM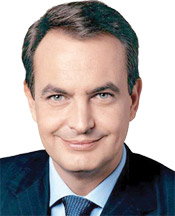 The Prime Minister of Spain Jose Luis Rodriguez Zapatero told President Mahinda Rajapaksa, during a meeting at St. Petersburg, that the international community and international organisations such as the UN should help Sri Lanka. President Rajapaksa and the Spanish Premier held bilateral talks on the sidelines at the International Economic Forum in St.Petersburg yesterday.
President Rajapaksa briefed the Spanish Prime Minister on the reconciliation and resettlement process undertaken by the government since terrorism was eradicated in May, 2009.
The Spanish Premier was also briefed on the progress made by the Lessons Learnt and Reconciliation Commission and steps taken to provide better living conditions to civilians rescued during the humanitarian operation.