Colombo-Matara Expressway:
First phase opens in August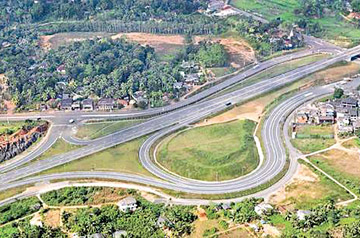 The much awaited first stage of the Colombo-Matara Expressway up to Galle would be opened next month, enabling a driver from Colombo to reach Galle in less than one hour. Though the condition of Sri Lanka's roads is much better than they were earlier, a highway was a crying need since over 100,000 new vehicles join the road each year. Slow driving and traffic jams result in time and fuel waste, pollution and more accidents. It also drives away investors and with high fuel cost, product costs too increase. Studies have shown that 46,000 vehicles pass through this road at Moratuwa, 20,000 at Kalutara and 9,000 at Matara. These numbers would increase at a rate of six to 10 percent annually.
An opinion survey conducted by the Policy Research Information Unit (PRIU) in 1998 revealed that about 75 percent of investors are not satisfied with the condition of roads in Sri Lanka.
Two proposals were considered to overcome this situation with one being the broadening of the Galle Road (A2). However, widening of the road would lead to more expenditure due to relocation of families and business establishments. Finally, it was found that an expressway was the most suitable method of transportation.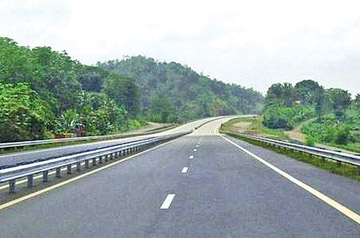 For the expressway, only 1,300 families had to be relocated and they were paid compensation, thus making it a viable project. A sum of Rs. 4.57 billion had been paid as compensation so far.
The closest Sri Lanka has to an expressway is the new Baseline Road. But the feeling of a true expressway only exists in the small flyover section of about a quarter of a kilometre near Peliyagoda. The Galle-Colombo Expressway, in simple terms, is a cordoned-off, spacious, multi-lane road. It allows vehicles to drive at a speed not less than 60 kmph. "Basically, it would be Sri Lanka's first road where motorists would be charged for slow driving", said Project Director, South Transport Development Project, Nimal Chandrasiri.
Sharp turns replaced
Sharp turns were replaced with smooth turns while underpasses and overpasses were provided at crossing points; and entrance and exit to the expressway are through specific points. Upon entering the expressway, a vehicle will have to build up speed in the left most lane before merging to the second lane. He said this does not mean that drivers could race on the highway; there would be a high speed fine if a motorist goes over the 100 kmph mark.
Another first in the Traffic Police history would be speeding vehicles being fined at the next toll station. "Over 400 policemen would be on duty and this too may be a record." Special ambulances and a fire brigade would be assigned for the expressway in case of an emergency.
There would be nearly 300 staff to man the toll stations on a 24-hour basis. High speeding vehicles would be tracked and when they reach the next interchange, the 'fine' would be imposed on the driver.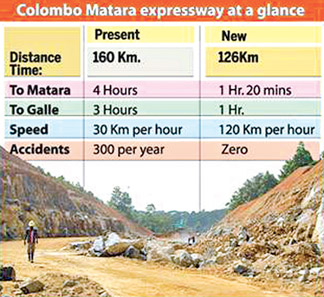 He said that the highway was designed for a speed limit of 120 kmph, but only 100 would be allowed. "This is because Sri Lankan drivers are new to the highway and also their road discipline is not so good", Chandrasiri said. However, once the drivers get used to highway rules and regulations, this speed limit is expected to increase to 120 kmph, allowing a driver to reach Galle in less than half an hour.
He said that the future promises a spot fine and legislature is being drawn in this regard.
No bicycles, three-wheelers, bullock carts, pedestrians or stray animals would be allowed on the highway. There would be no roadside shops unlike in other places. There would be 153 underpasses and 27 overpasses as well.
Access point
"If a driver wants to buy something, he/she would have to move out of the highway through an access point and rejoin the highway later", he said. Under the first phase of construction, the stretch from Galle to Kurundugahahetekma was completed. The second phase of the construction is from Kurundugahahetekma to Kottawa.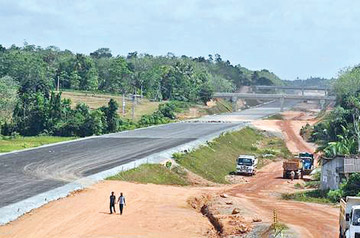 The Colombo outer circular express highway (also known as the Outer circular highway, Colombo Inter-provincial Orbital Route or the Arthur C. Clarke Expressway), the 29 km (18 mile) long outer circular road network will link the proposed Colombo-Matara Expressway with the proposed Colombo-Katunayake Expressway and will provide an orbital beltway to bypass the city of Colombo and reduce traffic congestion.
In addition to the Peliyagoda and Katunayake interchanges, two other interchanges at Ja-Ela and Kerawalapitiya will connect the expressway to the Outer Circular road.
The project is funded by the Japan International Cooperation Agency (JICA). The minimum toll would be Rs. 250. The Government intends to charge Rs. 300 for the entire journey from Kottawa to Pinnaduwa in Galle. However, if a vehicle is going midway the toll would be less.
This toll is for both cars and vans while buses would be categorised on another tier while heavier and extra heavy vehicles would be charged more.
He said that they are currently working on a season ticket where a discount is likely to be provided for daily users of the expressway. "Tenders are being called to fix machines and offer chip cards", he disclosed. Construction of the 126 km (78.2 mile) highway began in 2006 at a cost of $600 million. The Asian Development Bank and JICA along with the Government is shouldering the financial burden of the project.
There are also plans to extend the highway to Weerawila. This would extend the highway by 100 km (62 miles) and would link it to both the Ruhunu Magampura harbour and the Hambantota airport.