Gampaha pineapple growers seek Govt assistance
Although legend has it that the ancient city of Nawala in Kotte was famous for pineapples during the period of kings, the popularity gradually decreased with the arrival of colonial rulers.
Due to the construction of several buildings, factories and highways during the colonial era, many pineapple cultivators at Nawala had to abandon their traditional cultivation. They found various other employment in the construction field which helped them even to start business activities.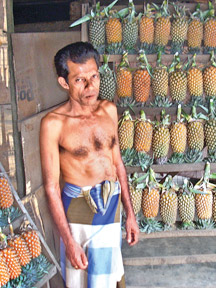 Nawala, which is located in close proximity to Sri Lanka's administrative capital, Sri Jayawardanapura has now become a thickly populated area and no one can see a single pineapple cultivation plot in the area.
This traditional cultivation, which has a history of over six centuries, has now become the livelihood of nearly 500 families in the areas of Gampaha, Kotugoda, Giriulla, Udugampola Meerigama, Kirindiwela, Kuliyapitiya, Radawana, Nittambuwa and Pasyala.
The Sunday Observer last week visited several pineapple cultivations at Gampaha and Meerigama to see the progress of the cultivations. Some cultivators were very happy as both retail traders and wholesale traders visit their plots very often to buy pineapple.
Fifty-six-year old M.R. Piyasena, a father of three at Gampaha said he started pineapple cultivation at the age of 16. He had studied up to grade five and helped his late father's pineapple cultivation.
According to Piyasena, one of his sons had joined the Sri Lanka Army as a soldier and his other son and the daughter helps his pineapple cultivation.
He said he had a two-acre pineapple cultivation. He cultivates pineapple as an inter-crop within pepper and banana.
Sumanwathi Peris of Meerigama said she earns about Rs. 30,000 from pineapple cultivation. She said the price of pineapple had dropped these days due to the good harvest.
Asked whether she needed the Government's help to expand her cultivation, she said the Government should provide them with fertilizer at reduced price.
She doesn't like to have bank loans to expand the cultivation since she was not in a position to pay high interests as they earn little money from their business.
A large scale pineapple cultivator Martin Gunadasa of Kirindiwela said he had five acres of pineapple cultivation. "I plant pineapple along with bananas, coconuts and vegetables to have more income during one season,"
He too did not need any help from the Government to expand his pineapple cultivation, but requested authorities to send hoteliers from Colombo to purchase their harvest.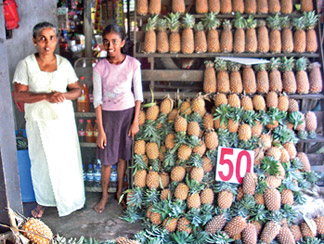 "There are lot of pineapple gardens in the area, but all of us are selling our harvest to private businessmen who come to our doorstep to purchase the harvest at cheap rates".
He said if hoteliers visit our plantation, they will be able to sell them at higher prices.
Although pineapple plantations are located in the Gampaha and surrounding areas, pineapple traders are doing their business cultivation at Imbulgoda, Balummahara and Mudungoda areas which are along the Kandy Road.
A middle aged pineapple businessman M.A Ranjith of Imbulgoda said he couldn't survive with only the income from pineapple business.
He said unlike in the past many vehicles coming from Kandy turn from Balummahara Junction and only a few vehicles pass in front of their pineapple stalls.
He said over 400 families depend on pineapple business and the Government's assistance is highly needed to expand their business activities.
His proposal is that the Sri Lanka Tourist Board and other private company tour groups stop at their stalls to enable tourists to buy pineapple.
A large scale pineapple exporter, H.G.S Pushpakaumara of Rammuthugala said he visits pineapple plantations and purchase them from cultivators.
"In addition to my local business, I also export pineapple to Dubai and earn a sufficient income.
A pineapple trader S. P. Premadasa said he too sold pineapple at a stall in Imbulgoda and now cut them into pieces and sell them at the village fair and nearby schools.
He said almost all pineapple traders are very poor and need money to construct their houses and the Government must help them protect this traditional business.
Pix: Vipula Amarasinghe