Tourism development strategy finalised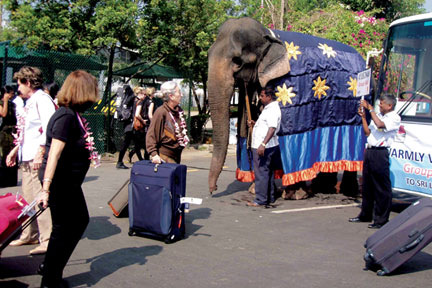 The Sri Lanka Tourism Development Strategy for 2011-2016 has been finalised by the Ministry of Economic Development and Sri Lanka Tourism and will be presented to the Cabinet shortly, said Chairman, Sri Lanka Tourism, Dr. Nalaka Godahewa.
He said that the tourism development strategy will be launched in the second week of August by Economic Development Minister, Basil Rajapaksa."Tourism in Sri Lanka has been on a growth trajectory and the industry is confident that the strategy will help achieve targets envisaged in the tourism development plan", Dr. Godahewa said.
Tourism in Sri Lanka has been booming since mid 2009 with the number of arrivals surging rapidly on a month-on-month basis. The number of arrivals during the first six months this year was 381,538, up 36.9 percent from a year earlier. Revenue from the industry during the first six months was US$ 370.1 million, up 50 percent from a year earlier. Dr. Godahewa said that Sri Lanka Tourism has been revisiting 22 categories of regulations with an industry expert panel during the past six months to modernise regulations to suit the needs of the tourism industry and promote interests of the country.
"Around 50 percent of the work on the project has been completed and it will be finalised within the next three months", he said.
"Wildlife and environmental protection, regulations on whale watching and hotel categorisation are vital as tourism is booming" Dr. Godahewa said. Sri Lanka Tourism with government managed properties will introduce an electronic ticketing system which is currently being developed by Dialog as a CSR project.
Dr. Godahewa said that the new ticketing system will help tourists check prices to various sites and plan their tours better.
Sri Lanka tourism has formed a committee comprising members of the Sri Lanka Association of Hoteliers, Sri Lanka Association of Inbound Tour Operators, SriLankan Airlines and the Sri Lanka Tourism Promotion Bureau, to agree on a joint strategy for marketing communications.
"There has been diverse views on how marketing communication should be carried out.
A consensus on the issue is vital", Dr. Godahewa said. According to tourism industry experts development in tourism has been slow due to lack of strategic marketing and promotion of the destination.
"Except for media advertising there is no reduction in other forms of marketing promotion such as trade fairs, conventions, seminars and visiting journalist programs" Dr. Godahewe said.