IIFL Ceylon positions Sri Lanka as a frontier market
IIFL Ceylon positioning Sri Lanka as a frontier market for foreign institutional investments launched Enterprising Sri Lanka, a comprehensive insight to the Sri Lankan market. The Chief Operating Officer/Senior Vice President, Capital Markets of IIFL Ceylon Sherman Gunatillake, said that Enterprising Sri Lanka reveals recent positive economic development in the country, identifying key growth areas, showcasing leading corporates and visionaries.
Enterprising Sri Lanka carries a message to international funds and investors to take part in the rising potential in Sri Lanka.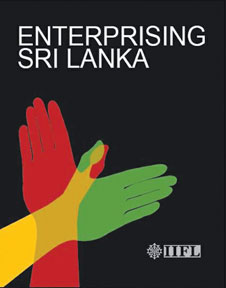 Gunatillake expects Enterprising Sri Lanka to play a significant role in IIFLís attempts to attract Foreign Direct Investments (FDIs) and portfolio investments to the country.
This will also effectively support the countryís efforts to increase awareness and promote Sri Lanka as a growing investment destination.
Commenting on the present market conditions, Gunatillake, a veteran equity researcher said that the growth demonstrated in the Colombo stock market until early this year was unparalleled in any other world stock market.
Investors who are looking for rapid growth of their portfolios would be more than happy to see growth potential like this in any market.
However, there is a rationale for a market to perform. Gunatillake said that what is important is that investors should be fully aware of the support level and also to know the fundamental values in the market.
He said that markets will not stay up or down forever.
There are times to take position of stocks and times to take profits. Gunatillake said that with the declined conditions of the market during the past few weeks creates buying opportunities for foreign institutional investors.
There are stocks with good value to get in to, but key counters with heavy weighting in the market have risen beyond their fair values, said Gunatillake.
He said that IIFL Securities Ceylon is the Sri Lankan institutional equities arm of the IIFL Group and a full-fledged trading member of the Colombo Stock Exchange. He said that IIFL Sri Lankan team is constantly engaged in positioning Sri Lanka as a frontier market for foreign institutional investments. -SG