Why fall victim to dengue?
No one disputes the age-old saying 'Health is wealth'. Every one of us young or old,rich or poor,learned or otherwise,urban or rural,powerful or powerless,royal or humble irrespective of all divisions in society accept this paradox so close to our lives.
It is a sad situation for one to lose his or her health due to circumstances beyond one's control. The plague of dengue now sadly prevalent in many parts of our country is a situation people desperately feel should be controlled as early as possible before the next victim is struck.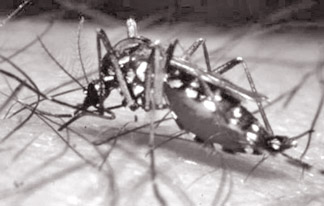 Any problem or curse 'Nipped in the bud' is the most welcome solution,but so far Sri Lanka(though it may not be the only country) has not been able to see a satisfactory rate of control on eradication of dengue.
Many young lives have fallen victim to this curse. Who is to be blamed for this tragic situation. We or the state? We all ourselves, yet the policy framers bare a greater share as work on a broad policy of control is in their hands, while all the citizens have their share in keeping the environment not open for the spread of it.
Prevention is better than cure one may argue yet cure is the way out. In its prevention, health education alone is not enough because the cause is a tiny insect we are incapable of identifying or imprisoning or destroying one by one. A massive ongoing fuming campaign is a must as this particular insect is supposed to be breeding not only in marshy or stagnated water but also in clean water.
Many homes are now cleaned,refuse burnt or taken away by garbage collectors of local authorities,though not to the complete satisfaction of rate payers,when delays are caused due to breakdown of vehicles or public holidays.
The purpose of this article is not to accuse anyone or detect the accused but find a viable solution to the outbreak of dengue and the loss and distress caused to many families in our little island. A child spends most of his or her time at home and at school,a little at tuition classes or elsewhere. We are aware of many school authorities particularly in Colombo who pay attention to this curse by spending on fuming or cleaning their classrooms and compounds. Same cannot be said of every school as many other factors play a role here.
It is so with offices and workplaces. Many a child and adult has fallen victim and we cannot point a finger to the cause as health is an integral part to our existence the state has to pay more attention to this growing menace.
Today the press reports of over 8,000 deaths from dengue,a fair number to worry about. Sadly recently we heard of a boy from a well known boys school in Colombo and two days ago of a promising young student from a leading girls school in Colombo succumbing to the fate as the only child in the family. Loss is irreparable. What heights these children would have reached is unpredictable.
Tears of parents,relatives and colleagues are immeasurable. Tragedy has struck many a home be it in whatever quarter. Now there is hardly any talk of the Cuban bacteria to control the dengue mosquito or any other equivalent developed locally. Its time we took serious note of the situation as a national menace arising from the environment we live in, which is not related to any government policy or lack of medical expertise.
It is now common knowledge that on medical research conducted locally the pure extract of papaw leaves in limited quantity helps in developing the platelet count so important in dengue infection. Besides Western medicine, home remedies are also contributory in the curing process.
Its appalling if "green" Lanka is going to be viewed as prone to dengue as it was years back when Malaria scourged the land particularly the North Central province. We overcame it, so why not overcome the dengue menace,saving many lives from its attacks and falling victim to ill fated fatal attacks.
All Sri Lankans no doubt are cooperating in this effort and the government has only to make the maximum use of this endeavour and provide anti-dengue insecticide or bacteria to combat it.
Couldn't our health authorities seek the support of international organisations as the World Health Organisation (WHO) to take some prompt action on this issue facing Asia not leaving time to solve it through long term research and there findings.
Quick remedial action is the need of the hour. The Health Ministry therefore has a big responsibility towards its citizens in doing their utmost to eradicate this menace thereby saving many valuable lives. For the dengue mosquito we must understand does not select its victim.