Traditional craftsmen thrive at Janakala Kendra
During the early part of the 17th century when the country was under foreign rule, Sri Lankan traditional craftsmen produced exquisite handicraft which were used by locals and also the members of foreign families who lived in the island.
The legend says that local craftsmen have rendered an outstanding service for the past many years and after the colonial invasion the British, Dutch and Portuguese rulers and their wives too had a great regard for locally manufactured traditional handicraft.
The craftsmen used traditional technologies, tools and indigenous raw material such as wood, straw, reed, cane, clay, coconut ekels, bamboos, silver, bronze and gold to produce various handicraft items.
Our history reveals that local craftsmen who lived in the city of Ratnapura in the Sabaragamuwa Province used gemstones to manufacture valuable necklaces and rings for the use of foreigners.
The book on "Sri Lankan handicrafts in the yesteryear", written by George Samarasinghe says that local handicraft has a history of over 2,500 years. During this period, traditional handicraft was also used by our ancient kings and queens.
Even today, producing handicraft is the livelihood of majority villagers living in the interior of Galle, Ambalangoda and Beruwala in the Southern Province. They produce various items with clay, fibre, leaf, straw and grass, jute and cotton, cane, bamboo and reed, metal and silver, jewellery embedded with precious stones, masks and puppets, musical instruments, cloth painting, patchwork, embroidery, bobbing lace, handwork lace, wood based handicrafts, leather products, stone carvings, sculptures for bali, thovil and shanthi karma.
They also make coconut, kithul and palmyra based items, baskets, ekel brooms, coir ropes, wall hangings, vases, silver and bronze items, mats, hats, crochet, masks and batik items.
Recognising the invaluable services rendered by local craftsmen, the Government in 1982 established the National Crafts Council (NCC) at Janakala Kendra Complex, Battaramulla to enable local craftsmen to produce and market their handicraft under one roof.
The National Crafts Council is very popular among local and foreigners as it is the one and only place where people could visit and purchase locally made handicraft items at very reasonable prices. It is also known that the same handicraft items are sold fifty percent higher at many other places in Colombo, Kandy, Hikkaduwa, Beruwala, Tricomalee, Mt. Lavinia, Anuradhapura, Polonnaruwa, Sigiriya and several other cities where foreign tourists gather most.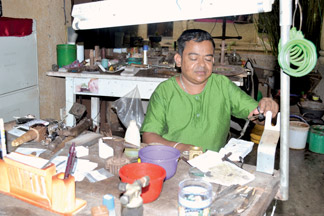 Manufacturing silver ware items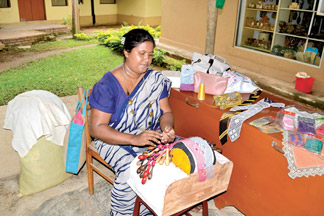 Making Beeralu lace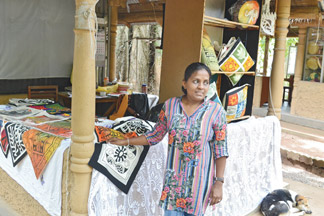 Manufacturing pillow cases
Unlike in the past, almost all foreign visitors who come to holiday in Sri Lanka are given a comprehensive picture about the Crafts Council at Battaramulla at the time they step into the island from the Bandaranaike International Airport, Katunayaka. They know that locally produced traditional items are 40 percent cheaper at the Crafts Council than many other places where the same items are sold at exorbitant prices.
The Craft Village is located at Battaramulla in the vicinity of the Parliamentary Complex and about 15 minutes drive from the city of Colombo. The village is situated on a five-acre land with a green environment. It has 45 cottages which are run by Sri Lankan traditional craftsmen.
The Sunday Observer last week visited the National Crafts Council (NCC) at Battaramulla to look into the manufacturing process of local handicrafts by our traditional craftsmen.
According to NCC Chairman Buddhi Keerthisena, the Council operates over 15 centres all over the country and plans were to open more centres, especially at tourist destinations to encourage local craftsmen to produce and market their products.
He said the handicraft centre was recognised by the UNESCO as an international heritage handicraft centre.
"Preserving the aged-old handicraft industry, protecting craftsmen and encourage them to improve their social standards are the objective of the NCC".
The handicraft village has a close rapport with the Sri Lanka Tourism, the Sri Lanka Tourist Promotion Bureau and many other private tour operators with the intention of seeking their support to promote the handicraft industry.
He said these three sections always extend their support by bringing tour groups to the village and it will benefit both tourists to buy items at cheap rates and also craftsmen to sell their products at reasonable prices.
The stalls are kept open from 10.00 am to 6.00 pm everyday and local dancing troupes are invited to perform in the presence of large tour groups.
In addition, the NCC also conducts annual trade fairs in Kandy, Kataragama, Ratnapura, Galle and many other major cities for the benefit of craftsmen to expand their sales. The craftsmen are also given an opportunity to hold exhibitions at the National Art Gallery in Colombo.
"Local craftsmen are also sent to India regularly for exhibitions. We have already sent local craftsmen to the 'Surajikoon Mela' and 'Chandigar Mela' exhibitions in India".
The Council has also started a craftsmen exchanging program with the Indian Government to enable craftsmen in both countries to learn about traditional creations.
When interviewed stall owners at the Craft Village, they said they were very happy to carry out their craft manufacturing industry and also business activities under one roof.
A craft manufacturer, Kamal Perera said the lack of visitors coming to their village on some days was a major problem and appealed to the authorities to bring more foreign tourists, so that they could sell their products easily.
A resident of Madawachchiya and a long-standing craftsman, Nimal Premasiri said he has been in the silver jewellery manufacturing industry since 2004 and he also manufactured silver bangles, chains, earings, rings, pendants and replicas of elephants.
He said he makes other silver items according to the orders placed by visitors.
Premasiri proposes the Sri Lanka tourist promotion authorities to bring at least three foreign tour groups to the Craft Village every day to purchase local handicraft at reasonable rates.
He said they do not have a fixed monthly income and depended on tourist arrivals.
Another silver product manufacturer Tissa Dharmakeerthi who has been in the field for the past fifteen years, said he manufacture silver statues, panchauda, rings, pendants, cufflings for shirts, trays and many other items.
"In addition, I have also manufactured medals used by Army, Navy, Air force and Police in silver and wish to hand them over to either President Mahinda Rajapaksa or the Defence Secretary Gotabaya Rajapaksa at the forthcoming Ranaviru Day".
He said he has won several national certificates for his traditional creations and wished to represent future competitions too.
A long-standing craftswoman, Shiromi Lanka Alwis who has a stall at the Craft Village said she manufacture wood carvings and she sends her products to also foreign countries.
She said she manufacture the statues of The Buddha, Maha Sangha and statues of gods out of Mahogani, Nadun, Panakka and Palu wood.
"On average, I earn over Rs. 60,000 a month and it goes up to Rs. 100,000 during festive seasons such as Vesk, Poson and Thaiphongal".
A long-standing bobbin lace manufacturer Avanthi Weerasinghe of Meegoda said she has been in the lace manufacturing industry for the past ten years.
She said in addition to lace, she manufacture coloured ties for occasions, tablecloth cushion covers and bridal sarees and sells them at the craft village and at hotel showrooms to foreigners. She also wants the authorities to bring more foreign tourists to the village.
A hand painting manufacturer, Sunethra Priyangani said she started this traditional handicraft business at the age of 12 and earns a monthly income of Rs. 40,000.
Priyangani proposes the authorities to bring more visitors to the village and also conduct craft exhibitions at hotels and at the Airport to enable them to sell their products to foreign visitors.
A craft manufacturer, Sarath Wijesinghe said, like the private sector they too are ready to give a commission to tour guides if they bring foreign tourists to the Craft Village, Battaramulla.