Ceramics industry faces turbulent times
The ceramics industry is facing turbulent times due to the high cost of production and the eurozone debt crisis which has caused the export market to shrink, ceramic exporters said.
The rising cost of production and the declining demand from export markets is posing a major threat to the Sri Lanka's ceramics industry, an exporter said.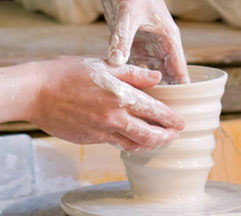 He said that it is a tough time for the industry but if manufacturers are willing to be flexible and change according to customers needs they would be able to over come this turbulent time. Sri Lanka has a good reputation for being an easy and fair country to do business with.
The ceramics industry has been adversely affected by the staggering energy and labour costs, an official of the Sri Lanka Ceramics Council (SLCC) said.
Midaya Group of Companies Chairman, Dayasiri Warnakulasooriya said that Sri Lanka has to compete with low cost markets such as Bangladesh, India and Vietnam which have gained an edge over many countries in the global market.
Sri Lanka is reputed for some of the finest ceramic products through a vibrant industry which is several centuries-oldand provides direct livelihood to over 7,000 people.
The income from ceramics exports in 2010/11 was Rs. 5,777, 460, 240 as against Rs. 5,044, 769, 499 in 2009/10.Porcelain tableware, ornamental ware and glazed wall and floor tiles are exported to the USA, Australia, Italy, Germany, UK, France, Canada, the Netherlands, Japan and Singapore which are primary markets for Sri Lankan ceramic products.
"The cost of production is rising and we will have to move towards high end, niche ceramics to get international orders. We will have to keep innovating and trying to stay ahead of what other low cost producing countries such as China and Bangladesh are manufacturing' a leading manufacturer said.
He said that the ceramics industry is severely affected by the global economic crisis but certain companies which produce niche products are less affected. Orders from Europe and USA have seen a decline.
The high cost of LPG, electricity, increasing cost of labour due to the rising cost of living hampers operations of many energy intensive industries. The ceramics industry in Sri Lanka has a distinct advantage due to the availability of raw material such as kaolin, ball clay, feldspar, silica, quartz and dolomite.
The literary and skilled workforce are unique advantages for the industry.