Laudable medical approach to motherhood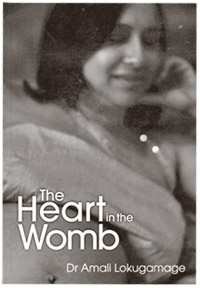 The heart in th womb is written by an obstetrician and gynaecologist who was born in Sri Lanka but grew up in the United Kingdom. She holds a BSc (Medical Science) from St Andrews University, MBChB from Manchester University, an MD from University College London and an MSc in Epidemiology from London School of Hygiene and Tropical Diseases.
She is a Fellow of the Royal College of Obstetricians and currently a consultant at a hospital in London. She has authored several peer- reviewed scientific papers on research studies on women's health.
As I am a creative writer and not qualified in the field of medicine, this review will consist mostly of passages quoted from the doctor's own writing which has been formed from her own observations and experience in the hope it would be of help to expectant mothers in this part of the world.
Being a mother myself, however, I deeply appreciate her approach to motherhood, advising expectant women to have more faith in Mother Nature who, before medical science took over, have been solely responsible for the creation of life in the universe.....
"My path to pregnancy was an unusual one for an obstetrician and gynaecologist. I married late in life, after my fortieth birthday, knowing my chances of conceiving were low. I went through fertility tests and was further saddened to realise I was also nearing menopause.
However, because I was also an acupuncturist I was familiar with principles of traditional Chinese medicine. By following this form of treatment I started to ovulate again. Three months into this treatment I became pregnant much to my joy.
As soon as I conceived my son, I lost autonomy over my body. The baby took over all my systems. It transformed me from a driven and highly academic woman to one that was soft, feminine, unworried and pliable, longing for a simple, beautiful homebirth.
At one point, though, I developed nausea and began vomitting. My abdomen became abnormally bloated and began restricting my diaphragm making it difficult to breathe. Once again I was compelled to check into hospital.
Being an obstetrician I knew the dangers involved, one being a blood clot on the lungs which spells danger for pregnant women. It was during this brief hospital admission that I became convinced the right path for the final labour were not wards which were places of agitation and not restful......
Soon after this I came to know Dr Gowri Motha and her Gentle Birth Method.
Practising Yoga and attending an Active Birth Centre as pregnancy advanced, I found I had inherited diabetes from my mother. My new doctors advised me to stop working until the birth was over. I found it difficult because I was attached to my work. However now I had the opportunity to undergo conscious changes that led to my homebirth.
Some natural- birth gurus advise this silent, supportive, instinctive style helps a woman to utilize her inner knowledge to deliver the baby. Towards latter part of my pregnancy my blood sugar level dropped to normal.
The silent, supportive, instinctive style of life helps a woman to come
to terms with the continuation of life. Constant interruption which causes anxiety during labour causes a woman's body to lose the natural rhythm nature sets up to produce efficient contractions,
as well as preventing relaxation needed to allow maximum stretchiness of the soft tissue
of the pelvis. Ideally the birthing environment should be dimly lit and the woman must be confidant that she has support without it disempowering her. Having been an obstetrician for many years I had not fully appreciated how disturbing a labour ward can be in the phenomena of contractions dwindling when attention becomes focused on a woman by an unsupportive, detached, doctor and ward helpers who, up to the time of birth, had not been by her side, giving strength.... like her friend, and supportive mid-wife.
How wise of the child to demand your full attention by making you too nauseous to continue going to work. The main challenge, I think, is how to get to the ape consciousness or monkey mind, if you prefer. Of course the wonderful thing about love is that we can create more and more of that with our minds, words and actions.
The challenge of helping our women in rural areas living on difficult terrain with inadequate transport links, a trained mid-wife would be a blessing and life-saver.
Babies born by normal birth as compared to those born by caesarean section, have improved survival of white blood cells that destroy micro-organisms(neutrophils) in their cord blood.
Learning to appreciate nature is crucial for our future, as our planet has become disturbed by our lack of respect for it. Mothers are a gateway to fostering love within humanity and wield enormous power on the individual as well as the collective.
Mothers give people hearts from their wombs....... "