Nominations invited for Premchand Fellowship from Sri Lanka
Sahitya Akademi, India has instituted a Fellowship named after renowned Hindi writer Premchand during his 125th birth anniversary, which is offered every year to a person of eminence in the field of culture and literature from each SAARC Member State.
The period of Fellowship is one month to three months depending on the convenience and availability of the writer/scholar and arrangements for the boarding and lodging, international travel and travel within India are made by the Sahitya Akademi.
In addition, a pocket allowance of Indian Rupees 12,000 per month would also be provided to meet incidental expenses. The visiting Fellow will have to deliver talks/speech on his works in different places of India during his/her visit.
In 2011, poet and author Sumathy Sivamohan was awarded the prestigious Premchand Fellowship by the Sahitya Akademi.
Nominations are invited from eminent Sri Lankan personalities in the field of culture and literature for the prestigious Premchand Fellowship 2012 (Publishers as well as literary institutions of Sri Lanka can also send nominations of the scholars/writers with their detailed biodata).
The nominations could be forwarded to the Indian Cultural Centre, 16/2 Gregory's Road, Colombo on or before April 25.
---
SAARC Film Day
Iqbal, a film by Nagesh Kukunoor will be screened on April 25 at 6.30 p.m at the National Film Corporation theatre. The film screening is organised by the SAARC Cultural Centre ( SCC) Colombo, in collaboration with the Indian Cultual Centre.
The film is directed by Nagesh Kukunoor. The SAARC Cultural Centre will work in close collaboration with the Indian Cultural Centre in presenting the film.
The story about determination, hard work, and an unending passion to become a pace bowler in the National Cricket team. "When the heart begins to think like the head... that's when real success is achieved," says coach Naseeruddin Shah to his special student, a deaf-and-mute boy who strives to become a national cricket player.
The world of Nagesh Kukunoor's latest film is a mellow one of basic and valuable emotions.
This isn't the first film where the director has dealt with the ambiguous world of adolescent dreams. Unlike Kukunoor's "Rockford", "Iqbal" rocks to a rustic and heartfelt raga-rhythm.
The location is a small Muslim village. The texture is tender and basic.
The film exudes the familiar aura of sweet dreams. Destiny, fortitude and diligence aren't treated as lofty concepts, but offshoots of destiny, better left unruffled rather than subjected to serious tampering.
Substance doesn't sit uneasily over "Iqbal". It's a derivative influence implanted on the radically uncomplicated narration by the director's deft, if somewhat over-simplified, vision.
You can't come away from this big-little film without cheering for its twin heroes... the physically challenged 18-year old Iqbal and his washed-out inebriated coach whose twinkling eyes and inbuilt sense of humour carry forward the tale from its deliberately frail beginnings to a rousing finale.
Iqbal qualifies as a must-see effort, not so much for its virtuosity as its artlessness of vision. No one here tells a lie. Not the storytellers, not his creations.
The cast includes Naseeruddin Shah, Shreyas Talpade, Shweta Prasad, Yatin Kareyekar, Prateeksha Londkar, Girish Karnad with a special appearance by Kapil Dev is directed by Nagesh Kukunoor.
This Film is the fourth film in a series of films that will be screened and organised by the Centre to bring member states of the SAARC region together embracing culture and recognising unity through diversity.
---
Balloth Ekka Be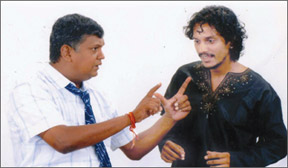 Ravindra Ariyarathne's Balloth Ekka Be will be staged at the Lumbini theatre on April 28 at 3.30 p.m. and 6.45 p.m.
The cast includes Wijaya Nandasiri, Gihan Fernando, Kumara Thirimadura, Roshan Pilapitiya, Saman Hemarathen and Anusha Disanayake.
---
Book launch
Olu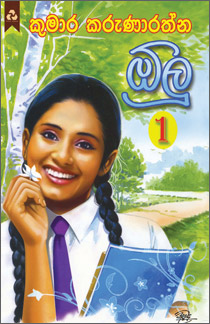 Kumara Karunaratne's Sinhala novel Olu (latest edition) will be relaunched at Dayawansa Jayakody Bookshop, Colombo 10 on April 24 at 10 a.m. It is a Dayawansa Jayakody publication.