Colourful lanterns to brighten Vesak
Boon for lantern and bucket manufacturers:
Have you heard about a Vesak lantern manufacturer who sold some Vesak lanterns to a foreign tour group at a cost of Rs. 1,500 each. The medium size lanterns were made in the shape of lotus flowers and pasted with colourful oil papers and cellophane papers.
Although the actual price of a lantern was Rs. 200, the tourists who were holidaying in Sri Lanka during the Vesak season a couple of years ago had to spend a large amount of money to buy Vesak lanterns.
A star class tourist hotel at Hikkaduwa had organised a Vesak lantern competition among foreign tourists who stayed in the hotel on Vesak day. About 30 foreigners, took part in the competition. Many of them were from Germany and France. The foreign visitors were very happy to take part in such a competition held for the first time in Sri Lanka. They were delighted with the competition and thoroughly enjoyed.
The foreign visitors were encouraged to take part in the competition by their local guides. The guides took the foreigners into selected places in Colombo to purchase Vesak lanterns for the competition.
This was a story, related by a 54-year old, Vesak lantern seller H.A. Dharmadasa at Hevelock Road, Colombo 5.
The story was revealed by him when the Sunday Observer visited his workshop at Kalutara to see how people are engaged in the Vesak lantern and Vesak bucket manufacturing industry.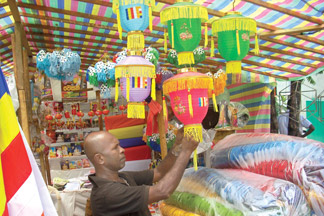 Recalling the Vesak lantern competition, conducted by a hotel in Hikkaduwa three years ago, Dharmadasa said that selling Vesak lanterns to foreigners for the first time in his life was an unforgettable experience.
He said he helped the local guide who brought foreigners to buy Vesak lanterns and said such a competition had never conducted thereafter by a hotel in the country.
Dharmadasa also proposed the Sri Lanka Tourism to conduct such Vesak lantern competitions in hotels during Vesak festivals, so that it will promote camaraderie and be of great help for the people engaged in the industry.
A father of four children, Dharmadasa said he started the Vesak lantern manufacturing business at the age of 17 and the business is currently carried out with the assistance of his two elder sons.
"This has now become a family business and I produce both lanterns and buckets, while my daughter make Buddhist flags. We make the structure for lanterns from reed and green bamboos and also from plastic stripes which are not used by garment factories".
He said he starts manufacturing lanterns and Vesak buckets at least five months prior to Vesak every year and manufacturing about 40,000 buckets and about 5,000 Vesaka lanterns.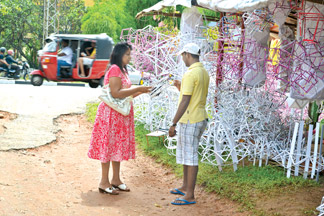 "Lanterns are manufactured from reed (Bata in Sinhala) and bamboos (Una) and them are sold after pasting oil papers. The pasted lanterns are covered with polythene bags in order to protect them from rain," He said he has his own shop at Nagoda, Kalutara and eighty percent of products are distributed to private businessmen in Colombo and outstation stalls three weeks prior to the Vesak festival.
A 29-year old Vesak lantern and Vesak buckets manufacturer and seller of Kaduwela, Gamalath Ranasinghe said he has been in the business for the past ten years and this has become a self-employment project for underprivileged men and women in the district.
He said raw material such as oil papers and cellophane papers that are used to manufacture lanterns and buckets are expensive in the Pettah market and it is the duty of the authorities to release the tax imposed on these papers, considering that it is a national need, so that finished products could be sold to people at cheaper rates.
A 28-year old, Vesak lantern and bucket manufacturer of Homagama, Buddhika Jayanath Kumara said he starts manufacturing lanterns and buckets six months prior to the Vesak festival.
He said he is mostly manufacturing buckets than lanterns as he got more income from buckets."Buckets are made out of oil paper and Cyclopean papers. I purchase these papers from Colombo. I make about 24,000 oil paper buckets and about 20,000 buckets from Cyclopean papers during a season,".
He said bucket making has become a household industry in his village at Uduwana, Homagama since many families help him to manufacture buckets during the season. The families too generate an extra income.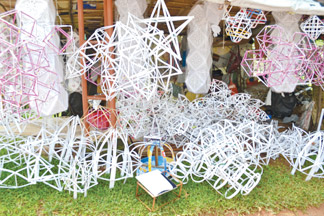 "Manufacturing buckets are time-consuming as workers have to do it manually. They have to cut oil papers and paste them. Thereafter cardboard bottoms and candle holders should be fixed".
Buddhika said he earns around Rs. 100,000 during the Vesak season from lanterns and buckets.
He said he has a shop at Homagama to sell his products and also distribute them to other temporally erected stalls in Colombo, Maharagama, Bandaragama, Horana and a few other places.
A long-standing Vesak lanterns and buckets seller of Bandaragama D. Ajith said he purchases Vesak lanterns, buckets, Buddhist flags and many other electrical items on credit basic from manufacturers.
"I earn about Rs. 75,000 during the Vesak season and I am also engaged in other businesses during other months," He said unlike in the past, it is difficult to sell Vesak items as many people are engaged in the business at almost every junction.
Another Vesak lantern seller, P. Gunadasa Perera of Bandaranaike Pura, Rajagiriya said he has been in the business for the past 20 years .
He said he has a permanent stall at Bandaranaike Pura at Rajagiriya and sells about 10,000 Vesak lanterns during the season. He said he receives large orders for Vesak lanterns from institutions such as Police, Banks, tourist hotels and also from Government and private sector offices.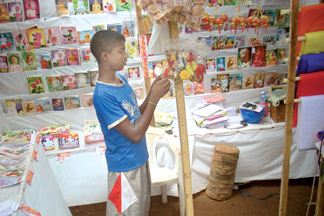 Gunadasa's son, Nuwan Perera said he helps his father to carry out his business activities and they sell Vesak lanterns until the Vesak Poya Day and thereafter they make kites for kite shows and also sell them at the Galle Face Green.
A female Vesak lantern manufacturer, Kanthilatha Peiris said she is engaged in various self-employment projects such as sewing, flower gardening, prawn breeding, poultry and making Vesak lanterns. "I make at least 2,000 lanterns every Vesak season and earn a sufficient income.
I worked in the industry with the assistance of my daughter who is an Advanced Level student."
She said she earns about Rs. 30,000 by selling Vesak lanterns to ordinary people and also to tourist hotels at Katunayake. She proposed authorities to hold State-sponsored Vesak lantern competitions in every village, so that more people could sell their products. She also asked the Sri Lanka Tourism to conduct a lantern competition at the Katunayaka Bandaranaike Airport to attract visitors as it will also help lantern manufacturers.