'Opposition should support Govt against foreign interference':
Ranil's Jaffna rally, a ploy
Higher Education Minister S.B. Dissanayake said Opposition Leader Ranil Wickremesinghe's decision to hold the UNP May Day rally in Jaffna was a a ploy to grab power with the help of the pro-LTTE diaspora and Western forces.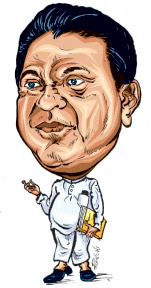 This is unfortunate and hypocritical. The UNP has no reason whatsoever to conduct its May Day rally in Jaffna as it could not win even the Local Government elections in the North.
Therefore, this is an attempt to resurrect the LTTE. The UNP is also trying to convey to some Western forces that if the President and the Government are not in their good books that it would do anything to appease them, the Minister told the Sunday Observer.
The Minister said whatever internal dissension, ideological or policy rifts, the main Opposition should support the Government against foreign interference. It, however, regretted that the main Opposition has failed in this regard.
Minister Dissanayake said there are a few reasons for the UNP to conduct its May Day rally in Jaffna as May 1 was the day on which President R. Premadasa was assassinated by an LTTE suicide bomber. Moreover, Ranil Wickremesinghe wants to sabotage the Premadasa commemoration which will be held on May 1. That is why it has been made compulsory for all other UNP MPs to attend its May Day rally in Jaffna except MPs Sajith Premadasa and Dilip Wedaarachchi.
The Minister deplored the manner in which the UNP conducts its affairs today. The youth in the North took to weapons during the UNP administration.
Dead bodies were burnt on roads during the UNP regime from 1987 to 1990. But nobody questioned those brutal killings. JVP and UNP supporters were brutally killed. The JVP also killed UNP supporters. The, then UNP Government killed JVP supporters and burnt them on roads in revenge.
The UNP should be happy with the initiative taken by the Government to end the war against terrorism. Wickremesinghe recently toured Kilinochchi to see LTTE Leader Velupillai Prabhakaran's house. When Wickremesinghe signed the MoU with the LTTE leader, he could not go to Kilinochchi to meet Prabhakaran.
At present the TNA and all other Tamil politicians can go to the North to look after their property or interact with their people. They are enjoying this freedom due to President Mahinda Rajapaksa freeing the North from the LTTE. However, the TNA keeps mum on it due to the pressure by the pro-LTTE Tamil diaspora and the West.