May Day rallies countrywide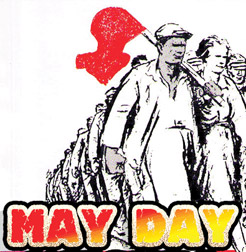 While the main UPFA May Day rally will be held at the Colombo Town Hall under the patronage of President Mahinda Rajapaksa leading political parties and Trade Unions will hold their May Day rallies in Colombo, Jaffna and other provincial cities.
The UPFA rally including those of its constituent parties will begin around 11 a.m. at Campbell Park, Borella and reach the Town Hall grounds, the venue of the meeting.
This year's theme will be Rata Ekata (the country as one). A large crowd is expected to join the UPFA rally since the SLFP organisers and trade union leaders are keen to bring their supporters to Colombo in large numbers to display the strength of the UPFA Government, SLFP General Secretary and Health Minister Maithripala Sirisena said.
The Socialist Alliance May Day rally organised by the Communist Party and the Lanka Samasamaja Party will be held in Kirulapona.
The National Freedom Front (NFF) rally led by Minister Wimal Weerawansa will commence at 1 pm at the Ayurveda Junction, Rajagiriya and join the UPFA May Day rally at the Town Hall, via Castle Veediya, Horton Place, Nelum Pokuna junction and F.R. Senanayake road. While the JVP rally will be held at the Havelock Town BRC grounds, the JVP break away group Front-line Socialist Party and NSSP May Day rally will be held at the Price Park grounds.
The UNP-TNA and EPDP May day rallies will be held in Jaffna.