Muthurajawela and Kanneliya, the cradle of bio-diversity
Most unluckily, we have been forced to confront the severe depletion of nature reserves since the outset of twentieth century. It is happening now! Sri Lanka, the small island has had a high opinion of herself for her broad bio-diversity-her most cherished possession for a fairly long time. Yet, now, with every second, these priceless gifts from nature are being pushed towards a doomsday scenario.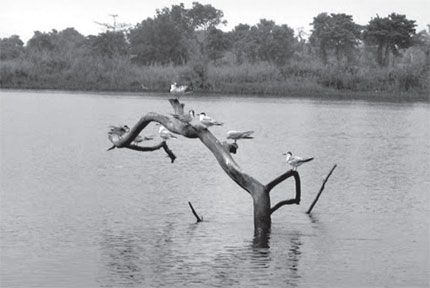 Tragic enough, the forest cover which was 75 p.c at the beginning of the twentieth century has gradually tapered off to a staggering 21 p.c today in Sri Lanka. Sri Lanka's reservoir of forests is fast diminishing solely as a result of rapid population growth and accelerated urbanisation.
One such nature reserve is Muthurajawela which is a wonderful area of wetland placed in the suburbs of Colombo. Muthurajawela, with its high bio-diversity and excessive natural charm is a coastal nature reserve which roughly extends from Kelani river to the lagoon of Negombo along the western coast of the island.
Wetland
The wilderness of the wetland of Muthurajawela spans through Ja ela, Katana, Negombo and Wattala. The 'Aththanagalu Oya' (Popularly known as 'Dandugam Oya') is the chief source of water for Muthurajawela and joins the sea through Negombo lagoon. The freshwater of Kelani river and Aththanagalu oya enriches the wetland and various types of plants and animals have found the area extremely accommodating.
Almost 500 years previously, the wetland of Muthurajawela had been a vast stretch of rich paddy fields as the legend has it. As time progressed Muthurajawela gradually became a wetland covered with lush vegetation. The canals constructed by the Dutch and English and subsequent human operations have considerably narrowed the full extent of the land. Muthurajawela had earlier accounted for a larger portion in the Western Province.
Muthurajawela has so much promoted the natural beauty of Sri Lanka that it is ranked high on the list of natural wetlands of Asia and is among the top twelve wetlands of Sri Lanka. Special studies carried out on Muthurajawela have revealed that this valuable area of wetland is still the home for many varieties of flora and fauna indigenous to Sri Lanka. In addition to that Muthurajawela is chiefly beautified by marshland, patches of jungles, freshwater canals and diverse plants and animals.
Ecologists have identified that certain plants and animals which are endemic to Muthurajawela have easily adjusted themselves to ideal conditions of the wetland.
The eco-system of Muthurajawela has facilitated lush vegetation bordering the rivers and the coast. Ecological groups have discovered that 192 varieties of special plants flourish in this particular area of wetland. Of 60 varieties of 'Kadolana', found in the world, about 18 varieties grow well around the Lagoon of Negombo.
Haven
The World Conservationists' Association has pointed out that Muthurajawela provides a safe haven for around 102 varieties of birds such as parrots, falcons, hawks, kingfishers, cranes, spoon bills, swallows, halcyons and many more.
Apart from that, the visitor gets the instant impression that Muthurajawela is the paradise for animals such as porcupine, loris, otter, tiger cat, mouse deer and civet cat etc.
The special monkey (Macaca sinica) which is perhaps endemic to Muthurajawela and the water snake (Gerada privostiana) deserve exclusive attention as they have developed strange behavioural patterns in correspondence with their immediate surroundings. Muthurajawela is also the abode for varieties of tortoises, lizards and snakes.
The area of wetland (Muthurajawela) possesses high potential for being exploited for developmental targets.
Nature reserves in the Southern part of the island too are dwindling at a terrific rate largely on account of human intervention.
In spite of the tremendous threat to natural forest reserves, Kanneliya nature reserve in the Galle district has retained its fascinations for the local and foreign visitor.
It is a paradise of natural beauty and higher level of bio-diversity not only in Sri Lanka but likewise in Asia.
An icy breeze sweeping through the vast stretch of treetops makes the visitor feel energetic or cool after he has been uncomfortably tired or hot. Kanneliya is a wet, evergreen forest snuggly ensconced in Udugama, Galle and is a perfect retreat from the hustle and bustle of the city of Galle. The Gazzette notification of 1934 No. 8062 declared Kanneliya a forest reserve and UNESCO too proclaimed it a nature reserve in 2000.
Brooks
Kanneliya provides catchment and basic flood-plains for 'Gin Ganga' and 'Nilwala Ganga' and is profusely scattered with small mountain streams and brooks. The visitor may enjoy the spectacular views of waterfalls when rain is in its maximum level (though it creates much inconvenience).
The pool of Nannikita Canal appears to be a natural reservoir which contains extra clear, glass like water. This is one of the tourist attractions of Kanneliya. Kanneliya nature reserve possesses beautiful waterfalls.
The Anagimala ella, which cascades down a slippery rocky slope with boulders, attaches a mysterious beauty to the cold forest.
View
The giant vine of 'Pus' (Entada phaseloides) yet another enigmatically beautiful creation of nature redoubles the natural splendour of Kanneliya forest. What strikes the visitor is the cave beneath the rock plain. A stream flows through the dark cave frequented by a big population of bats.
The vine of 'Pus' sprawls among trees for almost a hectare and shows that it has existed with trees for many years.
The forest museum of Kanneliya displays tools and other equipment used by ancient people and serves as a praiseworthy educational project. Furthermore, Kanneliya nature reserve is made special by 'Lihini Gallena' (a cave) which bears a small brook flowing through the cave.
The 'Kabbale' mountain commands a magnificent view of the whole Kanneliya with its evergreen forest and ranges of mountains coupled with southern coastal belt beyond. However, the most attractive place in the Kanneliya nature reserve is Kabbale mountain which overlooks everything below in every direction.
Kanneliya is open for the public on all the days of the year including the Sinhala and Tamil New Year day. Kanneliya nature reserve and its conservation centre are equipped with everything to educate the visitor about the bio-diversity of Sri Lanka.
Apart from that Kanneliya nature reserve is equipped with lecturers on snakes and reptiles, lecture halls, a library and a museum. Therefore, these nature reserves are to be exclusively protected for future generations.
They are the store houses of nature which displays its best through these forests.