Gem and jewellery and SLT Rainbow Pages tie-up
The local gem and jewellery industry will be revitalised to become a billion dollar sector sooner than expected with the tie-up of the industry with the SLT Rainbow Pages, the country's only business directory.
The gem and jewellery industry is poised to be the fourth largest foreign exchange earner and the partnership with Rainbow Pages will fuel further growth.
The theme of Rainbow Pages for 2013 will be 'Sri Lanka Gems'. The industry is in the process of re-positioning as an end-product supplier, National Gem and Jewellery Authority Chairman and CEO, Prasad Galhena said.
Countries such as Thailand, Singapore and Hong Kong have become gem centres without having gem bearing land as in the case of Sri Lanka.
"We need to re-think and re-shape export strategy to enable more value addition," he said.
The industry will be promoted at national and international level and the tie-up will facilitate this effort as using the SLT Rainbow Pages will bring important insights and information to people across the country. "We looked for an industry that is deserving of the far reaching publicity our directory offers annually," SLT Rainbow Pages, CEO Malraj Balapitiya said.
"Having examined our options carefully we determined that in 2013 our strength would be placed behind the promotion of the local gem and jewellery industry."
"We believe that this industry plays a pivotal role in the country' s development drive and is a vital component of future growth in terms of trade, revenue, tourism, jobs and income generation," he said.
"We have dedicated our 2013 edition to the gem and jewellery industry. The highest number of gem stones are found in Sri Lanka which is relatively unknown in the world.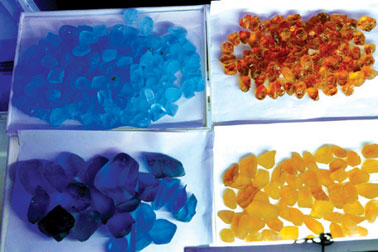 The directory contains information on the industry, ranging from the history of gem mining, names and types of gems found in the country to the characterisers a good gem stone and the role the industry will play in the country's future, SLT Rainbow Pages, General Manager Ruwan Wijetunga said.
While creating awareness, measures will be taken to promote and protect the industry using high-tech products and services such as mobile app and the Tourist Directory for the benefit of travellers to Sri Lanka and overseas buyers, he said.
The SLT Rainbow Pages has the ability to reach a wider strata of society and is an invaluable tool in supporting comprehensive growth of the industry.
Sri Lanka is considered as one of the fastest developing gem cutting and finishing centre in the world. It has a zero tax regime for import and export of gemstones making the country a friendly place for gem trading.
The National Gem and Jewellery Authority plans to promote and develop jewellery exports where value addition is to be the highest in keeping with the government's development strategy.