WTO bolsters support for Sri Lanka
In a fresh boost to Sri Lanka's international trade push, the global trade body World Trade Organisation (WTO) is stepping up its support to the country. "We thank WTO for its latest initiatives on Sri Lanka. As a founder member of the WTO, we too are well committed to the WTO policy framework," said Minister of Industry and Commerce, Rishad Bathiudeen last week. Minister Bathiudeen said this upon learning WTO's latest offer from the newly appointed Sri Lankan Ambassador and Permanent Representative to the WTO in Geneva, Nimal Karunatilake.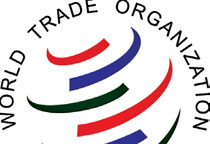 "WTO is willing to give more trade capacity and technical assistance to trade related institutions in Sri Lanka," Director General of the WTO, Pascal Lamy told Ambassador Karunatilake when he presented his credentials to the Director General at WTO headquarters in Geneva on February 13.
Ambassador Karunatilake is the sixth Lankan Ambassador to present credentials to the world trade facilitation body with a global membership accounting for 97 percent of global trade."WTO is willing to give more trade related capacity and technical assistance to Sri Lanka," said Lamy.
"WTO appreciates Sri Lanka's long-term commitment. In fact Sri Lanka was a founder member of the WTO,a fact we respect highly" he said.Lamy who thereafter briefed Ambassador Karunatilake
on the current state of play in the Doha Round of Trade Negotiations, which is commonly known as the Doha Development Agenda (DDA), with special emphasis on areas where the WTO Members have been able to achieve progress in consensus building.
Ambassador Karunatilake said, "Sri Lanka, being a founder member of both the GATT and the WTO, remained committed to the rule-based, multilateral trading system in promoting global trade.
Sri Lanka was the first South Asian state to introduce market-friendly economic reforms and the unilateral trade liberalisation measures introduced as far back as 1970s had made Sri Lanka one of the most business-friendly nations in the region.
We hope that any eventual outcome of the DDA would effectively address the specific issues and challenges faced by small and vulnerable economies such as Sri Lanka" and added "An early conclusion of the DDA would particularly be beneficial to the Sri Lankan economy, which was going through a crucial phase of transition."Stressing Sri Lanka's appreciation for the WTOs support, Ambassador Karunathilleke said, "Sri Lanka was deeply appreciative of the valuable cooperation the WTO continued to extend toward trade-related capacity building in Sri Lanka through various training programs, awareness creation seminars. Sri Lanka is looking forward to a successful outcome of the DDA that would benefit all stakeholders."