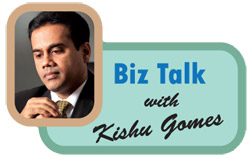 Body language - a distinct competitive advantage
My recent conscious and earnest observation of the body language of young executives doing a variety of jobs across various industries persuaded me to compare and contrast the communication and negotiation skills our nation has relative to the western world.
I have seen in the recent past, failures of great brains due to gaps in communication skills. So this time I decided to draw your attention on the importance of non-verbal communication with the hope that it may help many to do a self-assessment and come up with a plan to improve the power of communication for greater success and be admired and respected. It's all about visible communication for greater impact.
How do you pass judgement on others?
Ask yourself; don't you pass judgement, form perceptions and make conclusions on people you regularly interact with, on various physical attributes such as appearance, body structure, dress sense and communication style.
In the modern world, can you afford to not focus on any of these and expect to be differentiated and recognised? Definitely the answer is no.
Look around, the people who are successful and popular or perceived to be successful are people who have the right body language. Be it a politician, business leader, sales person, teacher, doctor or any other professionals who requires people's attention and positive response, effective body language is a competitive advantage to successfully encounter mounting competition. Each one of us has our own unique body language; inherited or acquired and we get exposed to the body language of others in our daily activities.
How you say it also matters
As soon as we are in contact with others we are communicating through non-verbal signals. So we would like those non-verbal signals to be impressive. Most often in professional life communication is all about negotiations, transactions, motivating and leading or following and in social life it is comforting someone, entertaining, helping, assuring and confidence building. To be effective in any of these actions, you need to deliver the messages convincingly to achieve the desired outcome.
You know that body language occurs unconsciously. Yet, the body language to a large extent decides the quality of communication; enhances the intent and content of the message. The messages that your body sends out is an indispensable element in social interaction. Sadly, in most people, the body does not convey the true message. They think the body is conveying the correst message when in fact it is doing the opposite. It is like singing a song without music. It just does not work.
Try using your body to communicate
Since most of our communication is non-verbal, it's very important that we use every part of our body to make our point. Persuasive body language is especially crucial to sales or marketing people. However, it can be used in any social situation.
People will be more likely to listen to and believe in what we have to say when we use confident and persuasive body language. We will learn to communicate effectively by combining appropriate body gestures with the words we choose and use.
Meaningful interactions
By learning how to interpret the body language of others and ourselves, we will have more meaningful interaction. It can also help you avoid misinterpretations, persuade others, attract members of the opposite sex and increase job performance or prospects.
The next time you are in a conversation, start analysing your own body language. Pay attention to the unconscious signals you may be sending.
Then begin to analyse the facial expressions, movements and gestures used by others. You'll be surprised how much more you can learn about yourself and others. Believe me; mastering this skill will improve your meaningful interaction in all situations across all stakeholder groups. Use it correctly and achieve success in life.