Profood Pro Pack exhibition from Aug 23-25
Sri Lanka's self-sufficiency in food is challenged by the impact of climate change, a senior official of the Ministry of Agriculture said at the launch of the Profood Pro Pack Agbiz 2013 exhibition on Tuesday.
He said that Sri Lanka has achieved self-sufficiency in paddy and maize production which has helped the country save a large amount of foreign exchange. The floods during the past two years swept vast swathes of paddy lands in the East and the North Central Province causing a huge impact on the food industry in the country.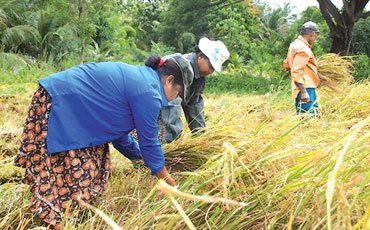 "The Ministry of Agriculture has taken steps to revive paddy cultivation and boost production in the next season through various subsidy schemes. We are confident Sri Lanka will be always self-sufficient in paddy production and retain its name as the 'Granary of the East'.
The land allocated for paddy cultivation is estimated to be around 708,000 hectares. It is cultivated under two seasons, the Maha and the Yala which are synonymous with two monsoons.
Around 560,000 ha are cultivated during Maha and 310,000 ha during the Yala making the average annual extent sown with rice to about 870,000 ha. About 1.8 million farmer families are engaged in paddy cultivation islandwide. Sri Lanka currently produces 2.7 million tonnes of rough rice annually.
The Department of Agriculture estimates a loss of around 23 percent of the country's mid-year crop.
Pro Food Pro Pack Exhibition, Organising Committee Chairman Dammika Gunasekera said that the number of stalls had increased from around 30 to 350 attracting a large number of local and international participants. This year's event will comprise a pavilion for small and medium sector enterprises to showcase their products. Exhibitors from the North and the East will take part in the exhibition.
The flagship food and beverage exhibition will be held for the 12th consecutive year. This year's exhibition is expected to attract over 300 companies and over 1,000 new products to e showcased from around 25 countries.
The theme of this year's exhibition is 'From Farm to Fork' denoting the entire chain of the food industry.
The exhibition will feature two pavilions from two of the largest global players in the food industry, India and China. The event is set to attract stakeholders from many South East Asian countries.
The Profood Pro Pack exhibition will be held from August 23-25 at the BMICH..