Triumph rewards direct dealers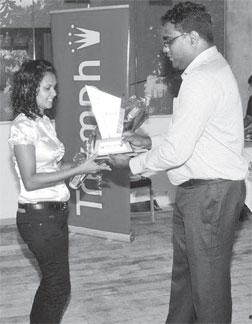 The annual Triumph direct dealer conference was held at the Chaaya Tranz, Hikkaduwa recently. Over 125 dealers participated in team-building games and other activities.
The purpose of the conference was to share details of last year's performance with all dealers and to reward those who had performed well.
Apart from this, over 37 dealers were awarded gold jewellery for achieving their sales targets for the second half of 2012.
General Manager for Triumph International, India and Sri Lanka, Shalindra Fernando said, "We are happy to note the outstanding achievement by our direct sales channel throughout the years."
"The channel has grown in value by over 30 percent and has maintained double digit growth for the third year in a row. We have a committed group of direct sale dealers and their passion for the brand Triumph is remarkable. I'm confident that we will see similar achievements in the years to come," he said.