Swedish Trading launches broadcast solutions
Panasonic and Swedish Trading Audio Visual, launched a series of new file-base broadcast solutions. Through the partnership Sensys Singapore (Pvt) Ltd. principal distributor for Panasonic Broadcast Solutions in Sri Lanka will set up a service centre catering to the evolving technology and customer needs.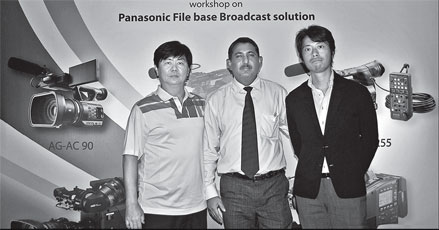 The launch ceremony and workshop 'Panasonic File Base Broadcast Solutions' was held recently at Hotel Taj Samudra with the participation of principals from Panasonic, Sensys, the management of Swedish Trading Audio Visual (Pvt) Ltd. and a clientele of over 50 professionals in the broadcasting and AV production industry.
Managing Director Sensys Singapore (Pvt) Ltd, Khoo Cher Leong said, "We've been in the Sri Lankan market for over 10 years, this is a period to take another step forward. We are happy to announce the setting up of Sensys Singapore Service Centre to serve broadcasters and production houses in the country."
"Basically we will be training staff in Sri Lanka to repair and provide technical support and consultation for our clients.
This also means that whatever technical product we introduce to the market we will keep on upgrading it, to provide our customers the latest innovation to their businesses," he said.
General Manager, Swedish Trading Audio Visual (Pvt) Ltd, Anuruddha Gunasekara said, "Sri Lanka has immense potential to upgrade its current technology to the latest available. This is an opportunity we will be targeting through our partnership with Panasonic and Sensys."
"We also have products for small businesses which will further boost the entrepreneurial capacity. We constantly provide our clients with the perfect solution through total integration; this is one of our values we stand by," he said.
Manager, Broadcast Regional Operations Centre, Panasonic Systems Asia Pacific, Kotaro Sakuma said, "For Panasonic Corporation this is the first time we are entering the Sri Lanka market to cater to the broadcasting segment. Sensys has been doing a great job in this region."
"We will be providing all our expertise, knowledge transfer with regard to new innovations and technologies in the market through the Service Centre," he said.