Biz Briefs
New People's Bank chief

Chief of Presidential Staff, Gamini Senerath was appointed as the new Chairman of the state owned People's Bank on February 14.
President Mahinda Rajapaksa as the Minister of Finance made this appointment following the demise of W. Karunajeewa recently. Senarath also serves as the Chairman of Sri Lanka Insurance Corporation, state-owned Litro Gas and Sinolanka Hotels and Spa Ltd. He is a senior officer of Sri Lanka Administrative Service.
---
Sri Lanka should freeze policy rates - IMF
The International Monetary Fund (IMF) last week said that Sri Lanka should freeze policy rates until inflation begins to fall. IMF mission chief John Nelmes said that monetary policy should remain on hold during the coming months till inflation starts to decline.
The IMF estimates 6.0 percent GDP growth in 2012 and 6.25 percent in 2013. There are two competing factors, slow growth and high inflation and in cases like this the balancing act with regard to monetary policy is a challenging one, Nelmes said.
---
New chairman at Estate Control Board
Former Western Provincial Councillor, H.A. Wimalasuriya has been appointed Chairman of the Tea, Rubber and Coconut Estate Control Board by Plantation Industries Minister Mahinda Samarasinghe.
He was private secretary to the Plantation Industries Minister.Wimalasuriya was also a working director of the Foreign Employment Bureau. He is also a director of the Coconut Cultivation Board. H.A. Wimalasuriya who has worked as a journalist has also authored several books. He is also a renowned poet in the area.
---
Obtains record marks at CA Sri Lanka exam
Charith Ranganath Gunathilaka of Colombo obtained 93 marks out of 100 at the case study examination of the Institute of Chartered Accountants of Sri Lanka (CA Sri Lanka). A former student of Royal College, Colombo, Gunathilaka attributes his diverse knowledge gained in accounts, tax, financial management, risk management and on international financial reporting standards for his success at the 2012 case study examination of the CA Sri Lanka.
---
ACCA Sustainability Reporting Awards on Feb 20
The concept that businesses perform better by using sustainability reporting as a tool to measure, monitor and report entities' actions and the impacts those actions have on stakeholders has gained momentum each year with the ACCA Sri Lanka Sustainability Awards. On February 20, over fifty companies from small to medium to large and extra large will, as a means of being more transparent and accountable in economic, social and environmental spheres, vie for awards at the annual awards ceremony organised by ACCA Sri Lanka.
The chief guest will be the Country Director of the Asian Development Bank, Rita O'Sullivan, while the guest of honour will be ACCA's Executive Director, Markets, Stephen Heathcote.
---
Pay hike for security guards
Industrial Security Foundation (Sri Lanka) Inc said that the wages of private security personnel has been increased by 30 percent by the Wages Board.
It has been approved by the Minister of Labour Relations and Manpower. This decision came into effect from January 1, 2013.
The wage increase will benefit over 100,000 security personnel employed in private security firms.
---
Record price for Ampittiakande tea
Ampittiakande Group in the Bandarawela region in the Uva province, owned by the Richard Pieris Group and managed by Maskeliya Plantations PLC, secured a price of Rs. 630 per kilo for a good liquoring FBOP Grade at the weekly Public Tea Auction on January 22.
The tea was sold by Eastern Brokers Limited. The buyer was Stassen Exports Limited.
---
Azbow wins gold award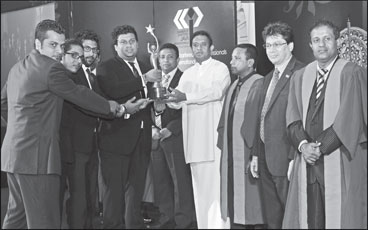 Azbow (Pvt) Ltd. headed by its Managing Director, PCJT Software Engineer, Sanjaya Samaratunga won the Gold Medal in the Young Entrepreneurs Software Company Award (YesCom Award). The awards ceremony organised by the Java I nstitute Sri Lanka was held at the Mount Lavinia Hotel recently to honour young Software Engineering Entrepreneurs of Sri Lanka. Here chief guest Deputy Speaker Chandima Weerakkody presents the award to Sanjaya Samaratunga and the Board of Directors of Azbow (Pvt) Ltd.
---
eMarketingEye turns six
eMarketingEye completes six years this month as one of Sri Lanka's largest digital marketing agencies.
"eMarketingEye which specialises in travel and hospitality, serves some of the well-known hospitality brands in the world including Millennium and Copthorne Hotels, Taj Hotels, Resorts and Palaces, Anantara Hotels, Resorts, and Spas and COMO Hotels. It serves over 35 hotels in Sri Lanka including Jetwing Hotels, Aitken Spence Hotels, John Keells Hotels and Serendib Leisure," a spokesman for the company said.
---
Amana Bank branch in Nintavur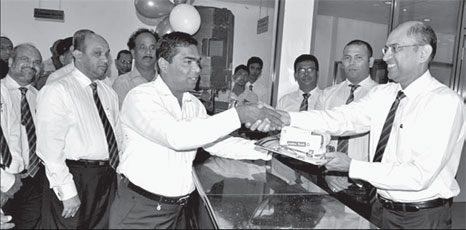 Amana Bank opened its 16th branch at Nintavur in the Ampara district recently. Here Managing Director and Chief Executive Officer Faizal Salih accepts the first deposit from a customer. Operations Manager Mohamed Azmeer and Registrar of the South Eastern University of Sri Lanka H. Abdul Sathar look on.
---
PAB goes for 365 days banking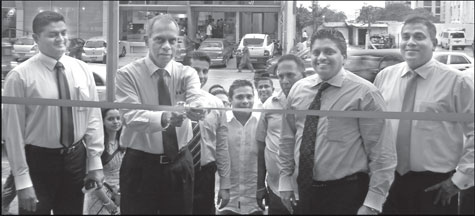 Pan Asia Bank launched 24 /7, 365 days banking at its Kollupitiya branch recently. With this initiative the Kollupitiya branch will be open all the time. Pan Asia Bank will offer an unparalleled level of accessibility and convenience to bank's customers right in the heart of Colombo.Chief Executive Officer, Pan Asia Bank, Claude Peiris who was the chief guest opened the 24/7, 365 days banking while the senior management, customers in the area, other guests were present. Here CEO Claude Peiris opens '24 hours every day' banking services. DGM, Retail Banking, Irishad Ally, Area Manager, Takura Abhayasinghe, Senior Manager, Kollupitya Branch, Thushara Suraweera and customers look on.
---
Kandurata Kuda, SSC's clothing sponsor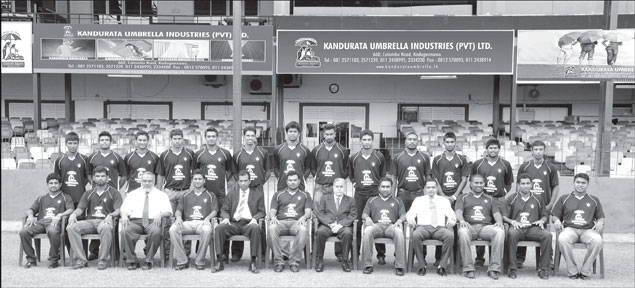 Sinhalese Sports Club's (SSC) appointed Kandurata Umbrella Industries (KUI) as the official clothing sponsor at a ceremony at the club premises. Chairman of KUI, M.T.M. Naushad, General Manager Sales and Marketing Riza Thahir, SSC president W. Ellawala, Cricket Committee president, Samantha Dodanwela, Sri Lanka Captain, Mahela Jayawardene, SSC coach, Avishka Gunawardene, SSC Captain, Thilina Kandambi and other members of the team were present.
Naushad said that it was a pleasure to become the official clothing sponsor of the SSC which has a long history in producing cricketers of exceptional quality.